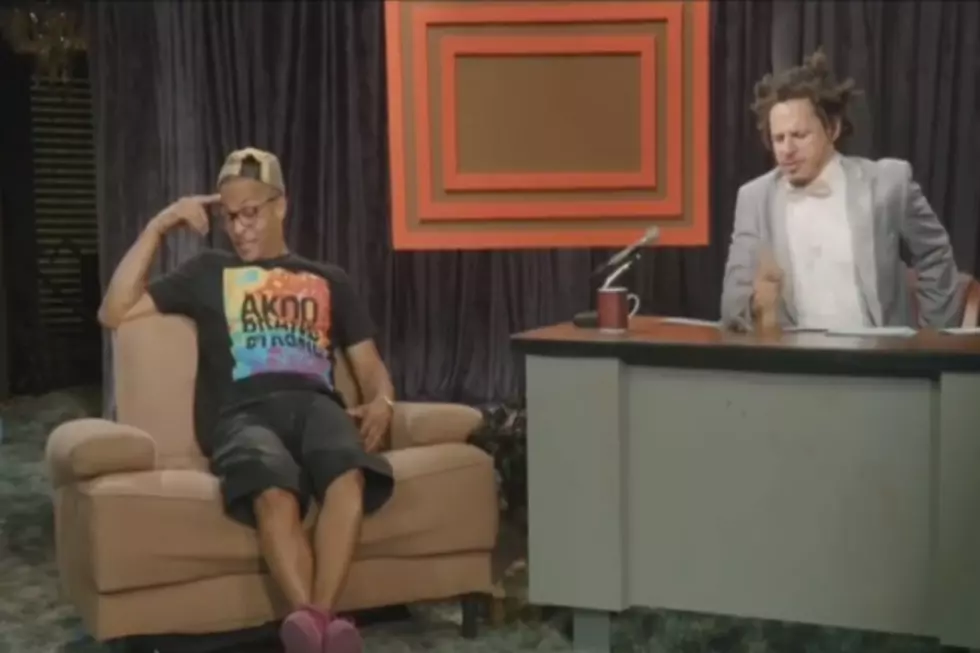 T.I. Gets Uncomfortable on 'The Eric Andre Show'
YouTube
The Eric Andre Show recently kicked off season four with special guest T.I., and, as usual, high jinks ensued. For those unfamiliar with The Eric Andre Show, it's basically the same as your average talk show, if your average talk show was high on PCP, molly and laughing gas. E. Andre's antics - which have included eating his own vomit - leave most guests bugged TF out. Tip was no different as the Atlanta rapper was visibly uncomfortable during the entire interview.
The weird shit starts off with Andre simulating masturbation in front of the Kang, who looks the other way in disgust. The zany host then attempts to dap up the rapper who vehemently denies his hand contact. "I'll be damned," the ATL MC says.
A short time later, a random zombie busts out of the floor underneath T.I.'s feet and attempts to grab the rapper, who gives the actor a swift kick to the neck.
The acid trip didn't stop there as a man who is naked from the waist down randomly walks on stage causing Tip to walk off, "I'm out this bitch," he says while exiting. In the famous words of Kevin Hart, "He wasn't ready!"
A number of rappers have appeared on The Eric Andre Show, which is co-hosted by Hannibal Buress and airs on Adult Swim. Chance The Rapper, Questlove, Tyler, the Creator, Wiz Khalifa, Nick Cannon, Killer Mike, Action Bronson, Curren$y and more have all had the trippy experience.
34 Rappers Going Platinum in 2016