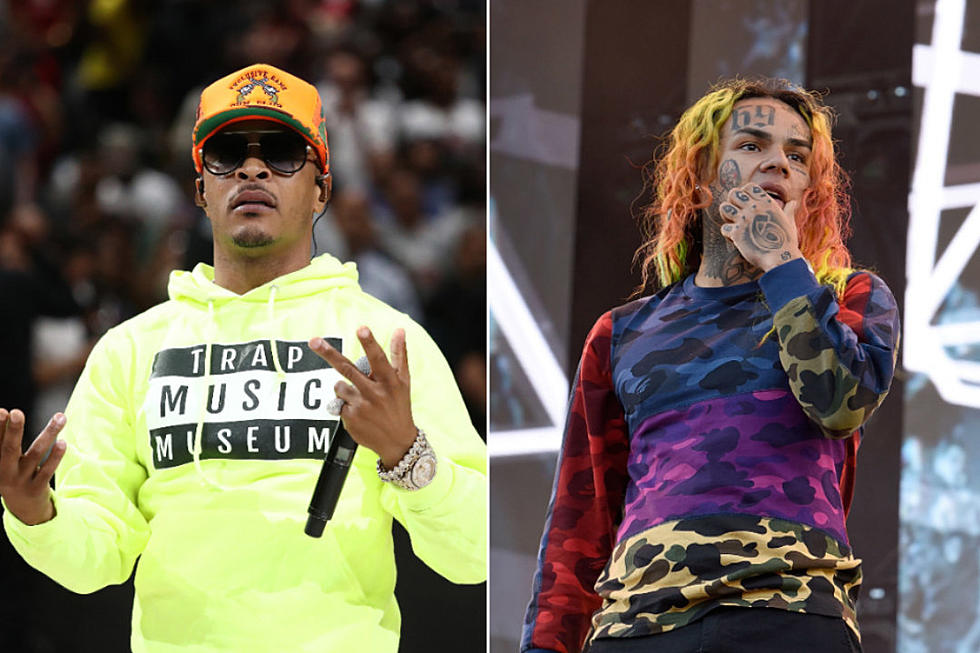 T.I. Thinks 6ix9ine Will Be Welcomed in the Hood When He's Released From Jail
Ronald Martinez / Arik McArthur, Getty Images (2)
After 6ix9ine's testimony in the case of two accused Nine Trey Gangsta Bloods gang members earlier this week, which includes making statements about the alleged gang status of rappers like Trippie Redd, Casanova, Jim Jones and Cardi B, protective custody on some secret outpost on Mars might be a smart option for the rapper who will no doubt be the target of animosity for assisting authorities. However, T.I. thinks Tekashi will be welcomed with open arms when he gets released.
Tip recently sat down for an interview with Big Boy of Real 92.3, which was published on Friday (Sept. 20), when the topic of the disgraced Brooklyn rhymer came up. "He can't go back to the hood after snitching," the co-host asserted.
"Yes he can," Tip countered around the 54 minute mark. "It's a bunch of rats walking 'round right now. And that's the thing that really hurts. They riding 'round with somebody they know done told in they hood right now, because, 'Well, he didn't tell on me.' This cat can come home and throw parties and the parties be popping. It be full. If muthafuckas don't fuck with rats, how the hell is this party so packed? And everybody know how cous' came home. Everybody know what happened."
Tekashi has had the internet going nuts as he took the stand multiple times this week and testified against former associates Aljermiah "Nuke" Mack and Anthony "Harv" Ellison as part of his plea agreement in a racketeering case. On top of that, he mentioned seemingly unrelated rappers' ties to alleged crimes as well. It is yet to be determined what type of reduced sentencing he will receive for his cooperation.
See 18 Rappers Who've Been Arrested in 2019