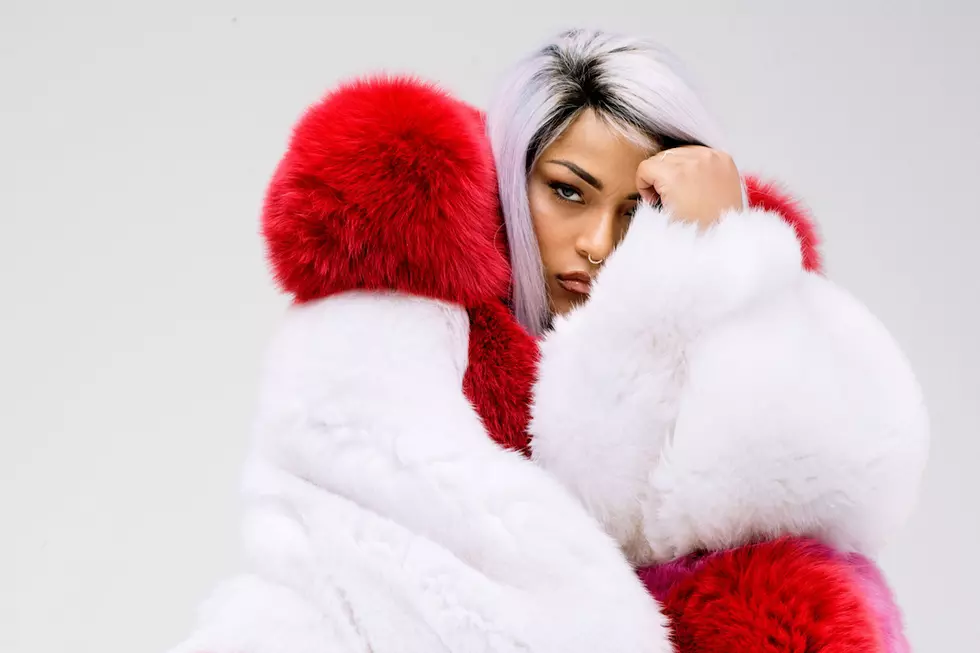 The Break Presents: Stefflon Don
Derrick Kakembo
The U.K. is home to a host of rappers who are proving their worth against the best in the world. Armed with lyrical wit, aggression and star quality, Stefflon Don is speeding ahead at 100 miles per hour and she's nowhere near her peak.
Stefflon Don, born Stephanie Allen, has no doubt been influenced by her upbringing. She was born in Birmingham, U.K., but moved to the Netherlands at a young age before moving back to England, settling in London at age 14. Having grown up with Jamaican parents, she frequently includes patois in her music.
Gaining popularity through her hit track, "Real Ting," Stefflon Don has become a household name on the U.K. rap scene, collaborating with Giggs and Krept & Konan. She's also linked up with artists from the U.S., collaborating with Jeremih for his 2016 track "London," which featured Krept & Konan, and bringing the Chicago singer on to join her song "Tight Nooki." With song titles like this, it's apparent Steff doesn't bite her tongue when it comes to sexuality or women empowerment.
The past year has been extremely eventful for the rhymer. Steff released her first mixtape, Real Ting, in December of 2016, and dropped visuals for the title track and "16 Shots," which have YouTube views exceeding the 1 million mark. In March of this year, she reached another big point in her career, solidifying a partnership between her own label, V-IV London, and Universal Records. Steff will become the first artist to release music for the V-IV London label, essentially signing herself.
Her rap style has frequently been compared to Nicki Minaj, but it's clear that Stefflon Don is her own woman. She's passionate about breaking barriers for women in rap. Often the rapper is seen rolling up to interviews and shows with a squad full of ladies, which frequently includes her own mother. One of Stefflon Don's popular tracks, "16 Shots," is about the woman who brought her into this world ("They say dem a gangsta, but so is mommy").
Look out for new music from Stefflon Don and get to know her better in XXL's The Break.
I grew up listening to: "I would say Destiny's Child, Missy Elliott, Eve, Lil' Kim and reggae music."
My style's been compared to: "Some people say Nicki Minaj, some people say Foxy [Brown]."

Most people don't know: "Most people don't know that I'm down to earth, until they meet me."
My standout records to date have been: I would say '16 Shots' and 'Real Ting.'"
My standout moment to date has been: "When Kehlani brought me out onstage, I really enjoyed that. I was just appreciative for her to think of me and bring me out woman to woman, introducing me to a whole new audience to me. It was just showing that I was appreciated for what I'm doing, that some people mess with me and I'm all over the place."
My goal in hip-hop is: "My goal is just to be real and bring people good music and let them enjoy the music that I bring. My five-year plan is to be one of the biggest artists to ever do this and break so many barriers that have been put up for females and show another side to the female artists and give to the people. I want to be more than just an artist and be a people's person and do a lot of stuff for people. I don't know what it's going to be yet, but that's my aim—to give back.
I'm going to be the next: "...Big thing."
Jeremih's "London" Featuring Stefflon Don and Krept & Konan
Stefflon Don and Inch (Section Boyz)'s "Lock Arff (Remix)"
Stefflon Don's "Real Ting (Remix)" Featuring Giggs
See 20 Great Albums From Female Rappers Over the Years