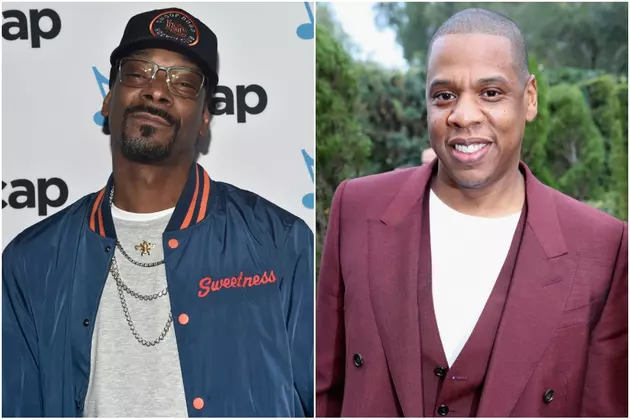 Snoop Dogg Admits He Pirated Jay-Z's New '4:44' Album
Alberto E. Rodriguez/Ari Perilstein, Getty Images (2)
Snoop Dogg might be a hip-hop legend and the owner of a vast multi-million dollar fortune, but when JAY-Z's new 4:44 album dropped, he was, like many of us, a Tidal-less rap fan in search of Hov's newest project. So how'd Uncle Snoop listen to Hovi's newest opus? He pirated it, of course.
Speaking in a new video, the Doggfather gave props to Jay for dropping another dope album while also encouraging other artists to support their peers. In doing so, he revealed that he wasn't even familiar with Hov's streaming service, Tidal.
"Top of the morning," Snoop says in the video. "I want to shoot a shout out to JAY-Z just dropped another muthafuckin' hot album, 4:44...4:44. But you know what? I don't got Tidal, so a nigga had to bootleg it to me. I'm on iTunes and shit cuz, I don't understand that—y'all gotta explain that to me. I went to iTunes looking for his album and I couldn't find it. But my homie sent it to me, you understand me. But um, shout out to JAY-Z, my nigga. He did it again. See, I ain't no hater, I love the game for what it's worth—the young niggas and the old niggas. Practice that. Practice showing love. Practice supporting other muthafuckas other than yourself. Yeah, do that."
Snoop might not have copped Hovi's project, but at least he was honest about it—he also offered a dope shout out. It's something.
If you're like Uncle Snoop and haven't been keeping score of JAY-Z's streaming business aspirations, here's a rundown. Back in 2015, Hov and a slew of other artists started a music service by the name of Tidal. From the outset, the service differentiated itself by providing exclusive premieres from Beyoncé and Kanye West. After last week, that list came to include 4:44.
The good news for Snoop is, fans can get themselves a free copy of 4:44 by checking out 444.Tidal.com and providing the site with their email and using the promo code, SPRINT. If Snoop wants to stick to his Apple-using ways, all he has to do is wait a few days. 4:44 is coming to iTunes and Apple Music on Friday (July 7). Dope.
Peep Snoop's music piracy admission in the video below.
See Photos of Jay Z's Different Looks Over the Years