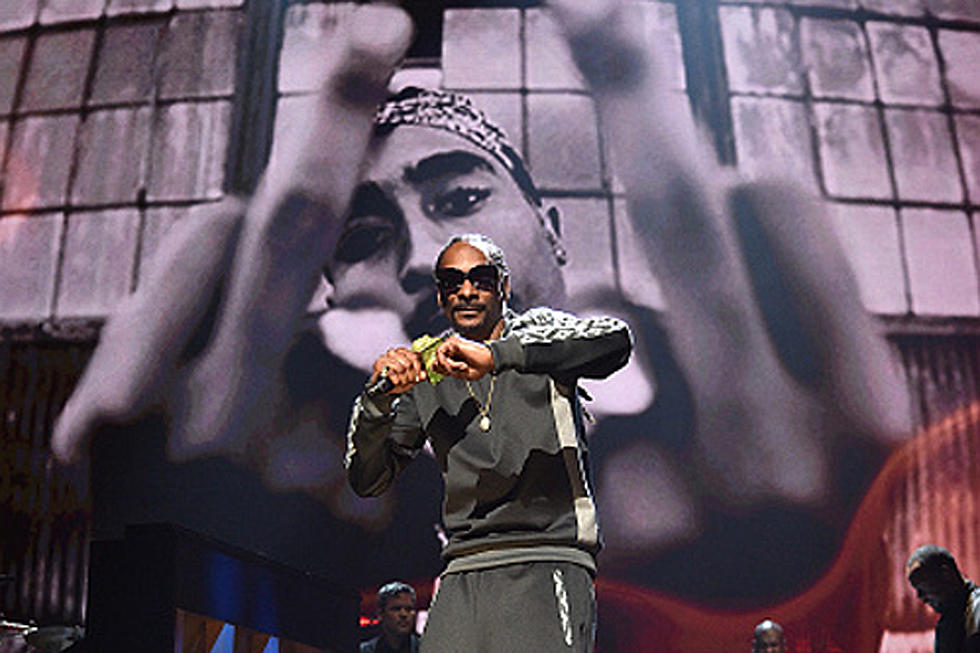 Snoop Dogg Gives Moving Speech in 2Pac's Honor at 2017 Rock and Roll Hall of Fame Induction Ceremony
Kevin Mazur, Getty Images
They say legends never die. While the 32nd annual Rock and Roll Hall of Fame induction last night (April 7) honored some of rock's greatest heroes—Joan Baez, Journey, Electric Light Orchestra, Pearl Jam and Nile Rodgers—the Brooklyn ceremony took time to show love to one of rap's fallen superstars, 2Pac.
When it was first announced that 'Pac would be inducted into the Rock Hall back in December, there was a debate in the hip-hop world over whether or not Makavelli should be granted this honor. "Got forever love for PAC BUT there AIN'T a solo rap act that should get in the RRHOF before LL Cool J," wrote Public Enemy's Chuck D on Facebook back in December. "I don't care about what naysayers think." But despite the critics, last night's epic display proved the young Outlaw's impact on the culture.
Fellow West Coast phenom and one of 'Pac's oldest industry friends, Snoop Dogg did the honors of inducting the platinum-selling star. As Snoop walked out in a red and blue Gucci scarf draped on his shoulders, hip-hop fans perked their ears. Instead of running down a laundry list of 'Pac's public achievements fans already know about, the 45-year-old rapper took time to humanize the larger-than-life character.
"While many remember him now as some kind of thugged out superhero, 2Pac knew that he was only human," said Snoop. "To be human is to be many things at once, strong and vulnerable, hardheaded and intellectual, courageous and afraid, revolutionary and….oh yeah, don't get it fucked up, gangsta."
Uncle Snoop shared some memories of his dynamic duo days with 2Pac, like the time 'Pac passed him his first blunt at a party in L.A.—"That's right, Tupac is the one that got Snoop Dogg smoking weed. I was a zig-zag man before that"—and a hilarious story of the two icons parasailing on vacation while Suge Knight drove the boat.
"I had just beat my case and Suge had taken us to South America to get away from all the drama and me and 'Pac was parasailing," said Snoop as the crowd laughed. "You heard right. Snoop Dogg and 2Pac parasailing together. You got to remember, I had just beat my case and 'Pac had just got out of prison. Does anybody know what parasailing is? Because we damn sure didn't."
Snoop made sure to scream "thug life" when officially welcoming 'Pac into the Hall. After the moving speech, Snoop took to the Barclays Center stage to perform a medley of some of 'Pac's biggest hits. Alicia Keys started off the medley by singing "I Ain't Mad at Cha" and "Ambitionz As a Ridah" behind a piano, and "Changes" center stage. Snoop and YG did a duet of "2 of Amerikaz Most Wanted," Naughty by Nature's Treach performed "Hail Mary" and T.I., dressed in a classic 2Pac outfit, covered "Keep Ya Head Up."
Once finished with the tribute and performance, Snoop headed backstage to the Rock and Roll Hall of Fame press area to talk to XXL about what this award means for gangsta rap. "If you put your heart and soul into it, you'll be appreciated and that's what this ceremony was about," said Snoop after accepting the award on his homie's behalf. "No matter field of music you in, you gotta respect good music and that's what 2Pac made." And just before he stepped out of the press room, Snoop recited his favorite 2Pac verse, "Str8 Ballin" from 1994's Thug Life Volume 1.
2Pac will now join the short list of rappers who have been inducted into the hall, including the Beastie Boys, Run-D.M.C., Public Enemy, Grandmaster Flash and the Furious Five and last year's inductees N.W.A.
Check out XXL's social coverage of the night, a gallery of the 2Pac tribute performance and shots from the official Rock and Roll Hall of Fame press room.
See Photos of the 2Pac Induction at the 2017 Rock and Roll Hall of Fame Induction Ceremony