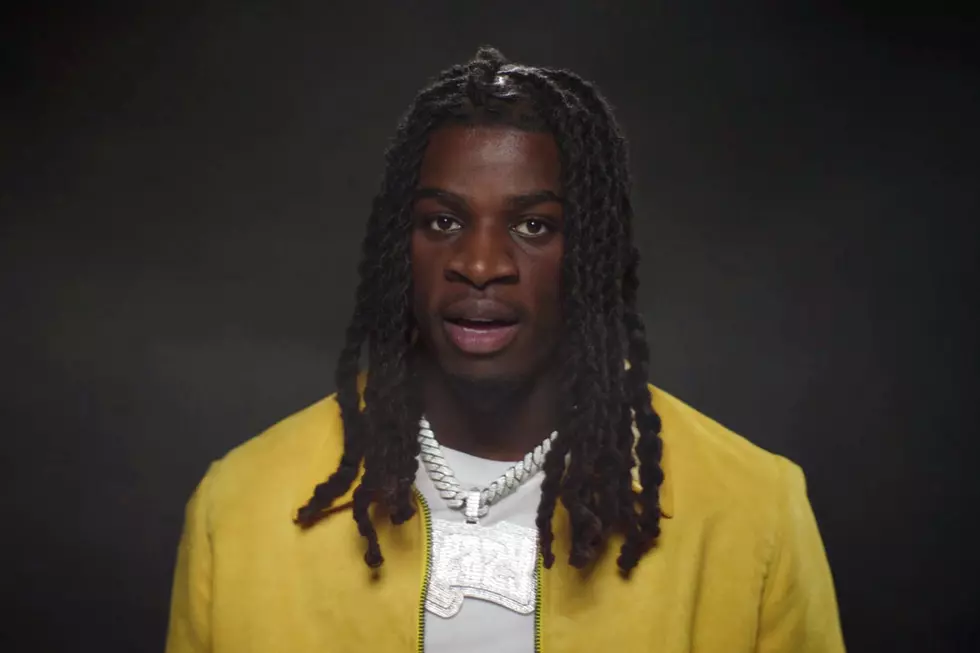 SleazyWorld Go's 2023 XXL Freshman Freestyle – Watch
XXL
SleazyWorld Go is a unanimous all-rookie first team election in hip-hop this year. Since 2022, he has floated up the ranks with multiplatinum-selling songs like "Sleazy Flow," which was eventually upgraded with a remix by Lil Baby and cracked the top 50 of the Billboard Hot 100 chart. The song features Sleazy's signature conversational flow, grit-ridden lyrics and ear for knocking production. Without a doubt, the 25-year-old Midwest native is in a lane of his own. He brings that energy of being untouchable to his 2023 XXL Freshman freestyle.
"I don't feel like no n***a could f**k with me/Lil bro blast, Neutron, no Jimmy/I hate f**king h*es with condoms, raw-doggin', no jimmy/Feel like Turner with this pape', grantin' wishes, no Timmy," SleazyWorld Go begins as the camera rotates around him.
Calm and urgent at the same time, Sleazy, dressed in a canary yellow jacket and iced-out name chain, continues to express how his heart is on do not disturb. He also pushes his player mentality unapologetically. "I can't cuff another bitch my heart damaged/I need two bitches on me like a sandwich/Slap the fwah on the, made it shoot quick/I don't get caught with h*es, b***h I'm too slick," he rhymes. Using his hands to emphasize his sentiments, Sleazy goes on to shout out his main and side pieces, his shooter and the costume that he wears from "saving hoes like the Power Rangers."
Change is the main subject towards the end of Sleazy's freestyle. Whether it's the presentation of something, the image and mentality that he holds or bullets in the chamber, the rapper voices that he's a prime benefactor of switching it up. "I can change s**t/Post to my Trackhawk with the wrap and then I changed it/Switched the black out to fully auto, this b***h dangerous/Hop out shoot, waving the chop I don't need aimin'/Had to stop posting all them sticks because I'm famous," the Kansas City, Mo. and Grand Rapids, Mich. rep stamps at the end verse.
Sleazy's career so far is short-lived, but very much successful in the few years that he's been making music. Starting with 2020's Big Sleaz and ending with the release of 2023's Where The Shooters Be, Sleazy is seemingly getting better at his craft with time. Additional records like the Offset-assisted "Step 1" and "Off The Court" featuring Polo G are other gems in his catalog that plenty of fans are steadily tapping into. That reach should continue to grow if he puts forth just half of the energy as he has up until this point.
Check out SleazyWorld Go's Freshman freestyle below.
Watch SleazyWorld Go's 2023 XXL Freshman Freestyle
The Freshman issue of XXL magazine hits stands everywhere on July 18. See Finesse2tymes, Lola Brooke, Rob49, Fridayy, GloRilla, 2Rare, SleazyWorld Go, Central Cee, Real Boston Richey, Luh Tyler, TiaCorine and DC The Don's official Freshman pages. In addition to interviews with all 12 artists in the 2023 Class and Freshman cyphers producer Pi'erre Bourne, it includes interviews with Lil Baby, NLE Choppa, Boosie BadAzz, Toosii, DDG, Saba, producer Go Grizzly, engineer Jaycen Joshua, singer Coco Jones, SinceThe80s' President Barry "Hefner" Johnson and AEW wrestler Swerve Strickland, plus a look back at what the 2022 XXL Freshman Class is doing, hip-hop's love for golfing featuring Scarface, OMB Peezy and pro golfer Harold Varner III, conversations with 10 new artists making noise and a deep dive into A.I. hip-hop songs. You can also buy the 2023 XXL Freshman Class issue here.
See the 2023 XXL Freshman Class