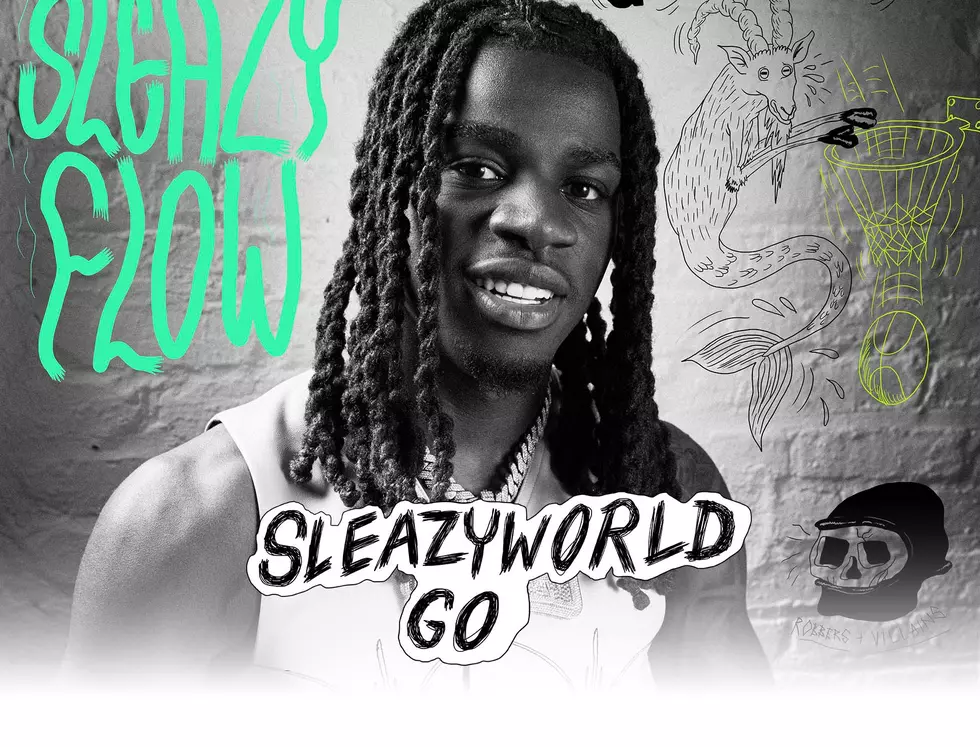 SleazyWorld Go – 2023 XXL Freshman
GOV'T NAME: Joseph Isaac
AGE: 25
REPPIN': Kansas City, Mo. and Grand Rapids, Mich.
TWITTER: @sleazyworld_go
INSTAGRAM: @sleazyworld_go
TIKTOK: @sleazyyworld_go
NOTABLE RELEASES: Songs: "Sleazy Flow," "Sleazy Flow (Remix)" featuring Lil Baby, "Step 1" with Offset; Mixtapes: Big Sleaz, The Sleazy Way, Sleazy, Where the Shooters Be, Where The Shooters Be 2; EP: Thug You; Guest Appearances: Yungeen Ace's "No Lackin," Sha EK's "Difference Between," Lil Migo's "Dead Yet"
LABEL: Island Records
CURRENTLY WORKING ON: Debut album dropping this summer.
WHO ELSE SHOULD BE PART OF THIS YEAR'S CLASS: "I think Enchanting from 1017 should be a part of this class. She's very versatile. She sings and raps hard and been going crazy for some time now. Also, 81Hundo his buzz was crazy, but he got locked up."
INFLUENCED BY: "I feel like I was really influenced by like the pain and hard times in my life, more so than a person. I'll shout out artists that I definitely love their story, I love their music, I love their craft. Rod Wave is like one of my favorite artists. I f**k with Kodak Black. Tupac Shakur. He influenced me to dig deeper in my music, you know what I'm sayin', and not just make anything."
AS A FRESHMAN IN HIGH SCHOOL: "I was dropping out of high school. I feel like I was mature. I was chill. I wasn't like childish in school, you know? So, I was really just chill. I was popular in school, but that didn't mean I f**ked with everybody."
TRUTH ON BEING AN XXL FRESHMAN:
"I got put onto Freshman when I was young. I can't say exactly when, but it's just always been something for our culture that, if you in music and you listen to music and you follow music, it's something that you just knew. Like it was something that everybody wanted to get on. It's like a trophy. It's like a winner ring when you're an artist, you know?
When I look at past Freshman covers, Rod Wave, I feel like his journey, just seeing his grind, him starting off, freestyling in school, just seeing how far he came and where he at now. Him doing XXL and not being as big as he is now, and now look how big he is.
XXL Freshman is part of hip-hop. It's like, you can't really skip these steps. I feel like it's about being humble. I would never be like, 'Ah, I'm too big to do it,' because you're really never too big to do it. It's like, this is what it's about. It's like saying you're too big to go to an All-Star game.
Last year was really like my first year in the game. I haven't been a rapper for that long. So, I feel like this is my second year in the game. The stuff I accomplished. If you look at like the rookies in the basketball league, like their first year, you know, it's like somebody wins the Rookie of the Year. I put in a lot of work and I had a lot of accomplishments to be where I'm at now.
My fans are gonna be just as happy as me 'cause they know how far I came. It's a win for my fans, just like it's a win for me. So, I'm definitely very happy that I can bring that win back to them."—Georgette Cline
Watch SleazyWorld Go's 2023 XXL Freshman Freestyle
SleazyWorld Go is a unanimous all-rookie first team election in hip-hop this year. Since 2022, he has floated up the ranks with multiplatinum-selling songs like "Sleazy Flow," which was eventually upgraded with a remix by Lil Baby and cracked the top 50 of the Billboard Hot 100 chart. The song features Sleazy's signature conversational flow, grit-ridden lyrics and ear for knocking production. Without a doubt, the 25-year-old Midwest native is in a lane of his own. He brings that energy of being untouchable to his 2023 XXL Freshman freestyle.
"I don't feel like no n***a could f**k with me/Lil bro blast, Neutron, no Jimmy/I hate f**king h*es with condoms, raw-doggin', no jimmy/Feel like Turner with this pape', grantin' wishes, no Timmy," SleazyWorld Go begins as the camera rotates around him.
Calm and urgent at the same time, Sleazy, dressed in a canary yellow jacket and iced-out name chain, continues to express how his heart is on do not disturb. He also pushes his player mentality unapologetically. "I can't cuff another bitch my heart damaged/I need two bitches on me like a sandwich/Slap the fwah on the, made it shoot quick/I don't get caught with h*es, b***h I'm too slick," he rhymes. Using his hands to emphasize his sentiments, Sleazy goes on to shout out his main and side pieces, his shooter and the costume that he wears from "saving hoes like the Power Rangers."
Change is the main subject towards the end of Sleazy's freestyle. Whether it's the presentation of something, the image and mentality that he holds or bullets in the chamber, the rapper voices that he's a prime benefactor of switching it up. "I can change s**t/Post to my Trackhawk with the wrap and then I changed it/Switched the black out to fully auto, this b***h dangerous/Hop out shoot, waving the chop I don't need aimin'/Had to stop posting all them sticks because I'm famous," the Kansas City, Mo. and Grand Rapids, Mich. rep stamps at the end verse.
Sleazy's career so far is short-lived, but very much successful in the few years that he's been making music. Starting with 2020's Big Sleaz and ending with the release of 2023's Where The Shooters Be, Sleazy is seemingly getting better at his craft with time. Additional records like the Offset-assisted "Step 1" and "Off The Court" featuring Polo G are other gems in his catalog that plenty of fans are steadily tapping into. That reach should continue to grow if he puts forth just half of the energy as he has up until this point.
Check out SleazyWorld Go's Freshman freestyle below.—Kemet High
Watch SleazyWorld Go's 2023 XXL Freshman ABCs
Sleazyworld Go has never been the type to have a filter. That idea is reflected in his iteration of XXL's ABCs, which follows his 2023 Freshman Class election.
The Kansas City, Mo. and Grand Rapids Mich. native starts off by aligning the letter A with the word athlete. Then he references NBA All-Star Ja Morant in light of Sleazy's Polo G-assisted loosie "Off The Court," on which the chorus pokes fun at the idea of shooting on and off the court. For the next couple of letters, the 25-year-old rapper asserts himself as a boss for the letter B and then opts for the word coochie to pair with the letter C.
As he continues to sift through the alphabet with a smile, he proclaims himself as a ladies man. First, he shouts out R&B singer Ella Mai for E while shooting his shot the same time, then he sleekly cements the word freaky for the letter F. And shortly after when H comes up, Sleazy admits that he was a bit of a player, but the one who crushes a lot rather than being the "soft" type.
It's all about family for the next few characters. When J comes up, he calls for his brother Joey Crack to be released from jail. For K, he picks Kairos, his youngest son. And then for M, he chooses Lil Monster, his oldest son. That should come to no surprise seeing how Sleazy keeps his children close at all times, at events, in the studio and surely in pictures.
Toward the end of this segment, the rhymer brings it back to the people who gave everyone life. For T, he shows some love to his baby's mother Tee. For U, he picks unicorn and says that he wants a partner who's special in her abilities like the fictional animal. When W comes up, he salutes the many women in the world. But he also lets it be known that everything isn't sweet. He uses X to declare he doesn't mess with his ex.
On a lighter note, Sleazy ends his ABCs by connecting the word youth to the letter Y, rationalizing, "That's like what I do it for the most. That's like the younger generation that's coming up, just trying to make a way for them and showing them that it's possible." Gotta respect that.
With Billboard Hot 100 entries, gold and platinum plaques, a bevy of cosigns and plenty of momentum, the Midwest native is surely paving the way. Take a look at Sleazy's ABCs below.—Kemet High
Watch 2023 XXL Freshman Class Revealed
See the 2023 XXL Freshman Class