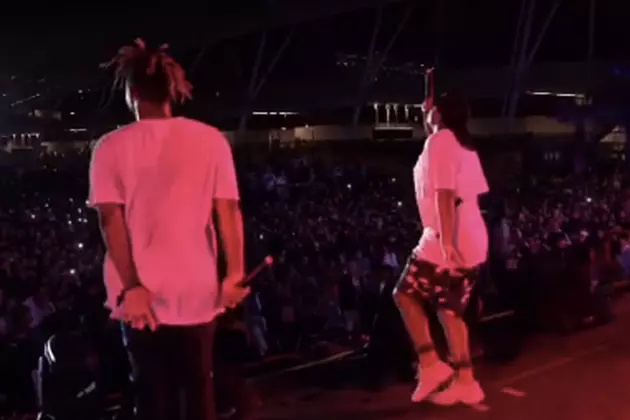 Ski Mask The Slump God and Juice Wrld Perform "Nuketown" at 2018 Rolling Loud Los Angeles
godflow_91 via Instagram
Since the release of Ski Mask The Slump God's debut album, Stokeley, last month, the Florida native and his "Evil Twin" Juice Wrld have yet to perform their rising hit "Nuketown." However, all that changed after the 2018 Rolling Loud Festival in Los Angeles this past weekend. The two rappers linked up for a high-energy performance of "Nuketown."
On Saturday night (Dec. 15), Ski Mask and Juice Wrld delivered an unforgettable performance. As the two performed "Nuketown," produced by FreshThPharmacy, the crowd went wild as they lifted their phone lights and lighters in the air. Feeding off the crowd's energy, Ski and Juice spit their bars effortlessly over the woozy party banger.
"Entertainment with your bitch at night like Nick/Drake and Josh how we team your bitch/Michael Jackson, one glove, I hit/Crying in the club with my stick/Icky Vicky spit how I got slimes on deck/Metal on me like I just flicked Bic" Ski rhymes.
"Cutthroat, love it when they run, hoe/Knife on the AK, stab 'em with a gun, hoe/Hoppin' in that mosh pit, I was tryna raise shit/It's a different day, it's like niggas on the same shit, I hate it/Rich like a White bitch, I should go blond, bitch," Juice delivers.
In addition to performing "Nuketown," Ski and Juice also performed "Take a Step Back." During the performance of the Ronny J-produced track, which features a guest appearance from the late XXXTentacion, Ski and Juice paid respects to the fallen rapper by going hard with the lyrics.
Check out Ski Mask The Slump God and Juice Wrld's performance of "Nuketown" below.
See Photos of Ski Mask The Slump God Behind the Scenes at the 2018 XXL Freshman Class Cover Shoot