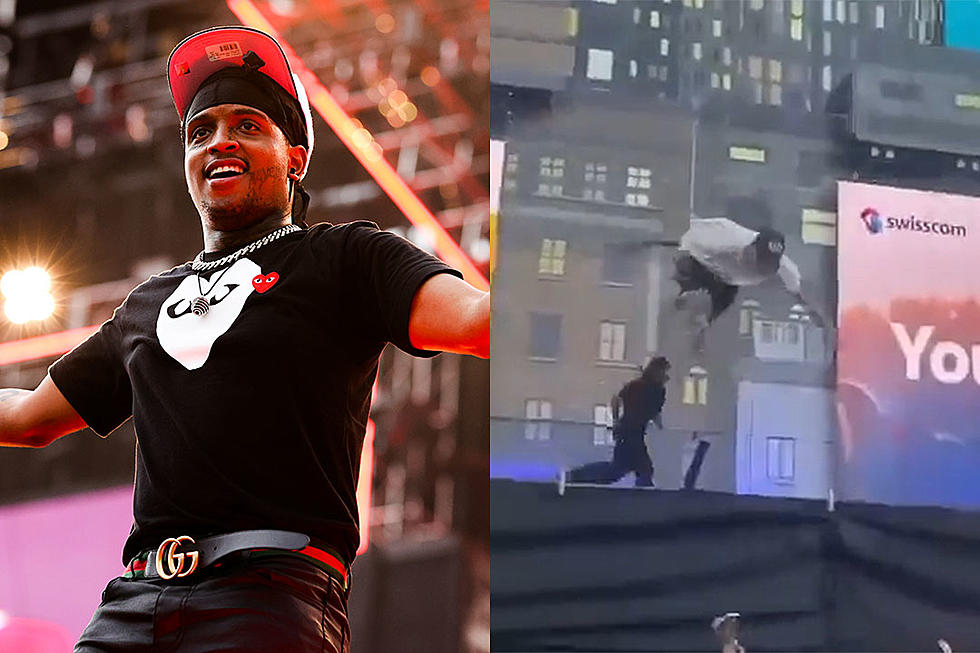 Ski Mask The Slump God Fan Dives Headfirst Off Very High Stage, No One Catches Him
Rich Fury/Getty Images/DJSCHEME_/Twitter
A Ski Mask The Slump God fan dove headfirst off a very high stage over the weekend during the rapper's performance at the 2023 Openair Frauenfeld Festival in Switzerland. Unfortunately, no one caught him when he jumped into the crowd.
Ski Mask The Slump God Sees Fan Plummet Into the Ground After Attempting a Stage Dive
On July 8, the "BabyWipe" rapper encouraged a fan who joined him and DJ Scheme onstage at the Openair Frauenfeld festival to attempt a stage dive. In the clip below, Ski Mask The Slump God urged the crowd to ensure the fan had a safe landing. But to no avail, the fan plummeted into the ground after they didn't catch him. Luckily after the impact, the fan recovered quickly once a bystander helped him stand up. The Stokeley rhymer then asked the fan if they were alright.
Ski Mask The Slump God was opening up for Wizkid and Stormzy. Travis Scott and Kendrick Lamar also appeared at the Europe-based hip-hop festival.
DJ Scheme Says He Told the Fan Not to Jump
After the sports blog Barstool Sports shared a clip of what happened on Twitter, DJ Scheme hopped on to tell his side of the story. On Sunday, the "Surround Sound" producer insisted that he told the fan not to make that huge leap off the stage.
"We told him don't jump," Scheme wrote as a response to the tweet below.
Fans Have Done Other Bizarre Things Onstage
Ski Mask The Slump God isn't the only rapper to witness something alarming onstage. On June 14, Eem Triplin saw a fan throw up profusely when he invited them to join him during his concert performance. The fan was reciting some of Eem's lyrics when they began barfing uncontrollably out of nowhere.
See a Ski Mask The Slump God fan who dives headfirst off a very high stage, not get caught below.
Watch a Ski Mask The Slump God Fan Not Get Caught After Diving Headfirst Off a Very High Stage Below
Ski Mask The Slump God's Most Zaniest Cartoon References
Here are Ski Mask The Slump God's most zaniest cartoon and anime references. Rick and Morty, Dragon Ball Z and more.