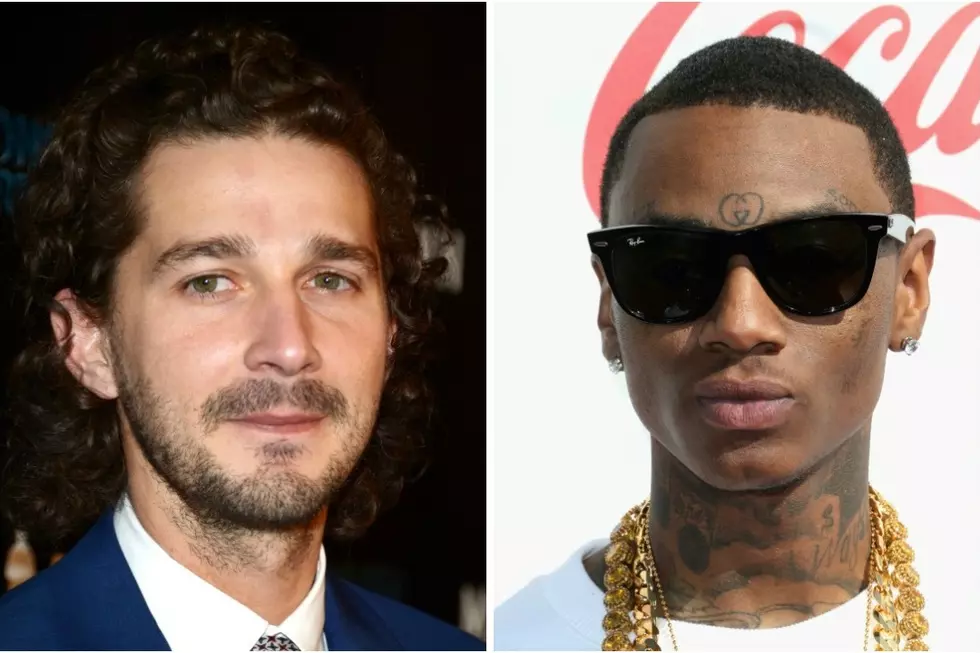 Shia LaBeouf Responds to Getting Banned From Atlanta by Soulja Boy
Matt Winkelmeyer / Frederick M. Brown, Getty Images (2)
Shia LaBeouf is calling Soulja Boy's bluff. In response to Soulja Boy banning the actor from Atlanta, LaBeouf has released a new freestyle in which he claims he'll be in the ATL when he has free time.
"I'm an accessible spectacle/I'll be in Atlanta when my schedule is flexible," he raps in his new "Hat Trick Freestyle."
This bizarre feud began when LaBeouf took shots at Soulja Boy and Lil Yachty in a recent freestyle.
"Not a Nautica boy, I own myself/This whole thing's a bit absurd but on my word/Is Boat about to get this work/You spit that dirt/Him and Soulja on that shout out shit/This is not, this a murder, this is tragedy man/He's like Lil Romeo meets Raggedy Ann," LaBeouf rapped.
Soulja Boy did not take kindly to the Man Down star's raps, unleashing a tirade on Instagram. The "Crank Dat" rapper banned LaBeouf from Atlanta and told the Emmy Award winner to stick to acting.
"You a bitch ass nigga, you can't never come to Atlanta, you can't never come to the streets in the hood," Soulja Boy said. "You can never live my life, you need to stick to acting, real shit nigga. This rap shit ain't for you nigga, for real have some nigga pull up on you, fuck Shia Labeouf… Nigga, fuck you talking about keep my name out your mouth, you don't want no beef, on my mama, you better stick to acting nigga cause this shit get real."
Now that LaBeouf has responded, it is only a matter of time until Soulja Boy fires back. This unlikely beef seems like a perfectly fitting way to cap off 2016.
Twitter Goes In On Soulja Boy For Dissing Quavo