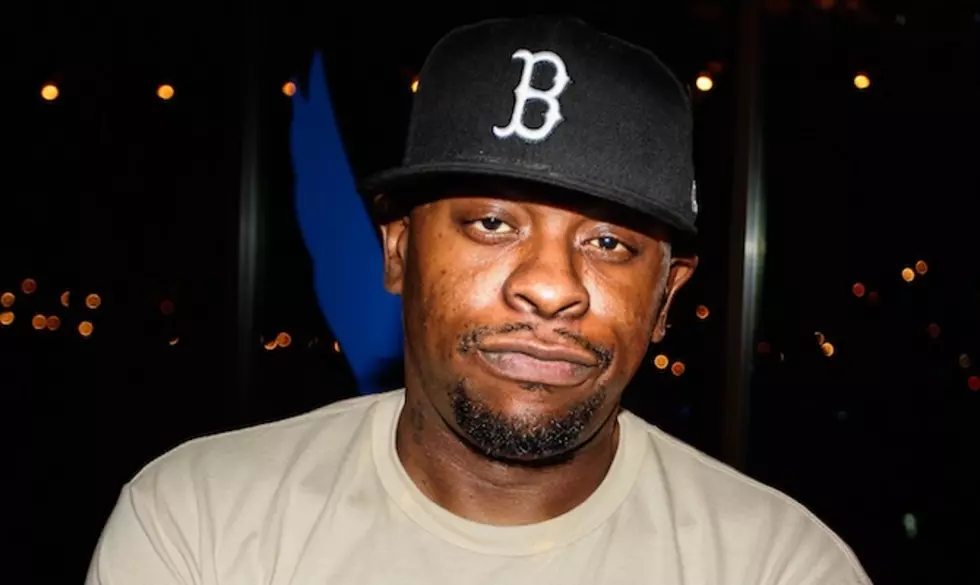 Scarface Remembers 'The Diary' 20 Years Later
Photo: Getty Images
Scarface needs no introduction among hip-hop heads. The Houston OG has spent the entirety of his career representing some of the realest hip-hop the genre has ever produced, both as a solo artist and with the Geto Boys over the past 25-plus years. Twenty years ago this month, 'Face made his strongest push into the mainstream to that point by releasing his third solo LP, The Diary, to widespread critical and commercial acclaim. The platinum-selling album, which featured hip-hop staples like "I Seen A Man Die," "Hand Of The Dead Body" and "No Tears," debuted at No. 2 on the Billboard Hot 100, and received a retroactive XXL rating from this publication.

Ahead of the 20th anniversary of his classic LP, XXL spoke to Scarface about the creative process behind The Diary, what it meant for hip-hop as a whole and how it elevated his career to the level of the legends in the game, influencing the likes of Ice Cube, Killer Mike, Ice-T and plenty more. —Interview by Eric Diep
XXL: You've got an anniversary coming up for The Diary, the 20-year anniversary. Do you remember where you were living at the time?
Scarface: I sure do. That's where I wrote the majority of the album, The Diary. I moved to the Braeswood Atrium on the 2nd floor.
This is in Houston?
Yeah, this is all in Houston. Second floor of the Braeswood Atrium. And then, toward the ending of the album, I started building the house in the Woodlands.
How old were you?
I think I was 23. I was gonna turn 24 on the 9th of November.
What was going on with you at the time? You were pretty deep in the rap game at that point. Your third album.
I think was deeper and more rooted in my community than I was in the rap game. You know what I mean? I wanted to make music for my people that I grew up with in my neighborhood. That's kind of the long and the short of that whole Diary album.
You made it for your peers and your community? Moreso than trying to sell records?
I had no idea that I could sell records on a more boss stage. I had no idea that I could sell records everywhere else. Even though I had sold records, I had no idea that I could or I did. I was more focused on what I was doing in my community, with the people that I grew up with. On the flip side of that, James [Prince, head of Rap-A-Lot Records] knew that the world was a ghetto and every ghetto in the world would be able to feel the shit that I was putting out. The shit that I was delivering. He used to always say, "Y'all thinking local. Y'all gotta think national." That's what James always said. James Prince. J. Prince.
That helped you in the direction of the album?
No, no, no. That didn't help me in the direction of it. It let me know that it was more people like me across the country. When he said there's a ghetto in every city, it meant a lot. He said the world was the ghetto. I had no idea that Chicago was Houston or D.C. was like Houston. Or L.A. I had no idea that it was [the same] as far as across the country. New York was like Houston. They got niggas all over the fuckin' country that go through the same shit we go through right here in Houston. I didn't know that, but he knew that. So when I say I made the records that I made—now even for The Diary, period—just the records that I made, that shit is for the community that I grew up in. I wanted them muthafuckas. I wanted them to jam, and [if] somebody picked up on it somewhere else, that was fine and dandy. I wanted that neighborhood that I grew up in to be like, "Boy, that muthafucka jammin'."
You definitely have those records. "No Tears." "I Seen A Man Die."
True story. "I Seen A Man Die"... I hate to say it but that was a fucking drug-induced record. I had broke my hand, so I was taking painkillers and drinking Miller Light and smoking weed. Back then, we wasn't getting that good, good California [weed] like we getting now. My buddy from Oakland, who used to bring this shit down called dank. I smoked that muthafuckin' dank after I popped that painkiller, was sippin' beer, man, and went to another fuckin' world.
I remembered the shit in my head, so I was high and it was dark in that muthafucka. I couldn't see nothing. I'm serious. I was high. All I heard was my voice in these beats, in these headphones, and I was lost. I got lost into that groove. I got lost into that groove. At the end of all of that shit, a couple days later or whatever, when we put the finishing touches on it... All the talking in the beginning of it, that came later. We was playing around, me and my partner Ray Ray and dude that used to be working named Cody and my cousin Jamal. We was just in there talking in the studio, laughing and shit. And that shit slipped and made it on the radio. Like, Ray Ray said, "I'm sick as a muthafucka, I can't breathe." If you listen to the record, you can really hear that shit. "I'm sick as a muthafucka, I can't breathe." They play it all over the radio and everything. Nobody knows that, but me, you, and the viewer that's gonna read this article right now.
How did you feel when you heard the song for the first time on the radio?
I don't feel nothing about the songs that I hear on the radio. The greatest part of hearing the song that you made, is when you turn back 20 years later and listen to it and say, "God damn." That's when you know you made a record. When you look back 20 years [later] and you can play that motherfucker and say, "God damn." I was 23 years old.
What about "Hand Of The Dead Body"? That one was pretty big for you, too.
Me and my Uncle Eddy made the beats at the house in Sugar Land. Me and my Uncle Eddy. My Uncle Eddy played the bassline, too. We made "Hand Of The Dead Body" together. It didn't have a name on it. We made that record and "Goin' Down" at the same time. Those records were made one day after the other. Those records... I promise you, my uncle has to be the best fuckin' musician I ever heard in my life. For real. If you listen to the bassline on "Hand Of The Dead Body." You will know what I am talking about. The fuckin' violin blast that you hear... [begins humming] That's me playing that. And the guitar parts, I'm playing the guitar parts and I think Mike Dean did the keys and the piano chords. [hums piano] That's my uncle, man. That muthafucka was raw. Joe ended up changing the beat on it, but all in all the idea of that record came from me and my uncle.
And Mike Dean, you worked with him too. What was the experience like?
That was early Mike Dean. To me, Mike Dean has always been all around. He was never a one-dimensional musician or a one-dimensional engineer or one-dimensional sound stage engineer. He was never one-dimensional. He could do all of that shit. If you needed Mike Dean to play the saxophone or some shit, he was fuckin' fluent in saxophone. Like, Mike Dean, he's a bad motherfucker. He can mix, he can master. He can play. That's what you call a real-life fuckin' producer. He can take an idea, and really format his own opinion around that idea. You feel me?
Lyrically, what were you trying to prove?
I was just trying to prove that I was a better rapper than the best rapper. You know what I mean? I was trying to prove that I was a better rapper than I was. I was trying to prove to me that I was a better rapper than I was. I wanted to out-rap me. I know I can't be fucked with. Whether the world will admit it or not, I know I can't be fucked with. I admit it to myself.
You find me another 23-year-old muthafucka with a catalogue like that. You pull my catalogue at 23 and pull everybody else's catalogue at 23. Now, wait a minute now, let me not put my foot in my mouth. That muthafuckin' Nas got an ugly ass catalogue too.
That was the same year that he put out Illmatic, too.
Nas was younger, though. Shit.
1994 was Illmatic. It was also Biggie's Ready To Die. Was that ever in your vision that you were putting out an album among these legends?
Nah, those guys weren't even around when I was doing it. Like Illmatic and Ready To Die. Those albums came, like... I was in Houston. So we really didn't know Nas and Big and Illmatic and Ready To Die dropped. And then, we didn't know of Nas and Big in Houston back then at all. Shit, I was competin' 'cause I was in New York getting shit from my cousin. I got cousins in Harlem, so I'm always hearing New York rap. I knew Ras Kass and KRS-One before he did. You know what I'm saying? I knew about the barbecues at Marcy Houses back here in Houston.
Like, damn, I could have been a fuckin' garbage man, but instead I was one of the best rappers that you ever heard. I take that. I take the break. I take that. I own that shit. I did that. That's what fuckin' made me that.
Did you ever think you would influence the styles of Killer Mike, Cube and those guys?
I had no fuckin' idea. Cube and Ice-T and Dre.
Looking back 20 years later, how did The Diary affect your career?
I mean, you always felt like, "You're always good as your last performance." That's why I always try make my last performance better than the previous one. That's important. 'Cause the world don't remember the beginning of it. They only remember the end. The world won't remember what happened in the beginning, they only remember what happened in the end. They'll be like, "God damn, that boy Jimi Hendrix. You know he died from an overdose." "Oh shit, man. You know Robin Williams was the greatest comedian. You know he hung himself." "Michael Jackson was this, and Michael Jackson was that. But you know he had a drug problem." They don't remember the great shit that Mike did, but he was fucking with the kids and he had a serious drug problem. They not talking about how phenomenal this five-year-old kid was. They don't remember the beginning, they only remember the end.