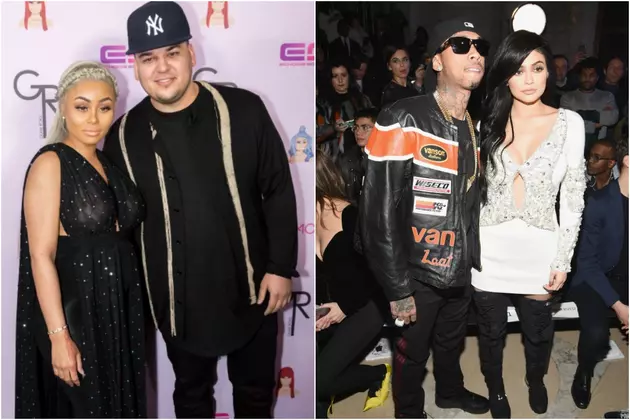 Rob Kardashian Says Blac Chyna Got With Him to Get Back at Tyga and Kylie Jenner, Twitter Reacts
Greg Doherty/Dimitrios Kambouris, Getty Images (2)
"I'm a savage and I always have been," Rob began in a now-deleted Instagram post. "I always will be and I don't give a fuck. All u may think my daughter my see this one day and I hope she does cuz this isn't love. I never want me daughter to be raised by a woman like Chyna who cheats and does drugs and alcohol with my baby in the house. Chyna been like this long before me, but I chose to love all of her cuz I don't judge. But second the baby was born she got body surgery I paid for and was gone from me and Dream's life. She only could breast feed for 4 weeks because she wanted alcohol so bad. My daughter is the best thing that happened to me and she will know that Chyna did this out of spite not love cuz she made my little sister took her baby daddy. Thank u."
As should have been predicted, Twitter has had plenty to say in the aftermath of Rob K's incendiary multimedia rant.
At the moment, Twitter users seem more interested in watching the drama unfold than sympathizing with Chyna or Rob. "Rob Kardashian showing us how much he played himself. He knew she used him for revenge on tyga & Kylie & everything else was a plus," one user wrote.
"Hahhaa how's rob kardashian only just realised that chyna was just tryna get tyga jealous😂 the lump," wrote another Twitter user, apparently amused with this situation. The internet's never been a nice place.
The rest of the Twitter community—or at least, the ones interested in this conflict—pretty much echo the sentiments of the users we just mentioned. If Rob keeps posting more videos and screenshots to his Instagram account, we're sure they'll be saying much more in the near future.
See what else Twitter users had to say in our gallery below.
Twitter Reacts to Rob Kardashian Saying Blac Chyna Got With Him to Get Back at Tyga and Kylie Jenner