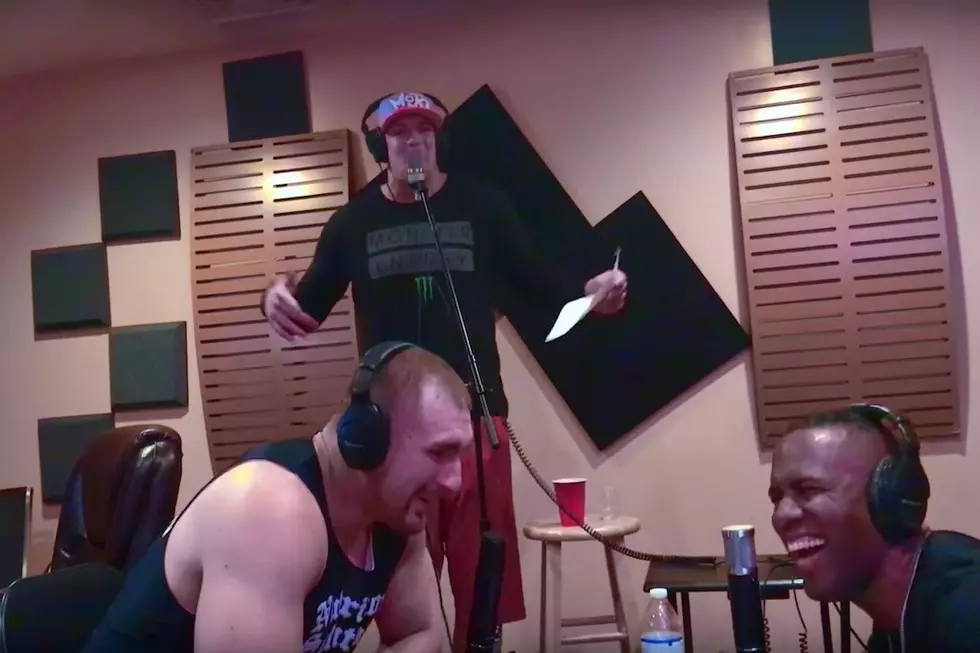 New England Patriots' Rob Gronkowski Freestyles Over The Notorious B.I.G.'s "Hypnotize"
DJ Whoo Kid
During an appearance on DJ Whoo Kid's The Whoolywood Shuffle, the Gronk freestyled over The Notorious B.I.G.'s "Hypnotize" instrumental. The results were less than stellar, but everyone in the room was having a good time.
DJ Whoo Kid caught up with the Gronkowski and his friend Mojo Rawley at WWE Wrestlemania 33 on Sunday (April 2). Gronkowski made a surprise appearance at the event, helping Rawley to win the Andre the Giant Memorial Battle Royal. The football star was all over social media and receiving tons of coverage from sports outlets due to his involvement in the professional wrestling extravaganza.
While the Gronk may not have any prowess on the microphone, he is no stranger to hip-hop. Last year, the former University of Arizona standout teamed up with Waka Flocka for a cruise party. Gronk took lucky attendees on a three-day vacation to his private island in the Bahamas.
The Gronk also worked with 2016 XXL Freshman Lil Dicky on an ad campaign for EA Sports' Madden 17. The tight end went head-to-head with the rapper and showed Lil Dicky what NFL defenders have to deal with on Sundays during football season.
Check out Rob Gronkowski freestyling over Biggie's "Hypnotize" below.
133 Rapper-Launched Record Labels From the Past and Present