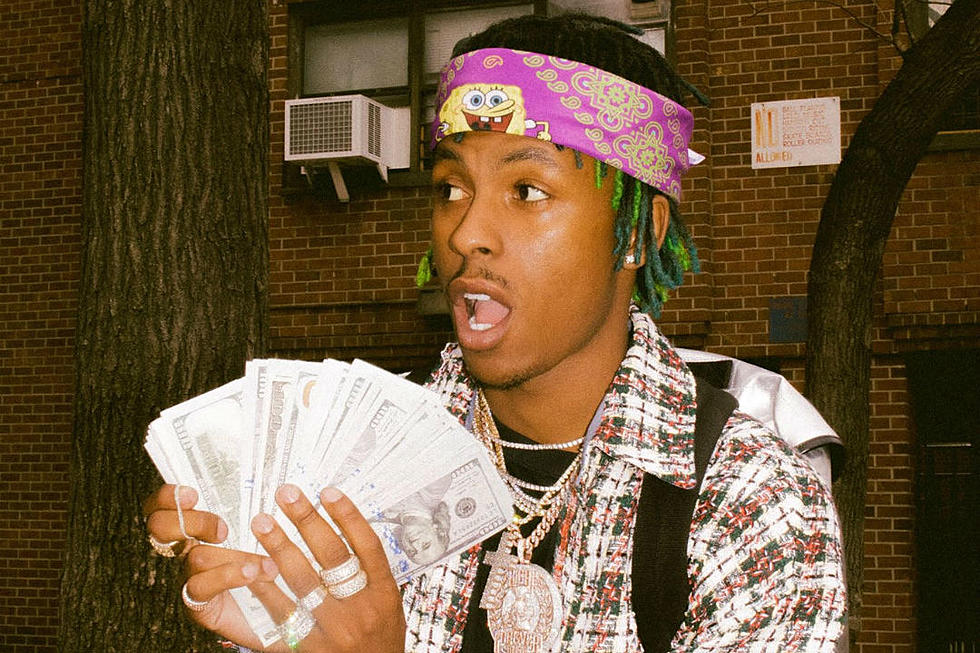 Rich The Kid Plans to Drop the Greatest Album of 2018
Ray
Rich The Kid has come a long way since grinding on the mixtape scene with Migos back in 2013. The Queens-born, Atlanta-bred rapper has been building a name for himself—and a strong roster—with his Rich Forever Music imprint, which he founded in March 2016. And aside from scoring his biggest hit to date with last year's Kendrick Lamar-assisted single "New Freezer," Rich has taken some exciting rap acts under his wing, including the newly signed Houston breakthrough YBN Almighty Jay and Jay Critch. He's gung-ho about their success—Rich campaigned for the latter to be included in this year's XXL Freshman class last month in an Instagram Live clip that went viral.
All of that groundwork has helped Rich secure a lucrative deal with Interscope Records in 2017. And now, he's finally prepared to unleash his anticipated debut album next month. The 25-year-old rapper stopped by XXL to discuss his upcoming album, working with Kendrick and grooming future stars.
XXL: You released your biggest song to date last year with "New Freezer." What was it like to work with Kendrick Lamar on the record?
Rich The Kid: It was a great accomplishment but I always feel like there's a lot more work to be done. I'm a workaholic.
What did Kendrick think about the record once it was completed?
He was excited about it when he heard the record. He was like, "Everybody is gonna listen to this everywhere," and he was right! A lot of people really didn't expect for me to have a record with Kendrick, but I proved them wrong. It's not easy to get Kendrick on a record, so it was a huge deal for me to have him featured on the song.
You were getting major guest features before you signed your deal with Interscope. How were you able to secure them on your own?
It's been my work ethic, but now it's not like me doing what I used to do: reaching out to people. People are reaching out to me and telling me, "Yo, Rich we want to fuck with you. We fuck with your work ethic." It be big artists reaching out to me. But to be honest, I really don't fuck with rappers. I don't even fuck with niggas anymore, because niggas be funny.
Why don't you mess with rappers as much now?
I don't know, I think starting last year everybody was getting money and being successful and people just started changing.
When is your debut album dropping?
What should people expect from your debut album?
This will be the greatest album of 2018. Best hip-hop album—you heard it here! There's no other rapper that will drop a better album than me. No one.
Do you prefer being signed to a major label or working as an independent artist?
I like being signed because you have the support system. It's all about the growth and labels give you that support you need.
So, you have this record with Pusha T. When should we expect you to drop that?
What else will the Rich Forever imprint drop this year?
Jay Critch's mixtape is also on the way and Famous Dex's album. YBN Almighty Jay mixtape dropping after that.
You recently signed YBN Almighty Jay to your label. What was it about him that made you want to scoop him up?
I saw a lot of hustle in Jay that I saw in me when I was coming up in the game. I was on the road when I first started messing with his music, so he'd hit me all the time like, "Rich, we gotta get in the studio." If I would forget to hit him, he would follow up.  He just reminded me of myself, so when I thought about it—timing was perfect and it just made sense to sign him.
How do you think Jay will stand out in today's rap game?
He has his own sound. He's starting now to build his own wave. I feel like Houston don't have any main artists very big, so the lane is open for him to come in, fuck it up and put Houston on the map.
Jay Critch recently made headlines when he signed to Interscope. When did that deal happen?
A little bit after I signed my deal with Interscope. I was just building the relationship with them and they were really supporting everything I wanted to do with Jay Critch and my vision for him. We did a partnership where he is signed to Rich Forever/Interscope and everything is going well, so everything that you been seeing him on is not label yet. We're just now starting, so everything that you've seen him do so far—him on the radio and all that—has been organic. We're about to takeoff, rocket ship-style!
Will you tour this year with your Rich Forever artists?
We're gonna do a Rich Forever tour very soon for the springtime.
What advice do you have for young artists trying to make it?
The best route is to stay humble and stay true to yourself. You don't have to work with everybody and be on songs with everybody just to make it.
Check Out the 2018 Hip-Hop Music Festivals You Need to See