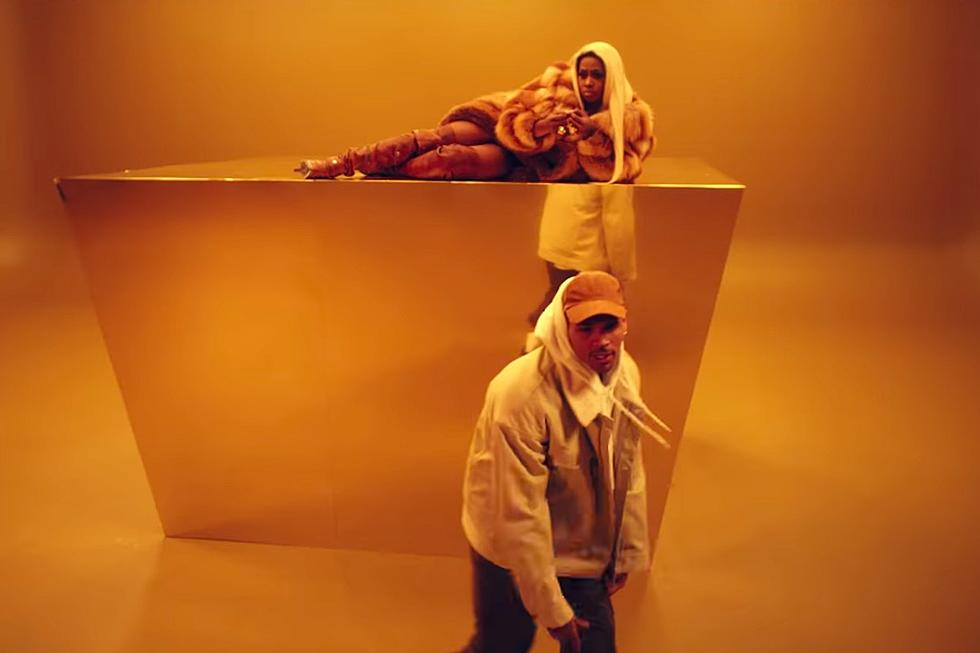 Remy Ma and Chris Brown Celebrate Black Girl Power in "Melanin Magic (Pretty Brown)" Video
RemyMaVEVO via YouTube
The female MC and "Pills and Automobiles" singer surround themselves with beautiful women throughout the gold-themed set for the visual, which is self-directed by Remy.
While the Bronx native embraces her curvy body in a series of ensembles, including one where she drips a chocolate-like substance all over her, Breezy serenades the group of beauties during the hook. Viewers can also catch cameos from some of Remy's girlfriends, including Rapsody, JuJu and Yandy Smith.
The new song, which dropped last month, is the latest single from Remy that previews what is to come from her forthcoming album, 7 Winters and 6 Summers. "Melanin Magic (Pretty Brown)" samples Mint Condition's "Breakin' My Heart (Pretty Brown Eyes)" and follows the theme of Remy's nostalgia on her tracks. Her "Wake Me Up" single with Lil Kim from 2017 samples the veteran rapper's "Queen Bitch" record from her Hardcore album of 1996.
The new video also comes at a major time for Breezy, whose Heartbreak on a Full Moon album just earned platinum certification after its October 2017 release.
Watch the music video for Remy Ma and Chris Brown's "Melanin Magic (Pretty Brown)" single below.
See New Music Releases for February 2018