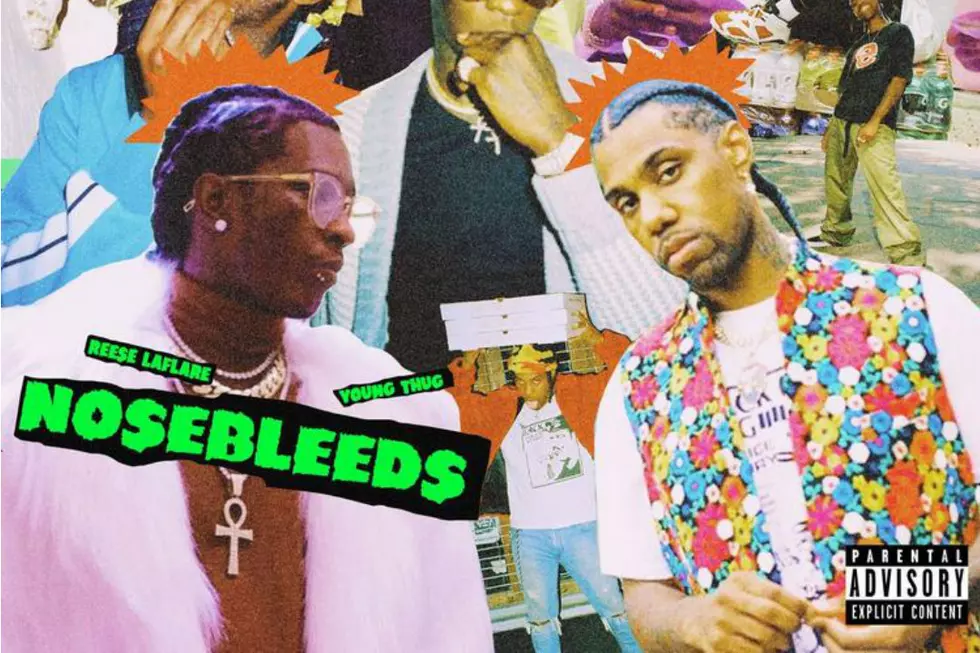 Reese LaFlare "Nosebleeds": Young Thug Connects With the Former Two-9 Member
LaFlare are Records / EMPIRE
Reese LaFlare is putting the finishing touches on his upcoming self-titled album. On Friday (Aug. 10), he shares more fruits of his labor on the new banger, "Nosebleeds" featuring Young Thug.
The two ATLiens share the wave on a busy instrumental, highlighted by trap drums and spacey chords. "I'm in the nosebleed, not the coach seat, oh yeah (oh yeah yeah)," Thugger raps on the chorus. "Got this gold on like trophy, oh yeah/I done strolled on 'cause they don't know me, oh yeah (okay, okay)/Pop the seal on the codeine clingin', oh yeah."
Reese takes over, attacking the track with a choppy flow. "I'm so high now (I'm so high)/Out my mind now (out my mind)/Bring them vibes out (bring them vibes)/Bring them slimes out (bring them slimes)," he spits. "In the clouds now, see it in my eyes (in my eyes)/In the field now, fuck it how you feel now(fuck it how you feel)/Ayy, yeah I'm the real (yeah I'm the real)/These niggas ain't real (niggas ain't real)/Fuck all that cap (fuck all that cap)/Niggas is actors (niggas is actors)/They livin' backwards (they livin' backwards)."
Reese's new album is slated to drop on Aug. 17. It will also feature the Gunna-assisted track "Drip Like That" and guest spots from Smokepurpp, Pusha T, Yung Bans, Ty Dolla $ign and Vory, with Murda Beatz on production.
The new project will give fans a deeper look into the former Two-9 member. "I think it defines me as a whole and shows how diverse I am," he explained. "I went back to my roots with this one so if you have been a fan since day one you are really going to appreciate it and also see my growth as an artist."
Listen to Reese LaFlare and Young Thug's new "Nosebleeds" collab below.
See Exclusive Photos From Young Thug's 2016 XXL Cover Story