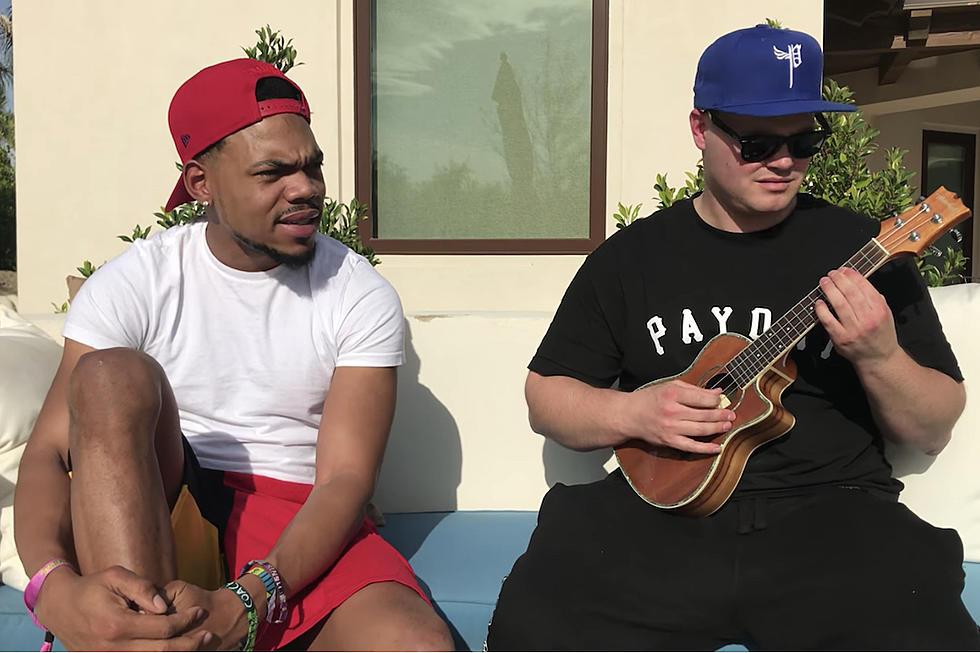 Your Favorite Rappers Are Going Viral by Rhyming to Einer Bankz's Ukulele
Einer Bankz via YouTube
Just as Quavo, Future and Kodak Black helped to make flutes the most fire sonic trend of 2017, multi-instrumentalist Einer Bankz is introducing an unlikely instrument to hip-hop: the ukulele.
Bankz has been popping up all over social media in videos where he's playing the small, stringed instrument as the likes of Chance The Rapper, Skippa Da Flippa, Trippie Redd and Rich The Kid rap along, making for an unorthodox, provocative sound. Born and based in San Francisco, Bankz has spent the better part of the past two years releasing these whimsical and technically impressive uke-meets-rap collaborations via his Instagram account.
While Bankz picked up a ukulele on a whim one night in a college house, his viral rise to fame has been anything but random. He credits the Bay Area for his organic come up. "The Bay has its own bubble and with the community here, artists can often self-sustain within the Bay and then don't wanna leave," he tells XXL. "It's the perfect place to grow… I think that if I wasn't in this area, so much of my success wouldn't have happened."
What appears to be a silly gimmick to some is merely the tip of the iceberg for Bankz. Last year, he dropped a solo project (Uke Nukem) and in addition to the Instagram videos, you can find him in the studio laying strings on full-fledged tracks or sending out beats to connect with artists. He describes the work as endless, but sounds overjoyed and fulfilled by it.
"There are people who think that I'm rich, just financially sound off of this," Bankz says. "The perception of that made me realize it's not really the video, it's about what comes after the video and what I do with that and all of the people who reach out. The work actually begins after the post goes up."
That level-headedness, drive and hunger for more is what Bankz believes will set him apart in the long run. In this moment, he's hip-hop's favorite ukulele player, but he has big dreams of being the Travis Barker of the strings section and seeing his name attached to major radio hits. If Bankz keeps his head down and keeps working, there's a good chance he'll get there.
Einer Bankz hopped on the phone with XXL to speak about his viral rise, how he connects with major rappers and his ultimate goal in music.
XXL: What role did music play in your life before you became a ukulele sensation?
Einer Bankz: I always liked creating. I was really big on playing guitar, playing violin, and early on, I started by being a part of different bands and that was kind of my passion while in school. I was doing the punk rock band thing. It's always just been a part of my life, but started early on playing the violin before I knew any better.
Did you have a good experience with violin?
What's funny is my violin teacher moved to Australia right around 5th grade, and so, I was like, "Yeah, fuck this instrument, I wanna play guitar!" Right around when middle school was starting I got my first electric guitar and I was like, "Oh, yeah, now we're talking." It was a perfect transition, because I loved music and I don't wanna say I was forced to play violin, but that was just what I played based on my parents.
Did any violin skills transfer over?
Basically, I learned violin based on the Suzuki method, which is hearing the notes before learning how to read the music. Pretty much, when I picked up the guitar, I hadn't had any real lessons with it, but was able to start playing just based on the fact that I could hear notes. It was pretty cool because it was kinda transferable to any instrument. Of course, there's the piece of learning how to play an instrument to create the actual sound out of the instrument—like the tuba is insane—but I figured it out. So if I heard something out and knew how to play the instrument, it was like, "Yup! I can do this."
When was the first time you picked up a ukulele?
I was in a college house when I was in school. I was at one of those houses where people would move in for a month and then move out and leave all this shit. It was a great house, but there was just shit everywhere, all over this huge garage. There was this mini case, and I'd always looked at it and thought it was my roommate's.
We were all drinking one night, and I was with this girl, and she was like, "Hey, you should play that. What is that?" I brought [the case] out and no one knew what it was, and I guess the other roommate had this girl who brought it over and left it there. I picked it up and started playing, and the girl was like, "You should play a Snoop Dogg cover," and I did. The next morning I woke up and Snoop Dogg had posted it. It was super random, really, but it made sense as soon as Snoop posted it that I should keep doing what I'm doing.
So you pick up a ukulele in a garage, next day Snoop Dogg posts video. Did you anticipate that it would go this far, link you with all these rappers?
No! To be honest, it was just funny to me, at first. Now, it's nowhere near funny to me. Really, it's kinda what I've made of it. It has nothing to do with my ability and has everything to do with my devotion and my willingness to continue and get knocked down and get up again over and over every single day, and not give up. At a certain point I've just made a decision, like, look at the lane that I've created. There's no one really in this lane… I can take it as far as I really want to.
Is that resilience part of how you maintain your virality?
It's literally just every single day, every waking hour of my time is devoted to networking or setting something up. All you see on Instagram are the videos, but I'm also laying strings on actual tracks, and I've dropped my own album, and I've got more on the way. So if it's not me working with other artists, it's me in the studio laying down strings, it's me sending beats to artists, putting people together… It's just constant.
Right before this call, I almost had a stroke with a DM that I got. But! You have to maintain that 99 percent of what's said won't happen, and just assume that nothing has occurred until it actually goes through. A lot of people talk and it's really to get invested into something. That was a big hindrance early on, somebody would say something and me just being a trusting person, I would think for sure this was gonna happen. Then I'm waiting on it and it took me a little while, but as of lately, I'm like, great all these potentially life-changing individuals have reached out to me, but all of this may not happen.
I don't even let it phase me these days. Up until the video's actually done, it's nothing. I've gotten to the point where I've been pulling up at the address that the person had me come to, and then have them not answer.
How do you stay realistic without getting jaded?
I understand it's all part of the process and there are people who need to see something of me. It's just kinda how work goes. If you have something to offer that somebody views as substantial, it's worth doing for them. When we're talking about huge artists who have a million things going for them, I'm not too big on the radar. So a lot of these people will reach out and who knows what goes on, but they decide not to link. But I know that they initially had that interest and all I need to do is keep pushing it to the next level.
Last night, somebody who I had two years ago, who bailed, came back in like, "My bad, I can't believe you kept this up, I'm actually ready this time. Here's my phone number." You have to understand that it's never personal. Rappers are very critical of their careers, they're nervous for how they're perceived, and I just have to keep in mind there's so many reasons why an artist might not link up.
With that, do most artists reach out to you, or do you fire off emails all day?
Oh, I'm reaching out all the time, but now I'm like "Holy crap, this person DM'd me in response to something I sent a year and a half ago." It's funny to see who triggers different artists. It's nothing I'd ever expect, like some of the biggest artists I've linked with were triggered by people that I've worked with who had no eyes on them. You never really know. I'm shocked every day.
Do you feel like because the Bay Area really moves together as a culture, that's part of why you were able to grow this so well and so organically?
I feel like there's no place like the Bay. Really, the main aspect of the Bay is that the Bay has its own bubble and with the community here, artists can often self-sustain within the Bay and then don't wanna leave. It's the perfect place to grow, but also if you're an artist who views the Bay solely as the only community that you have, it's really easy to get down and depressed because there's only so far it can take you. But I think it's a great place to come up as an artist and within the community there's so much that can be done. I think that if I wasn't in this area, so much of my success wouldn't have happened.
The first show I actually went to, I got pulled up on stage. Nef The Pharaoh brought me out, Mistah F.A.B. brought me out, and I was like, "Shit! They're responding to this." I wasn't even thinking about trying to get in, at that point I had just done covers, but they're embracing this to the point where they're willing to bring me out in front of the headlining act and give me that audience.
What was the moment that crystallized this as a serious pursuit?
I would say my video with Fat Joe. I went to Atlanta, and I was getting in with all these artists. I did a video with Lil Duke and I got brought to the studio, and Young Thug was there and he sat next to me. He's just talking to me and hanging out, super casual. The next day, the radio station called me and wanted me to come in and sit in on Fat Joe's interview and get a video with him.
The initial plan was that I was gonna hide and then jump out in the middle of the interview and start playing "Lean Back" and he would start rapping. I thought that was just ridiculous because if I was Fat Joe and I saw someone pop up with a ukulele from the behind the counter and start playing, I would probably swing on 'em. So I think there's no way, and as I'm saying there's no way, Fat Joe walks in and sits down and treats me like somebody interviewing him.
So I'm hanging out, sitting through the interview and he looks over like, "What's that, a banjo?" And I'm like, "Yeah, and I'm 'bouta play 'Lean Back,' and you're 'bouta rap." And he got up and started doing it, and that post ended up convincing everyone in the Bay who was unwilling to work or who hadn't responded. All of the verses I was waiting on came in within that next week.
In my head I was like, "I really didn't do anything," but to everyone else the perception is that I made it. There are people who think that I'm rich, just financially sound off of this, just assuming that I'm raking in dough now that I've worked with Fat Joe. The perception of that made me realize it's not really the video, it's about what comes after the video and what I do with that and all of the people who reach out. The work actually begins after the post goes up.
You have such a good perspective, because clout comes and goes, but doesn't pay bills.
Right! It's not about clout. I've stuck to being my very real self. I mean, there's a little bit of shenanigans, but I've stuck to being very pure and leaving it to the music. An artist might have a different idea, and I might mix it up, but if I'm going and cussing out rappers and starting fake beef and breaking shit on camera, I could definitely have that clout and that energy, but then I'm put in a bracket with every single other person who's doing that. You wanna be in a lane where people respect what you do and don't view you as someone who's being corny to get on.
Thinking about perception, people love the uke because it's so fun, and it's almost outrageous placed next to some of these artists who are so hard in their music. Is that juxtaposition part of the appeal?
Oh yeah, without a doubt. I did this Baltimore video and on the way, I'm hitting up all these people and they're out of town, and the artist I ended up linking with was Young Moose, who's signed to Boosie. He's like, "You wanna just come to the hood?" Drove into the hood, middle of the night, and that video went up, and on his page it got so much street love. He hit me like, "The views are going stupid on this." That is a big part of it: People see that I actually come out. I got all this Baltimore love, and people don't have that. A lot of these cities don't get their shine. It's very rare to see someone who has the ability to shed major light on a city going in and do all that.
The contrast is obviously hilarious to a lot of people, but even more so, people from these areas really appreciate when you come out. The amount of messages and positive shit—and you know, there's always negative shit—from just that video, from an artist that a lot of people haven't heard of, is more than I would get from a super-well-known mainstream artist.
What is your end goal in terms of music?
Final goal: XXL follow on IG. Top of the top, I'd probably die happy. Other than that, I'm straight. All jokes aside, I wanna be involved with a bunch of really big records. I wanna be the artists who's playing strings on hits. I wanna be on radio hits and production, do what I'm doing and take it to the next level and be known as the guy who does strings. Being known as one of the greats of their own instruments. Travis Barker is a prime example. He has touched every genre, he has been monumental in four genres of music. The roll out, the peak, the rise, the fall, and to the next, he's been that iconic guy who shifts with the changes but stays in his lane to the point where nobody can really compete. It's not even a matter of competition, but just being so sure in what you're doing that there doesn't need to be a lane already paved for it. You're just blazing the trail that you know is your own.
Check Out the 2018 Hip-Hop Music Festivals You Need to See