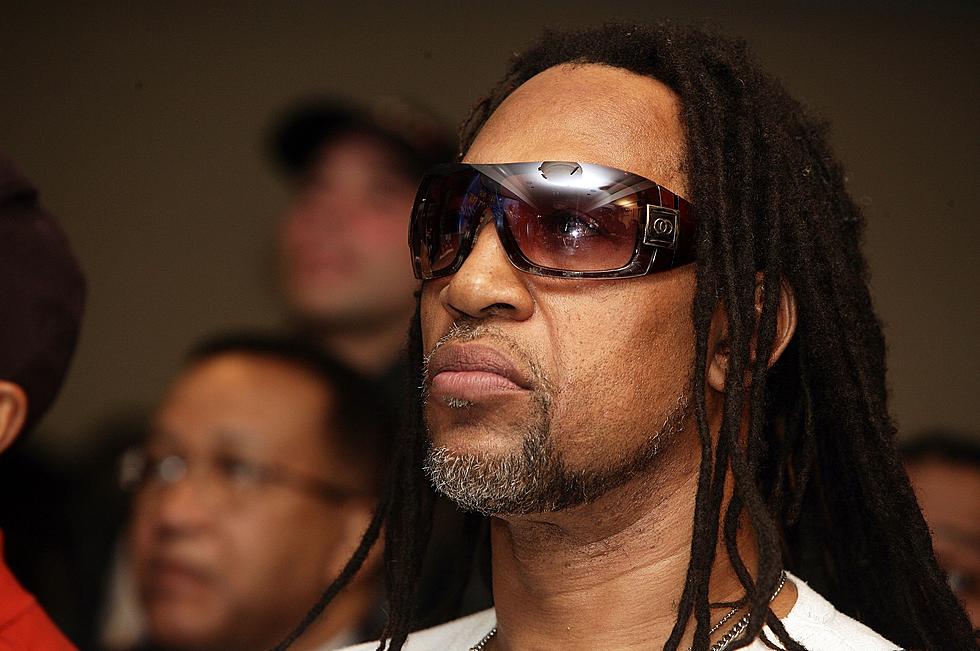 20 Rappers Who Pay Homage to Hip-Hop Pioneer Kool Herc in Their Lyrics
Scott Gries, Getty Images
There are many things up for debate in hip-hop. Could Joey Bada$$ flame 2Pac in a battle if the latter was still alive? Did Remy Ma ether Nicky Minaj on her diss track? Who's the greatest MC: Biggie, Jay Z, Nas or another great rapper? One thing that isn't, though, is the birth of the culture, and Clive Campbell's place within it.
Better known as DJ Kool Herc, his technique of using two copies of a record to elongate the "break" of hard funk and Latin procession-filled songs became the fundamental basis of hip-hop. His first party for his sister's birthday at 1520 Sedgwick Ave. in the Bronx featured both the first hip-hop rhyme ever by rapper Coke La Rock, and b-boys. He influenced two upstarts, Afrika Bambaataa and Grandmaster Flash, who took the technique he developed to new commercial heights that, and, without question, changed the world.
His larger contributions to the culture were not recorded or captured on wax, which makes them almost incompatible in a new world that thrives on content. Kool Herc pops up across hip-hop history, though, in many forms and real heads keep his name and legacy alive. The fact that among mostly fictionalized characters in Netflix's "The Get Down" his name and likeness is included adds credibility to the show and added incentive for a new generation to learn more about him, and discover how an 18-year-old kid from the Bronx spawned a cultural revolution and an entire genre.
As a salute to Herc, XXL pulls together a playlist that features artists showing respect to the godfather in their songs throughout the years. Respect the architect.
"Now way back in the days when hip-hop began/With Coke LaRock, Kool Herc and then Bam/B-boys ran to the latest jam/But when it got shot up they went home and said, 'Damn'"

"Game's Pain"

The Game Featuring Keyshia Cole

"Every rap metaphor always ends in my name/The Kool Hercs, DJ Red Alerts/Before I was born they was talkin 'bout The Game"

"Church"

Macklemore Featuring Geologic

"I solemnly swear by the faith that raised me since Kool Herc dropped that needle/The South Bronx, that's hip-hop's Egypt"

"Who? Clive Campbell from Sedgwick Ave, the Bronx/Now she shows me the cash/I said who's Clive, don't play with me skirt/She said Clive Campbell, he's Kool Herc"

"I Do It for Hip Hop"

Ludacris Featuring Nas and Jay Z

"I lost a lot of dogs to these streets/I got Grammy Awards on these beats/Thank God for Kool Herc/Without your shit I probably would've got merked" - Jay Z

"Life Is Better"

Q-Tip Featuring Norah Jones

"Uh, uh, one step at a time, a man walked on the moon/One record got played, Kool Herc said boom/One minute young man, your time come soon/We waiting, it was prophesied you loon" - Q-Tip

"Grandmaster Flash and Red Alert, I'm talking Kool Herc/Jazzy Jeff, Fresh Prince brought it to suburbs/And Hip Hop will never be the same"

"Still Diggin' Wit Buck (Legend's Intro)"

R.A. The Rugged Man

"I make records for the shepherds and not for the sheep/Not impressed, you'll be impressed soon/Lets get it started like Kool Herc did in that Sedgwick Avenue rec room"

"MCs never showed loyalty yet/Kool Herc ain't never get a royalty check/I do work, no question, and bomb your set/I'm calm collect, sharp like my name Gillette"

"Now if that ain't science I don't know what is/The ingenuity of these young Black kids/The Bronx New York, Sedgwick and Cedar/Kool Herc earth hip-hop true believers"

​"The Renaissance 2.0"

Hell Razah Featuring Tragedy Khadafi, Timbo King and R.A. The Rugged Man

"I'm hip-hop before Sugar Hill signed a deal/Before Studio 54 popping pills/It was real when Kool Herc worked the wheels of steel"

"Mood Muzik The Box Set Intro"

Joe Budden

"We don't do the spotlight and gimmicks/Dudes y'all listen too, don't be getting it in
So I snatched every nigga that they mimicked/Authentic y'all call it a clinic
/Y'all race against time but I'm winded/Hip hop's son, Kool Herc's descendant"

"Hip Hop Ride"

Da Youngsta's

"Slide to the rhythm, let your body jerk/Remember all the bass from my man Kool Herc?"

"Stunts, Blunts & Hip Hop"

Diamond D

"The hip-hop legacy will always last/To know your future is to know your past/Thanks Kool Herc, Grandmaster Flash/Afrika Bam, whose jams were a blast"

​"Top 5 (Dead or Alive)"

Jin

"It started out with the legendary Kool Herc one of the greats/In 1980, Kurtis Blow hit us with 'The Breaks'"

"New York Shit"

Busta Rhymes Featuring Swizz Beatz

"Kool Herc, Afrika Bambaata, the fathers of this shit, thank y'all"

"Thank you Kool Herc for giving us the culture/Coke crack and deals whatever road-in you go for"

​"Eat Em Up L Chill"

LL Cool J

"Wanna say what's up to my man Kool Herc/And my man Afrika Bambaataa and the Zulu Nation/Know what what I'm sayin'"

"The Game"

Prince EA Featuring Sha Stamuli

"Way I see it, I was either born too late or too early/I try to show dudes Jules Verne... Too wordy/These jerks don't even know Kool Herc but they know Fergie"

"Mic, Lights, Camera, Action"

Redman

"That's fresh! Dummy, study the art/Study how it all began and see the part/Study how Kool Herc became King of Bronx/Learn, how to rock Wallabees and Clarks"