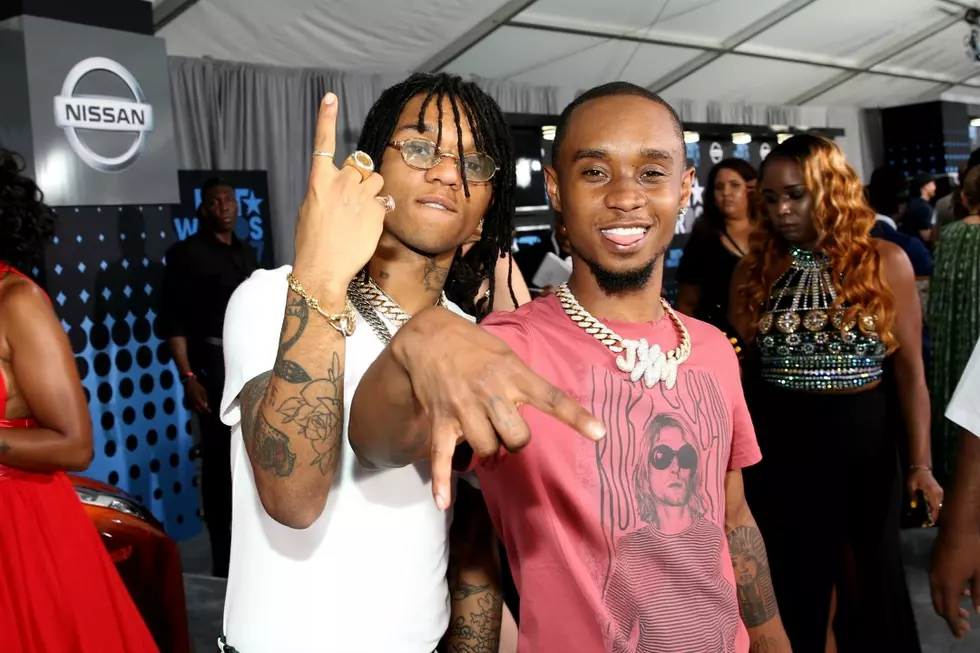 Listen to Rae Sremmurd's New Song "T'd Up," Featured in ESPN's New NBA Promo
Bennett Raglin, Getty Images
The guys of Rae Sremmurd are giving us a taste of what we can expect to come from their highly-anticipated SremmLife 3 album, as they drop their new song "T'd Up." The latest track from the rap duo is featured in ESPN's new promo video for the NBA's upcoming Cleveland Cavaliers vs. Boston Celtics game.
On the new song, both group members Swae Lee and Slim Jxmmi are listed as co-producers alongside Metro Boomin and Darrel Jackson. The record begins with a melodic hook from Lee, who then laces the first verse with some braggadocios rhymes.
"Come back from the dead I feel like Frankenstein/Five chains on my neck and they got hangtime (yeah, yeah)," Lee rhymes. "Niggas rap, but they don't even stay around/Rollin' weed and baby, yes, I hang glide/Bring in them hundreds, end of discussion (crush it)/Bad chick blushin', turbo bustin' (giddy up, giddy up)."
For the second verse, Jxmmi offers up some inspiring words about opting out of drinking lean for some Ciroc vodka, following in the footsteps of other rappers who are vowing to stay away from the product.
"Snakes on me, I'm G'd (G'd)/In every way I'm T'd," Jxmmi raps. "These girls comin' in teams (yeah)/We drinkin' CÎROC, not lean (not lean)/Young niggas so hot like steam/Can't go out sad, not me/Colorblind, I'm seein' blue-green (blue-green)/Blue-green? Blue-green (green)."
ESPN's promo, which plays "T'd Up" in the background, shares details of the NBA match featuring former teammates LeBron James and Kyrie Irving facing off on the court. The game is slated to take place on Feb. 11 in Boston, Mass., which is the Celtics' turf.
Rae Sremmurd will be releasing their upcoming SremmLife 3 project as a triple-disc album. While one disc features solo cuts from Swae Lee, and another with a solo Slim Jxmmi, the third brings the two Mississippi brothers together.
SremmLife 3 is not necessarily the official name of the third studio release from Sremmurd, as Mike Will Made-It previously implied that the upcoming album could be titled Sremmin'. The LP was supposed to drop in January, according to the duo, but the month came and went without an official release.
Listen to "T'd Up" from Rae Sremmurd and watch the NBA promo below.
See New Music Releases for February 2018