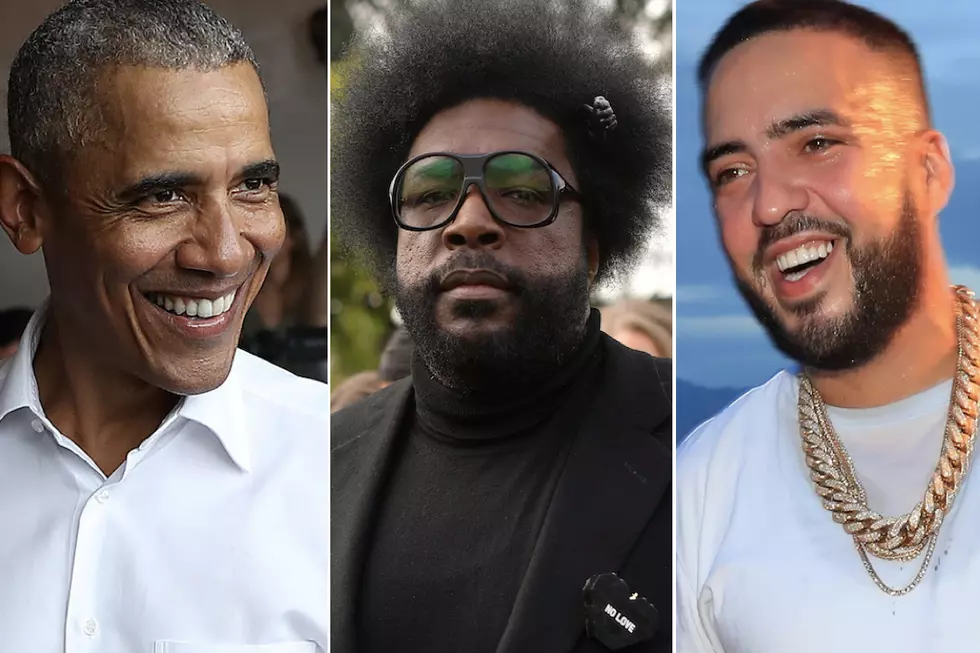 Questlove Says Obama Requested French Montana's "Pop That" at a White House Party
Joe Raedle / Matt Winkelmeyer / Christopher Polk, Getty Images (3)
Questlove told a hilarious story about playing a French Montana song at a DJ gig he once played at the White House on Rick Rubin, Malcolm Gladwell and Bruce Headlam's Broken Record podcast.
On the March 26 episode, the Roots drummer recalls deejaying a party for President Barack Obama and First Lady Michelle Obama at the White House in 2016. During the shindig, then-President Obama walked up to Questo to tell him that he was doing a great job.
"So two hours into it, he taps me on the shoulder, 'You're doing a good job! I love the Donna Summer and the old school hip-hop and the jazz. But look at them, they wanna have fun too!' And he's pointing to his kids. They're having a sit-in," he explained while doing his best impression of Obama.
And then, according to Questlove, Obama made a strange song request.
"[Obama's] coming up to me like, 'Do you have French Montana?' And I'm like, 'Sir! I don't have the clean versions of that,'" he recalled. "He's like, 'We're all adults here. Play it!' I'm like, 'Sir, I'm not gonna play 'Pop that pussy, bitch, what ya twerkin' wit.'"
The song that Questlove is referring to is French's 2013 club banger "Pop That" featuring Lil Wayne, Drake and Rick Ross.
The 48-year-old musician said that he felt so bad not playing French's song at the White House that it forced him into retirement for six months. The former president's love for hip-hop is well documented.
You can listen to Questlove on the Broken Record podcast below.
See 30 Albums That Will Make You Appreciate Hip-Hop