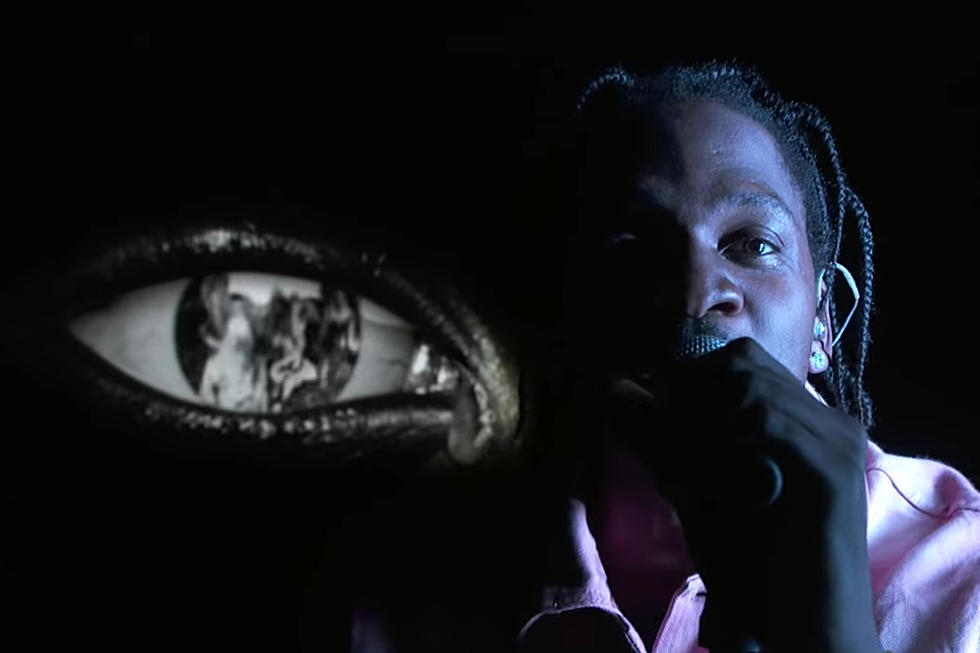 Pusha-T Performs "If You Know You Know" on 'Jimmy Kimmel Live'
Pusha T via YouTube
Pusha-T capped his historic album release week last night (May 31) with a performance of "If You Know You Know" on Jimmy Kimmel Live.
The Clipse rapper live-debuted the single from his new album Daytona with the help of strobe lights and a large animated eyeball, perhaps in reference to the track's line about police suspicious of gangsters-gone-clean, "Too legit, they still lookin' at me with one eye." Throughout the performance, the eyeball flashes images of fire, ancient sculptures, crosses, doves and a collection of $100 bills.
This comes on the heels of a dramatic week which saw Pusha escalate his beef with Drake with the diss track, "The Story of Adidon," in which the G.O.O.D. Music president claims the Toronto rapper has a secret child, among other things. Drake has not released a song in response, although he did publicly address the track's cover art, featuring an old photo of Drake wearing blackface, which Aubrey claims was meant to be a statement about stereotypes in movie casting.
For those interested in seeing him live, Push is preparing to tour in support of Daytona, but the dates have not been released. "Fine tuning for tour time," he wrote this week on Instagram in the caption for a rehearsal video.
You can watch Pusha-T's performance of "If You Know You Know" on Jimmy Kimmel Live below.
See New Music Releases for June 2018