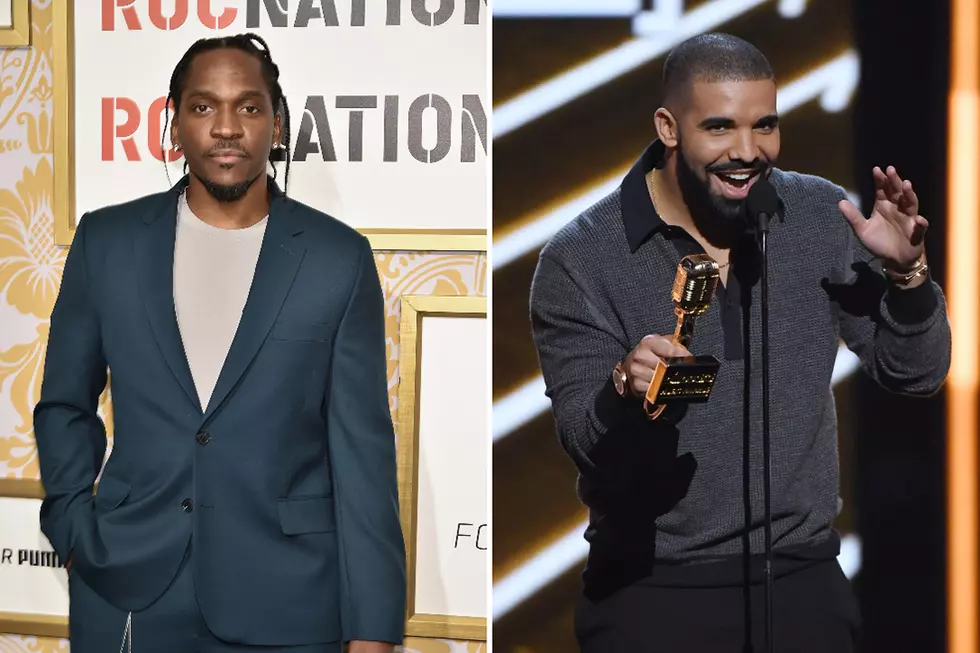 Pusha-T Claims Beef With Drake Is Over
Steven Ferdman / Ethan Miller, Getty Images (2)
J. Prince isn't the only one calling the feud between Drake and Pusha-T dead. In a new interview with Vanity Fair that was published on Thursday (June 7), the Virginia rapper spoke about the beef and claimed it's now over.
While Push promised a "surgical summer" on "The Story of Adidon," the G.O.O.D. Music president admits the feud has come to an end. "I mean, you know. These conversations have been had and, to my knowledge, it's all over. It's all over with," he said in reference to if he had anything else left to say about Drake on records.
As for what Pusha gained from the feud, the rapper played it coy, saying, "I don't even know. I don't even know what was lost or what was gained." The Daytona artist went on to add, "I'm ready to be back to the music for real. Just feeding my base, that's it. That's the most important thing to me at all times."
The feud between Drizzy and Push had been brewing for years but hit its peak when Pusha dissed the Toronto MC on "Infrared" off of his latest album. The slight dig at Drake prompted the rapper to respond with "Duppy Freestyle," which then led to the scathing "The Story of Adidon" diss from Pusha.
In the track, the "If You Know You Know" rapper dissed everyone from Noah "40" Shebib to Drizzy's parents, and even alleged that Drake is hiding a secret child with a former pornstar. The song never got a response from Drake, which, according to Rap-A-Lot Records CEO J. Prince, was his idea.
"I spoke with Drake," J. Prince said during an interview with DTLR Radio. "I made an OG call to Drake this morning, telling him, 'I don't want you to respond to this...' We gon' put this to bed because we can't get in the pig pen with pigs because pigs turn into hogs and then hogs get slaughtered."
See New Music Releases for June 2018