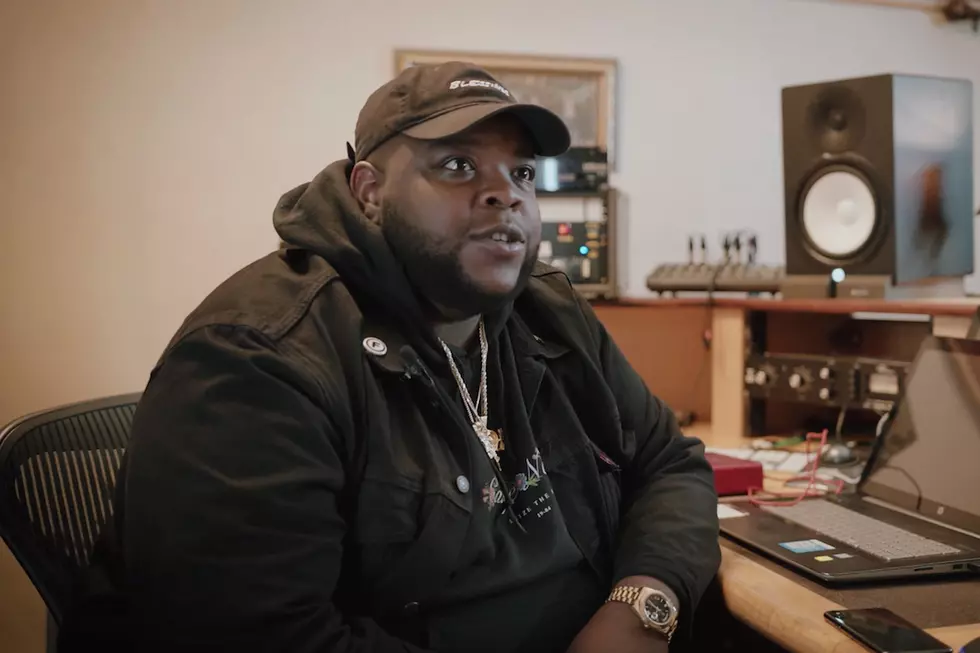 Studio Session: Ear Drummers Producer Pluss Touts Rae Sremmurd's Growth on 'SR3MM'
Splice via YouTube
Ear Drummers producer Plu$$ doesn't waste time working on beats that he doesn't feel have hit potential.
"I don't wanna cram my computer with a bunch of beats and some of 'em hot, some of 'em not," Plu$$ tells XXL via phone. "I try to make sure all the beats are straight to the point, and have an urgency to them. Sometimes people like certain types of beats, but I wanna feel like I love it the whole time I'm making it. If I lose that feeling, then to me it's not really worth keeping."
Ceiling-high standards has helped the man born Asheton Hogan to produce smashes for the likes of Rae Sremmurd ("No Flex Zone"), Beyoncé ("Formation") and Kendrick Lamar ("Humble"). He's been committed to making music since he was 13. After moving from Canton, Ohio to Atlanta as a kid, he met Mike WiLL Made It in high school. The two aspiring producers became long-term friends, so once Mike WiLL formed his production crew Ear Drummers, it was only natural that Plu$$ became one of its most decorated members.
Just hours after the release of Rae Sremmurd's triple-disc offering SR3MM, which Plu$$ helped to craft, the producer spoke with XXL about his involvement in that project, his approach to production, and past and upcoming work with Trouble and Nicki Minaj.
XXL: You've once said in an interview that if you feel like a beat isn't a hit, you won't save it. How do you know when you should continue working on a beat, as opposed to when you should just let it go?
The feeling that you wanna look for when it comes to making beats in that kinda process, you don't wanna get tired of listening to it. It takes patience to make a beat. If 30 minutes or maybe an hour go by and you still feel the same way about that beat that you did when you started it, it's a keeper. If you get irritated by it, then its kinda like, "Aight, this might not be a keeper."
So you worked with Rae Sremmurd on SR3MM. How did the decision come about to make that a triple album?
It was really a new idea that they stirred up. Really, no group has done that before. You might've had the two-sided [album] if it was a two-person group. But you've never had that person's side, and the other one's side, and still had a group portion of the album. It was just new, it felt new, it felt fresh. Giving the people what they like from a different angle. They love Rae Sremmurd already.
How long did you all collectively work on it?
We were probably putting that together for almost two years. Them boys record all the time. They got songs that's just sitting. To get everything tight and tuned, that whole process took about a year and a half, just to make sure that it was ready [and] fully cooked all the way through.
You produced "Anti-Social Smoker's Club" and "Up In My Cocina." How did those two songs come to be?
[For] "Up in My Cocina" I pulled up on Swae Lee in L.A. and dropped him off a pack of beats. If he's not doing a show or anything [else], he's recording—he's a recoding machine. Out of all those beats, he recorded to like four or five of them. "Cocina" was the one that stuck; it had that vibe. It's really heavy and movin', his lingo on top of that was undeniable for what we were trying to do with the album. It came out great.
"Anti-Social Smoker's Club," was a song that me and [Slim] Jxmmi had worked on around the time we were working on SremmLife 2. At first it was just him on the record. He messed around and got Zoë Kravitz to do a feature on there. And Zoë—nobody even knows she raps, so it was kinda cool to hear on there... I was like, "She's snapping like that?" When I heard her I was like, "OK, we need to refresh it." I revamped the beat up a little bit, made it a little quirky, a little fun. Thats the vibe the song gave off. The song is basically about not messing with fake people, but it still felt fun. I just wanted it to sound quirky like it was a kid's sing-along. It came out hard. Hearing Zoë rap for the first time was almost as much of a shock as when you heard Miley [Cyrus] rap for the first time on "23" with Wiz Khalifa. It's like, "Oh shit, I ain't even know she had bars."
What hand did you have in SR3MM outside of the songs that you directly produced?
I just be putting my ear on it. On certain records, me and Mike sit down and play the album. He'll be like, "What you think about this?" because Mike is like my brother. He lets me hear everything. The more I heard, the more the idea of the triple disc got harder and harder, because both of these boys are snapping, whether together on a song or separately.
What have you noticed about the growth of both Swae and Jxmmi?
I've been around these boys when they had nothing but verses and hunger to be on. And really, their work ethic from then 'til now has really gotten harder than it was before. Neither one of them wanna do anything but record. If it's anything other than record, it must be a money play. They really been hard since day one. Their verses—their wordplay—got better, but they've always been great at putting those words together. They love their art. When it's album time, they turn into monsters. A robotic monster—you don't need to tell them to do nothing.
Did you work with Rae Sremmurd before SremmLife 2?
I played a big part in SremmLife as well. SremmLife is prolly some of my greatest work with them so far. "No Flex Zone," I did "Come Get Her"—they both went platinum. SremmLife was a classic. I been around before that album even dropped. I was around when they first moved to Atlanta, to really lock in on SL. We helped mold them, me and my boy P, Marz, Mike. They already had the sauce, we just provided a platform for these kids. All we did was give 'em some beats. They've always been great at freestyling. I haven't seen any group of dudes who could freestyle this long and barely mess up. They're not super conscious, they just have fun with it. They are just so fun and you fall into their energy.
The music is enjoyable—you can't really deny it.
When all the kids love it, the grown folks ain't got no choice but to respect it. It's only so long that you can hate on a song that all the kids love. You might not really like it, but I guarantee you still gon' sing it.
How have your production skills improved over time, as you become more successful? Do you feel there are aspects that you've tightened up?
Yes. It's a blend of me really focusing on my craft, and getting around people who are also focused on their craft, and who are great at what they do. I got around Marz and P—he's Ear Drummers as well—those are two of my real mentors that helped me define my sound because they were so finicky about theirs. When I met them, my sound was developing but I wasn't super finicky about my sound—not yet at least. I wanted to be. These guys know what they doing when it comes to these frequencies or what they're trying to achieve. I was around these guys like every day for two years, just lockin' in. Mike is also a real big influence. His music is always gonna sound as ignorant as possible and make sense. I'm so inspired by them guys, being around them, and hearing their critiques. When we make beats, I call it raising kids, raising babies. I'm not tryna compete with anybody; I'm just tryna compete with the last beat I made. I wanna be the student thats always learning.
Your sound is really diverse, none of it really sounds the same. What do you attribute that to?

I attribute that to being a good student, to innovation. I don't feel like I have two beats that sound the same. They might have the same snare or something, but they won't totally be the same beat. I try to just go wherever my mind takes me. I don't want my sound to be redundant as fuck. Its always something different, musically, every time I make a beat.
Whats your production process now? How do you work through beats?

If I was to sit down and make a beat right now, I prolly wouldn't know where the hell I'ma start, man. I might just go through some sounds and find a kick drum that might start something up. I might find a cool little synth. My beats can start from really anywhere. Sometimes my beats will do a whole 180 and turn into something totally different than what it sounded like when I started.
Where does the confidence—the belief in yourself that you always display—come from?

It was an inner voice talking to me so heavy since the beginning. I acted on that. I always acted on what I thought of myself. Things just kind of manifested and molded to that. I never once had a thought that I wasn't gonna be a music producer. I just always told myself that this is what I wanted to do, and I had the potential to become it. And in the midst of always feeling that way and always acting upon it, I met people along the way that believed in me as well. If you love what you doing and really believe in yourself, you're gonna become that. At some point, you're gonna be willing to do whatever it takes.
How was it working on Edgewood with Trouble?
Working with Trouble, you know for a fact that you're working with one of the realest niggas. Just watching how he moves, what he talks about, and being around him. Before Edgewood dropped, we was around bruh for maybe like two years, just working. His project and his music comes from a real place. You don't feel like it's some bull coming out. When you see him and see how he conducts himself, you know that all these words is coming from a real place. The fact that you can put all that real shit, on some fire beats. It was jus destined to happen and come out hot. That album might just be a classic. When we talking about street niggas, 30 years from now, and if somebody bring Trouble name up, they gonna mention that album. Thats how hard the album is, it just paints a picture thats so detailed. Its like watching a 4K television, but you hearing that shit. He's a great artist, he's a real good dude. He's good at heart.
It's the perfect partnership too. Trouble put Edgewood out at a time when he was already trending upward, because he was becoming so much of a better rapper in a short amount of time.
Man, look. He's probably one of the best at adopting to any kind of beat. He can find the best cadence; he's great at doing that. And he know how to choose his words. He's a rare breed.
You're working with Nicki Minaj, too. How did that come together?
Just through Mike. Me and Mike been going in and coming up with beats, just cooking up. And he had called me one day like, "Yeah, you might have something on the new Nicki coming out." A snippet of the record was just featured in the Benz commercial, I'm just waiting to see what that turns out to be. She always holds real tight on her records. You never know what its gon' sound like until it drops. I haven't been in the studio with her this time around to hear, but I know she ain't coming halfway.
Just know that I'm working. I like to tell people, "I been beatin' the street." Did a Fanta commercial recently. Just tryna stay busy.
See New Music Releases for May 2018