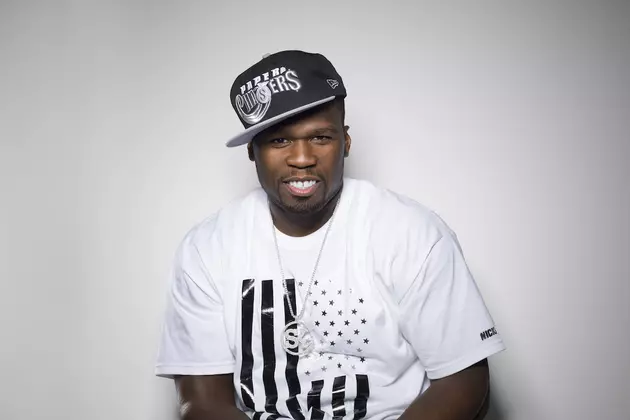 Over Here Hustlin': Part 3 of 50 Cent and Soulja Boy's XXL Cover Story From 2010
Photo Credit: Victoria Will
Over Here Hustlin'
Hip to the fact that a chunk of the once adoring public is now betting against him, 50 CENT doesn't care. Rap's consummate hustler is busy putting in the work to make sure this underdog stays on top.
Interview by Rondell Conway

Editor's Note: This story originally appeared in the November 2010 is

sue of
XXL Magazine 
After selling more than 15 million albums during the course of his career, 50 Cent has somehow become the underdog. The Jamaica, Queens, super MC has been getting an eyeful of criticism lately from hip-hop's online peanut galleries, while he's been relatively quiet on the music front. Since the release of his last album, his fourth solo LP, Before I Self Destruct, Fif has been focused on making movies, which he funds and releases independently via his film company, Cheetah Vision (Before I Self Destruct, Things Fall Apart), and Hollywood films he acts in (Twelve, 13). But music is still his first love. In fact, it's one of the reasons (along with his newly discovered love for Twitter) that hip-hop's perennial villain sat down with XXL to respond to his detractors and delve into what he's working on for his much-anticipated fifth solo album. Say hello to the bad guy.
At the moment, do you feel like you're in a good space musically?
I feel like I'm in an incredible space. I'm working on my new album now, and to pop out and play with the other artists that are out right now, it makes me confident that the ideas that I already set for coming out is dead on point. When I see the public respond to my performance on other art- ists' records, it's like, Okay, it's cool... A lot of times, I don't understand where the negative energy comes from. The success does that to people.
I think our society is conditioned to want to destroy whatever they built. You wouldn't be a star if they didn't embrace it to begin with, you know? They'll try and act like you have lost the ability to create material up to standard, but that's where you show up, that's where your character shows up. A real star is able to work through those processes and continue to be successful along the period of time.
Do you think the negative energy you get came quicker because of your early success?
I came in so heavy that you couldn't miss me, and I been in that space where you couldn't... I was visible the entire time. There was never a point that you didn't see 50 or a representation of the brand, G-Unit. It's been consistent the entire time period. It's not like I went away. You see me for a year, and I came back with a new haircut. That's what they call reinventing themselves. But for me, I stay out there, and when it wasn't my album, it was members of G-Unit's albums. I had a group with everybody in it sold a million records. Name one group that has had every member sell a mil- lion records. Not to toot my own horn, but I do have the largest-debuting hip-hop album—12 million records [internationally]—so... Then 10 million on the next album. But they'll say I only made one classic. Then people, they're critical of me because of the success I have.
That negative energy has made someone like Jay-Z rhyme from a place where he's always responding to the public scrutiny. Will you do the same?
I don't know if I'll write from that perspective. I try to let the music guide me, find things to musically inspire me. And even my choices with the artists that I choose to work with, it wasn't based on their previous record sales—it was the song itself. So far, I feel like I'm in an amazing space. If you see the negative comment, you just a hater, and it's clear, 'cause this shit is too good for it to not be received the way it should be.
It seems like you're comfortable being in the underdog role anyway.
I'm more comfortable in a space where people are doubting me than when I'm the favorite. They doubted me before. Obviously, I was the only crazy person that believed in me at one point. You know what I'm sayin'?

A lot has changed for you since you last took the position as the guy no one believed in. What in the new material tells you that you're go- ing to make that same impact?
When I offer aggression, I offer it from an author, a real place. It's who I am; it's who I had to be. Not even by choice, but to survive where I came from. So a lot of actual artists don't have it. They don't have that thing. Waka Flocka, "Hard in the Paint," Gucci [Mane], those guys have that. It's just a lot of the other artists, I don't believe them. I believe hip-hop is in a struggle of being artistic or [having] authenticity—which one matters? Because a lot of them that write music that has a street-life theme to it haven't actually been exposed to very much of that. It's starting to feel like it doesn't matter. I'm watching it, and I'm like, Okay, it sounded great, but ya lyin'.
Eminem had a big year. How will that impact and/or influence you for next year?
Eminem is Elvis Presley; I'm just James Brown—just the hardest-working man in show business. Em, he's just a whole other animal... He's like the Air Jordan to basketball. You got a lot of great players, but their brands haven't grown to the point where Air Jordan's brand is growing. Like, it's not even when you match artists up that only sold 80 million records less than him. You can do the concert, but don't get it fucked up.
One place you're a fan favorite these days is on Twitter.
Twitter for me was... I didn't really understand how it functioned... Then they actually put it on my telephone, and I started tweeting. I offered some- thing that was exciting: shock value. I was seeing what the tweets was on other artists' pages, and it's not even them—it's what they thought of to say, and it's not even them. I offered them something different. I offered them a complete dysfunctional lifestyle... I think it's an opportunity to stay in touch with your fans. Like every other outlet, but with no restraints at all.
Well, it's definitely helped fans see another side of you. And it will definitely make the buildup to the next album very interesting.
I won't rush to accomplish this actual album. Even through Twitter they understand it, 'cause they know. They see me saying, "I'm in the studio at 4 in the morning, I been here all night," 'cause I want to make sure it's bulletproof. I want to make sure it's 100 percent correct. It's ill, 'cause you hear people, like, "I want the old 50." Well, then get the old CD, 'cause I'm growing. I'm changing as a person, and I'ma offer something new. Doesn't mean the impact isn't going to be as good as it was in the past, but it will be from a new perspective.