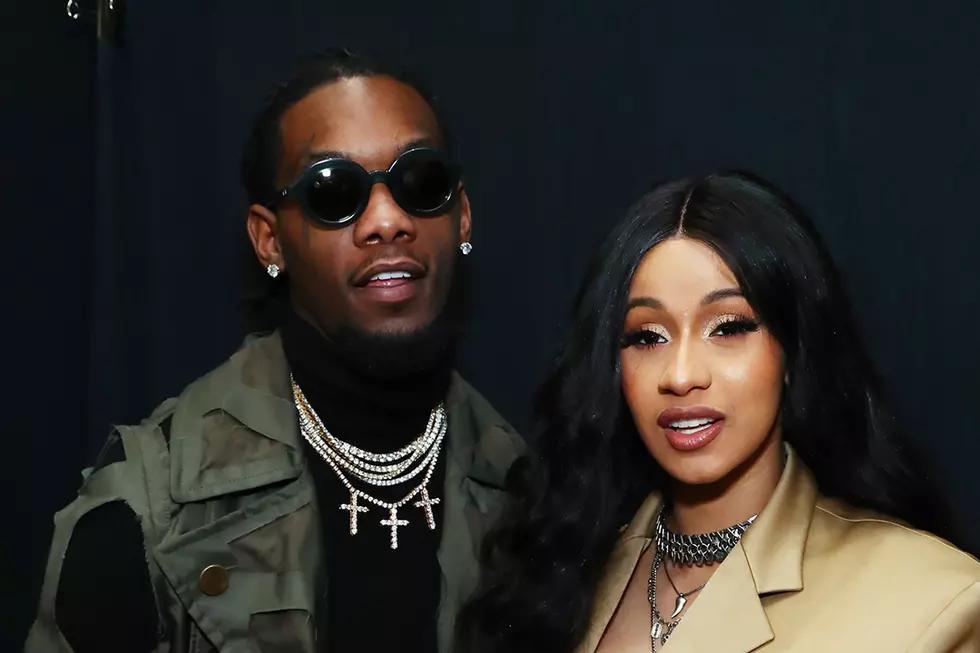 Offset Surprises Cardi B by Flying in Her Family From the Domincan Republic for Album Release Day
Astrid Stawiarz, Getty Images
Cardi B's debut album, Invasion of Privacy, finally released today and the Bronx rapper got to celebrate the project's release with her family thanks to her fiancé Offset.
In a video posted on Instagram on Friday, Cardi revealed the Migos member surprised her by flying out her family from the Dominican Republic. "So, I just got surprised with my whole family," the "Be Careful" rapper says.
"I can't believe that Offset flew in my niece, my cousin, my grandma, my grandfather, my aunt from the Dominican Republic," she continued. "You sneaky motherfucker. You know what, I love you so much."
Cardi added in the caption, "@offsetyrn i can't believe you :')😪😪😪Thank you sooo much ,Thanks everybody for tuning to Invasion of privacy !!"
Along with new album, Cardi has a lot to be excited about. Yesterday it was revealed that her single "Bartier Cardi" had been certified platinum. "Foreal yaaaaayyyyy!! Made my day," she tweeted.
The song joins the rapper's growing list of platinum-selling songs including "Finesse (Remix)" with Bruno Mars, "No Limit" with G-Eazy and A$AP Rocky, and "Bodak Yellow." The Migos and Nicki Minaj-assisted "MotorSport" also earned a gold certification.
Cardi B's new 13-track album includes guest appearances from Migos, Chance The Rapper, YG, Kehlani, 21 Savage and SZA. While the album is full of the usual bangers fans have come to expect from Cardi, the rapper proves she can be introspective as well on the song "Be Careful."
Check out Cardi B's Instagram post below.
See New Music Releases for April 2018