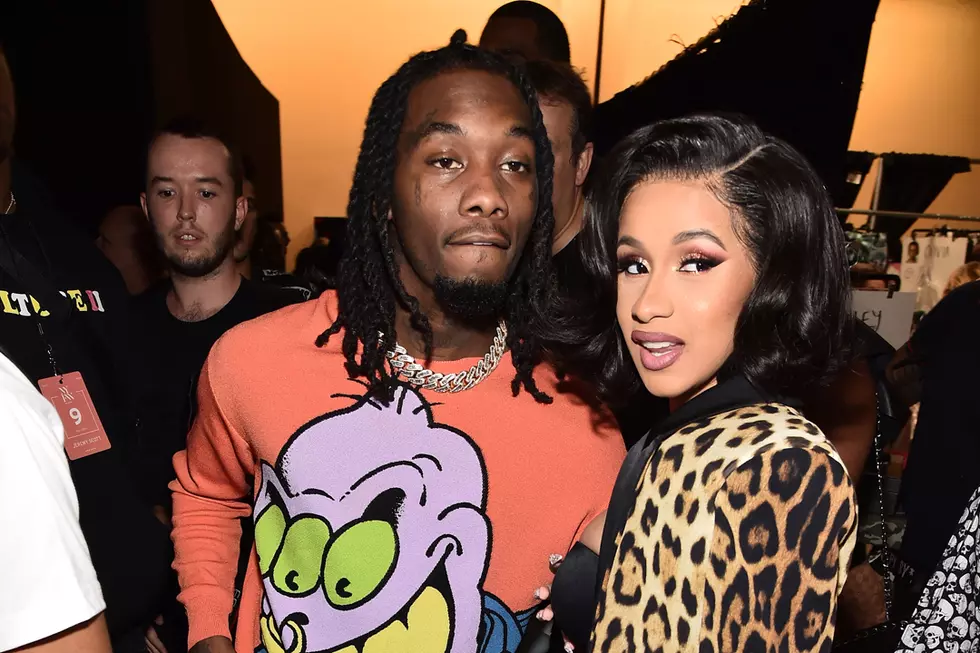 Offset Fakes Medical Emergency Before Gifting Cardi B a Lamborghini
Theo Wargo, Getty Images
When you're a celebrity who's dating another celeb with millions of dollars at their disposal, it can be pretty hard to genuinely surprise them with gifts. That, however, didn't stop Offset, who successfully deceived his wife Cardi B by faking a medical emergency before gifting her a flossy Lamborghini a week ahead of her 26th birthday.
Jumping onto Instagram earlier today (Oct. 5), Bardi explained the Offset's plan while showing of her new whip, which came with a gift wrap bow.
"So I was going to go to L.A. and muthafuckas called me, talking about 'It's an emergency, I gotta go to Atlanta because Offset fainted and shit, and I'm just like, 'Oh my God, what is going on'" recalls Cardi.
From that point on, Cardi says she traveled to Atlanta, and it was there that she spotted her new car. In the first IG post documenting the whole ordeal, Bardi showcases the whip before joking, "Damn, now I'm really going to have to learn how to drive."
While Bardi was obviously in good spirits after she spotted her new whip, that relief/joy was preceded by panic and worry. The "I Like It" rapper explains those feelings in her second video documenting the whole experience.
"Y'all don't even know how I feel y'all, 'cause I've been praying for the last two hours to every goddamn religion that there is," Cardi begins in the video. "Like, 'God, I hope this nigga's okay. Why nobody answering my calls, acting funny. I don't wanna raise my baby by myself. Jesus Christ, I hope everything is okay...so happy." 
As Bardi is winding down in the last part of her second video, we see Offset come into the picture. They both say, "I love you" and all is right in the world.
In the last video about the whole ordeal, Cardi B shows off the Balenciaga kicks she copped Offset for his own little surprise gift. In a funny note, she jokes that her gift is insignificant compared to the one Offset copped her. Gotta love these two.
See Cardi B's Different Looks in 2018