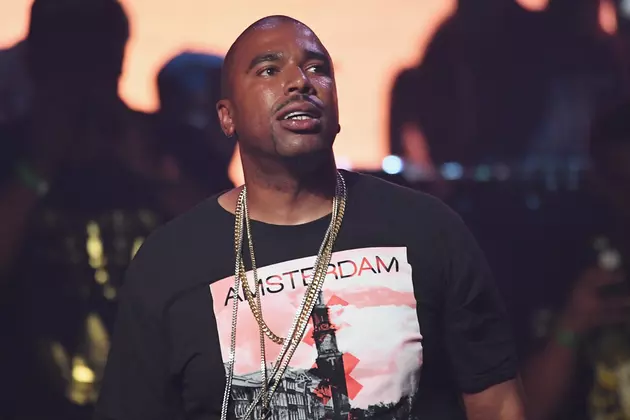 Here's How N.O.R.E. Became a Podcast King
Shahar Azran, Getty Images
N.O.R.E. is one of the most interesting men in hip-hop and he's got the O.G. credentials to prove it. For 20 years, he's been destroying the game and kept his name in the mix for the better.
As a member of Capone-N-Noreaga -- better known as C-N-N -- he released The War Report in 1997, one of the most influential hip-hip projects of all time. The group would go on to drop four more albums. As a solo artist, P.A.P.I. has released a ton of hits in hip-hop (and reggaeton) such as "Superthug," "Banned from T.V.," "Nothin'," "Oye Mi Canto" and "Mas Maiz," plus a number of albums and mixtapes. To say he's contributed to the culture is putting it kindly.
However, these days, the charismatic hip-hop legend from Queens has found a way to profit off his personality outside of hip-hop. Between 2009 and 2011, Noreaga and DJ EFN hosted a satellite radio show for Sirius XM called Militainment Crazy Raw Radio that was both outrageous and addictive. The duo, along with guests of the show, would drink and tell stories of some of the crazy things they've witnessed both in and out of the rap world.
When the show ended, N.O.R.E. found his calling after his interview on Rap Radar's popular hip-hop podcast went viral. On the show, N.O.R.E. shared a story of the time he heard NBA G.O.A.T. Michael Jordan say, "Fuck rap," at a Def Jam holiday party. Noreaga claimed M.J. only listens to Jay Z while the famed basketball player's team refuted the rapper's story. But there wasn't much left to say when the Melvin Flynt – Da Hustler creator provided photographic evidence that he wasn't lying; the internet went nuts.
That moment for N.O.R.E. cemented the idea he should create his own podcast and in March, Drink Champs was born. Drink Champs immediately became one of the highest rating podcasts under the CBS umbrella and continues to make headlines quite frequently when guests share big announcements. On the first episode of Drink Champs, Fat Joe revealed the title of his joint album with Remy Ma, just to give you an idea of what he's working with.
Now with over 30 episodes in, N.O.R.E. sits down with XXL on the roof of the W in midtown New York to discuss his rise in the podcast game, why he's venturing outside of hip-hop and reaching the youth.
Your podcast is one of the best out right now. How did Drink Champs start?
It's a long story but we got time. What happened was my partner DJ EFN, we had Militainment Crazy Raw Radio, which was on XM Radio and then XM and Hip Hop Nation became one corporation. I think we could of kept the job but we had to move to New York and at the time I was moving from New York. So I wasn't willing to go back. We deaded the radio show. Podcasts started blowing up and EFN had been on me, "Yo, let's do this podcast."
There was this dude name Taxstone and Tax was calling out rappers, "I'm going to run down…" When you say you're going to "run down" on somebody, it could be playing, it could be cool but it could also be serious. So he had used my name but he didn't at me [on Twitter]. He bigged me up but he said he was going to run down on me. So I found out who Tax was and found out what he was doing and I did Tax's podcast. But what I did was, I didn't want to do it on his turf. So I made him come to New Jersey where I was at the time and I booked the studio. I wanted to know if you could have a podcast that's portable. Jay Z had actually called me about the interview I did on Taxstone so I started to pay attention. It was the day after Thanksgiving that Jay Z called me. I'm not calling anybody the day after Thanksgiving unless they got money for me or I'm trying to close a deal.
I still didn't take it serious until when I did Rap Radar podcast. I did Rap Radar the week before our podcast debuted. I was promoting my Drunk Uncle mixtape. [After the Rap Radar podcast], Michael Jordan responded to me, himself. Even though he dissed me, he shitted on me, said he didn't know me, which proved he doesn't know nothing about hip-hop. But [comedian] Alex Thomas told me [Jordan] came up to him and said "Tatalalicious." Alex Thomas obviously did that in my video [for "Nothin"]. Michael Jordan responded and said he wasn't at this party I mentioned [in the podcast]. I proved he was at the party and I became an underground hero.
That was huge; the internet went nuts after you proved that.
From there, I started to take the podcast serious. Every other format is for the new artists. There's no platform in music, period, that salutes artists that have over 10 years in the game. If you think I'm hip-hop, you got to meet DJ EFN. He still believes in vinyl. We're really like the rapper and DJ combo like Eric B. & Rakim. You go out to one of his events and he's deejaying, he makes people go out and get vinyls. He won't be digital. He believes in the real essence of hip-hop. So with his heart and my connections and our passion together, that's what we wanted to do.
I didn't want to be the No. 1 podcast. I didn't know my stories were retarded. Me and Nas, I was filming a documentary called What What. Nas told me one day, "Someday these people are going to pay us for our conversation." I don't know if Nas is a real genie, man, because he said that to me 10 years ago, before the internet is poppin'. People said to me, "N.O.R.E. does the best interviews." But I don't ever benefit from my interviews. They love that story more than [me] because I'm going to go on and do something else. I have to figure out a way where I can benefit off of me.
Power 105's [The Breakfast Club] is No. 1 all the time. But it doesn't help [me] that every time I go to 105 [to do an interview] they hit No. 1. I'm not saying I helped do that -- they No. 1 when I'm not there. But the thing is, how the fuck do I capitalize off of that? They are getting paid from iHeartRadio. Their bag is secure. So I wanted to secure a bag for me and have a life outside of hip-hop. I wanted to benefit off of me.
It's wonderful that I can do interviews and people love my energy but how do I benefit off of that. One time I went to Canada for like seven days and I couldn't tell if The Breakfast Club owed me money or if I owe them money. Everywhere I went people were like, "Breakfast Club," I'm like nigga I'm not a member. But out of the country, they live off of YouTube only. I know Switzerland, if you don't have a video to [your song] they don't hear the record. I'm like, Damn, the world is changing. How do I change with the world? I don't want to be the old nigga that want to reminisce about the time. It's wonderful to not never disrespect those times but live in the here and now. That's what I wanted to do with the podcast.
Our competition is Elliott Wilson [with his Rap Radar podcast]. There's no way I can compete with this guy, and he made himself compete with me. He's a good friend of mine but I tell this to everybody. He called me one day; I was beefing with a rapper. He said, "You got to watch out with whom your opponent is because you'll be linked to him for life." I don't know if he ever knew this but that shit fucked up my whole day because he was absolutely right. I had so much material that I wanted to do to this artist but I had to stop because I don't give a fuck how better Floyd Mayweather is than you, if he fights you, y'all on the same level that night. So when Elliott kept poking fun at me like, "This guy is our competition." It's like being fat but you know how to workout and get busy. Your man keep asking you to come to the gym and you're looking at him like, Nigga, I'll out-run you. Then one day you're going to finally come to the gym. That's what happened.
It's friendly competition. We're both signed to CBS and he made me better by him putting me on his level. He got 20 years of journalism. I got 20 years of fuckery in hip-hop. There's no way I can compete with him in all actuality. It's like him trying to out-rap [me]. I can never be a journalist like that. I took journalist classes; I didn't pay attention to it. I paid attention as much as I can to can to be entertainment. Nowadays, the people who are more successful as journalists are the people who make themselves a part of the story; it's when you get on camera. Your brand can get old, your brand can stop. But if your brand is a part of something, you're making a different part of history.
Podcasts are exploding exactly how social media did a few years back.
Right now, Instagram and social media have changed it because everyone has fans. If you have one follower, you have a fan. If you have fans, it also makes everybody a star. It's the era we live in. This era is retarded. But my point of bringing that up is that's why the podcasts work. Most people do it to be famous; I'm already famous. Most people do it to get content, and I already have the content 'cause I have the relationships to these people. The fact that millions of people are going out, one, I'm very thankful but I can't believe it. It bugs me out when my friends from Queens call me and say, "Man, the Cormega interview was crazy or the 50 Cent interview was crazy" because I'm really who I am in real life.
Ice T had a podcast before me, Joe Budden had a podcast before me and they are doing phenomenal. If people really listen to Drink Champs, the shit has nothing to do with hip-hop. It's about the person that's in hip-hop. It's about Snoop Dogg meeting Nas for the first time. Everything is hip-hop but it's the least amount of what's important, it's the people. I'm like the Feds, I ask you a question and I already know the answer to it. Sometimes it's pure me being a fan. I listen to myself during the 50 Cent interview and I literally hear myself sounding like a little kid. I was just so open I couldn't believe he came.
It's the truth, I can't believe these niggas just let me ask them do they eat ass. I ask [rappers] like how many abortions have you had in your life. Like that's not cool in no way, shape or fashion. The reason why it's cool to ask another rapper is because we travel and condoms bust. So it's an honest question. Like that's not in your journalistic integrity. It's not a part of all of our interviews. It's something that I have to push the boundaries and go to a place you can't go in order for the people to identify to it. When people say, "I listen to your podcast and feel like a fly on the wall," that's the biggest compliment you can ever tell me.
Exactly. It's like being in the in-crowd while two rappers have a conversation. Tell me about the first episode that sparked the whole craze.
I got to thank Fat Joe. We didn't know what the fuck we were doing. We're mad professional now. You'll be impressed. But our first [episode], we didn't know shit. To tell you the truth, our first episode was a demo. It wasn't even a real episode. CBS was like they like the idea, they know where they would get the sponsors and just wanted a practice run from us. Me coming from hip-hop, all my demos wind up on my album. So I was like we're not doing this as a demo, I'm doing this full-fledged.
I called Fat Joe. We were at the studio the night before. He played me the whole Remy Ma, Fat Joe album. It was like 75 percent done at the time. He looking at me like what's a podcast and I couldn't technically explain to him what it was 'cause we didn't know either. I would change the subject and be "This is just me talking" [laughs]. We did [an interview with basketball legend] Kenny Anderson the day before. From the beginning I wanted two different people together. I was going to put Fat Joe and Kenny Anderson together and at the very last minute Joe had to go back [into the studio] to fix "All the Way Up." It didn't come out yet. So we did Kenny Anderson but we held it.
So Fat Joe comes in the room and we don't know what the fuck to do. If you like my style of interviewing, you're really technically crazy. I don't even know how to Google. I Google three things and it confused me. I don't Google anything. So I was like, What can we ask him? Joe was in a rush to go to somewhere else. I'm in there trying to prepare for my interview, smoking weed, trying to write down questions. When Joe came in he wanted to leave immediately. Mind you, we still end up getting two hours out of Fat Joe. So when he rushed me, I sat down and that's how the Drink Champs worked. All I did was ask him his personal life that you may not want to ask him. That's how Drink Champs was birthed. I don't write shit down, I don't take notes, but I'm going to start though.
So Fat Joe loves the interview and he did something amazing for me. He mentioned "All the Way Up" for the first time and that he and Remy Ma are doing an album together and named the LP. That's when other journalists was like, "Does N.O.R.E. know what the fuck he's doing? He just cracked a story." Honestly, I didn't have any idea what the fuck I was doing. I was just like, Let me put this information out so I can help Fat Joe. I did not know that I was breaking a story. I'm a hip-hop artist. So we threw the footage out [there]. This was before I signed the deal with CBS. So it forced everyone to ask Fat Joe, "What were you and N.O.R.E. on, and the joint Remy Ma project?" So when Fat Joe went on his promo tour for his own shit, he kept biggin' up [Drink Champs]. It kind of made people just loosen the fuck up.
That's pretty amazing. Things just worked out, huh?
The second guest -- this is when I knew I had something -- I invited was Ja Rule at 7 p.m. and Jadakiss at 10 p.m.. Somehow they arrived at the same time. I'm confused as fuck. I'm happy that they fuck with each other though. I go to the bathroom because I don't know what to do. I go to the bathroom and my barber lined me up. As my barber Jomo is lining me up, I'm like, "I'm going to put y'all together but I'm going to separate the questions."
So I'm thinking how do I separate the interviews because I can't tell them to wait. I'm an artist; we hate that shit. They both my friends, I'm not paying any one of them and it's for the podcast. I can't tell either one to wait. But when we sat down, they started to have their own conversation. My partner and I look at each other like, "This is fucking awesome."
Ja Rule came here drunk and you know he 100 percent trust me because he came here by himself. We have nothing but family with me. 'Kiss did the same thing. He had Banga from Junior Mafia with him. I regretted not adding Banga to the episode. But that's when I knew we're fucking around with something special. When we put it together and I went back to listen to it, I thought it was going to be a piece of shit because all these conversations on Drink Champs I had had them for 20 years.
What's the best thing for you about the podcast?
The best thing about the podcast for me is I get to be a fan again. In hip-hop, if I'm Nas and I love a Young Thug's album, I might not promote that. If I'm Young Thug and I love a Boosie BadAzz's album, [people] might know that if they come in the car with me but rappers don't promote other rappers because it's not in style. Grand Daddy I.U. is my favorite artist. He's not popular. The average kid that grew up in that era would say Big Daddy Kane or Biz Markie, who's one of my favorites too. My favorite rappers are Biz Markie, Kool G Rap, KRS-One and Grand Daddy I.U.; if you put them together, N.O.R.E. comes out somehow. But if I want to interview Grand Daddy I.U., I need a format for that. You noticed we never mention the '90s on our show, we just reminisce on times but we don't put a timeline unless it's asked.
The thing about it is when I did the The War Report album, I recorded it for Queens. I performed that shit in Europe in front of the world. When we did the podcast, we somewhat thought this is for our generation but it's the millennials that making it poppin'. When we got our numbers back from iTunes and asked what were the age groups that listen to us the most, shit blew my mind because most of the kids weren't even alive for these stories. I don't even know how we're No. 1. I don't even ask artists to promote it. It's so dope I can give back to the culture and it's 100 percent free.
How did you link up with CBS?
It was the most ironic thing. This other podcast network that approached us was called Loudspeaker. We went to look for someone else who would pick us up. I went to a fucking J Dilla concert. I only came out because it was J Dilla and I had never met him in real life. A couple of people were performing and I said I'm going to come out and perform. I'm not going to announce it and I'm going to the stage. I'm just going in and showing up and hitting the stage. While I'm heading to the stage this guy name Gametag stepped to us and said, "I don't give a fuck what anybody else say, nobody is going to match what CBS can do for y'all." I came home and I thought about it. The next day when CBS approached me was the Super Bowl. I said it's a sign and closed the deal. We went through a month and a half of negotiations and they just wanted to see what we could do. They wanted us to send our old show but I said, "Fuck no." We went and did a whole new show. They loved it and we will be having a television announcement very soon.
Podcast is going to be like rap, everybody raps. It's a chance for a young Black man to come out and be somebody. That's now podcasting. Now if you want to build an audience, you don't have to be with no network. You can upload it yourself on SoundCloud and iTunes and Spotify. This is the next wave for young people from the ghetto to be bosses. It's just been phenomenal for me to being able to win being myself. I'm blessed, man.
See 15 Motivational Memes Featuring Rappers