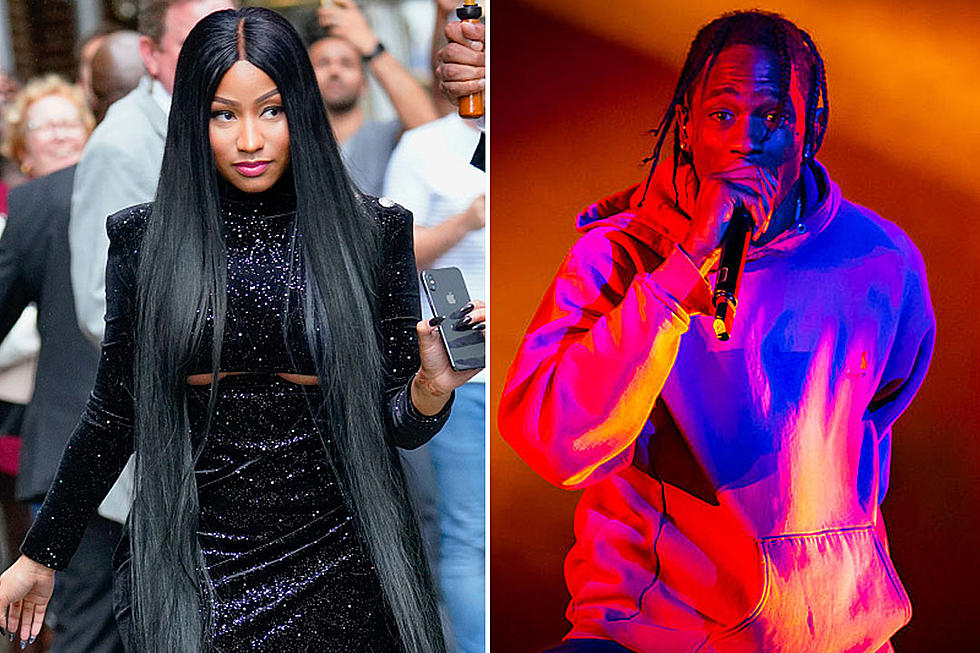 Nicki Minaj Calls Travis Scott's 70-Year-Old Manager "C**ksucker of the Day" on Queen Radio
Gotham, GC Images/Mark Horton, Getty Images
Nicki Minaj hopped on her Beats 1 Radio Show Queen Radio on Thursday afternoon (Aug. 23) and came for Travis Scott once again after initially putting him on blast on her show earlier this week. This time, she labeled his new manager, Irving Azoff, as "cocksucker of the day."
"The cocksucker of the day is Irving Azoff," she said. "And I'm gonna tell you why." She went on to explain that Azoff is an authority figure at Ticketmaster, and also manages Scott. According to a Variety report from March, Azoff took over management for Scott earlier this year. Azoff has previously represented bands like Bon Jovi and The Eagles. The 70-year-old music manager reportedly served as Chairman for Ticketmaster and oversaw their merger with Live Nation.
Earlier this week, Nicki declared on Queen Radio that Travis Scott was the "hoe nigga of the week." That statement came after she slammed Scott for the marketing practices for his album, which she believes include involvement by Scott's girlfriend Kylie Jenner. Nicki claimed that she wasn't accepting the first week numbers for her Queen album for that reason, after Scott's Astroworld held the No. 1 spot on the Billboard 200 chart, preventing her from coming out on top.
See Photos of Nicki Minaj's Different Looks Over the Years