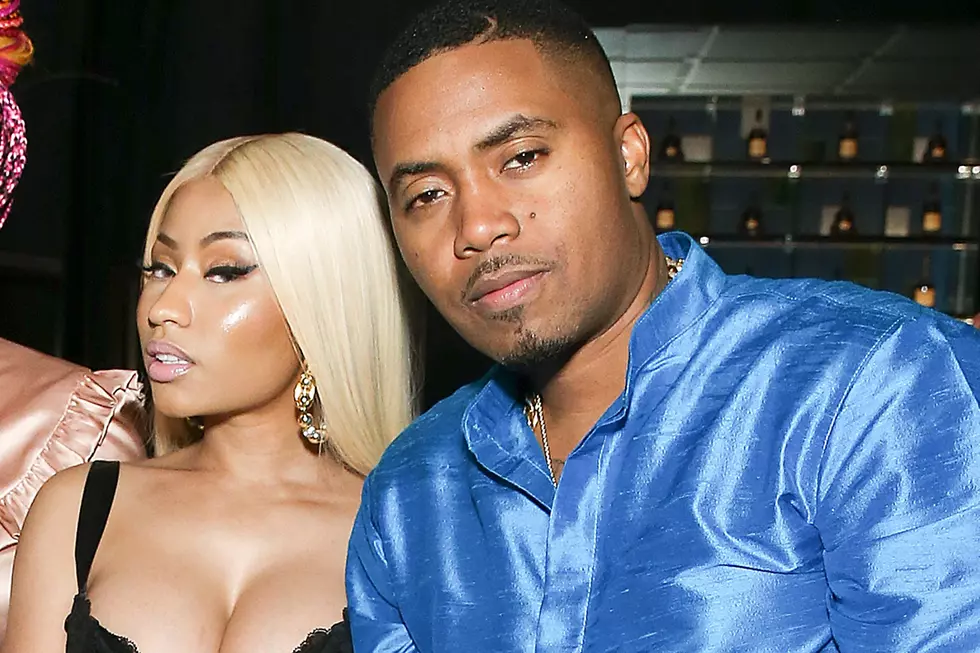 Here's a Timeline of Nas and Nicki Minaj's Relationship
Bennett Raglin, Getty Images
Hip-Hop may be known for being rough, rugged, and raw, but there has also been an element of tenderness and an appreciation for matters of the heart for quite some time. When the culture's biggest figures manage to find love, the fans are all for it and in encouragement of their personal growth, as has been the case with many of hip-hop power couples of the past and present. Two of the more successful artists that have had their fair share of high-profile relationships and endured the collateral damage that can come with them are Nas and Nicki Minaj.
Regarded as one of rap's most coveted heartthrobs, Nas has a track record of pulling some of the baddest chicks, from Carmen Bryant (the mother of his first-born child, Destiny) and R&B singer Kelis (with whom he tied the knot in 2005, and had his second child, Knight, but divorced in 2010). On the other hand, Nicki Minaj's relationships haven't resulted in marriage or parenthood, but they have also come with drama, most notably her breakup with longtime boyfriend Safaree Samuels and her tumultuous union with Meek Mill.
However, the two Queens natives look to put their pasts behind them and from the looks of things, plan on doing so while building their own future on the dating tip.
When whispers of Nas courting Nicki Minaj began to hit the rumor mill this past spring, the news was brushed off by most, until a picture of the two canoodling popped up. The news may have disappointed fans of both artists who'd hope their favorite rappers would stay single, but the connection proved the possibility that a new power couple in rap was very real.
As the romance seems to be on the rise for Nas and Nicki Minaj, XXL has compiled a timeline of their relationship, from the earliest sightings to their most recent displays of PDA and everything in between.
Nas Appears on Nicki Minaj's Pink Friday: Roman Reloaded Album

April 2, 2012

Looking to build upon the success of her 2010 multi-platinum debut, Pink Friday, Nicki Minaj unleashed her sophomore album, Pink Friday: Roman Reloaded, in 2012. The album, which was powered by hit singles "Starships" and "Beez in the Trap," also included a high-powered posse cut titled "Champions," which—in addition to Drake and Jeezy—featured an appearance by Nas. This marked the first time the two Queens natives would work together.

Nas Appears In Nicki Minaj's "Right By My Side" Music Video

May 16, 2012

Later in 2012, after appearing on the Pink Friday: Roman Reloaded track "Champions," Nas would play the role of Nicki Minaj's love interest in the music video to her single "Right By My Side," featuring Chris Brown. Directed by Benny Boom, the video included scenes capturing Minaj and Nas holding hands and hugging, as well as one where the two shared an intimate kiss. This resulted in a chemistry so apparent that fans and media alike wondered whether the two were romantically linked or not. Although those allegations would be quickly refuted, the steamy exchange planted the seeds for what was to come between the two.

Nas and Nicki Minaj Seem to Be Romantically Linked

March 14, 2017

After breaking up with rapper Meek Mill after a two-year relationship—and nearly five years following the release of the "Right By My Side" music video—news that Nicki Minaj was romantically linked to Nas began to dominate the rumor mill. According to sources, after Minaj and Meek Mill called it quits, Nas immediately began to pursue the rap star. However, the two Queens-bred MCs had yet to be seen together publicly, leaving many to question the rumor's validity.

Nicki Minaj and Nas Get Cozy at Dinner

May 9, 2017

Nas and Nicki Minaj sent social media into a frenzy after the latter posted a photo on Instagram of a dinner date at New York eatery Sweet Chick (Nas has an ownership stake in the company) in May. The image showcased the pair getting close and cozy. The flick, which Nas reposted on his own Instagram account, also captured the two rocking what appeared to be similar medallions. This was the first piece of evidence that their rumored romance may be more of a reality than many initially thought.

Nicki Minaj Addresses Nas Dating Rumors on The Ellen DeGeneres Show

May 23, 2017

Weeks after their first public appearance together, Nicki Minaj delved into the nature of her relationship with Nas during an appearance on The Ellen DeGeneres Show. Although Minaj claimed to be celibate, she did confirm that the two were romantically linked, going as far as revealing the two had had sleepovers with each other. This news would disappoint a lot of the Nasty one's female fans.

Nicki Minaj Fuels Pregnancy Rumors With Tweet

July 10, 2017

This past June, after confirming that her relationship with Nas was more than platonic, Nicki Minaj threw social media for a loop when she posted a cryptic tweet of a baby emoji, leading fans to run wild with assumptions. Although fans soon realized that the tweet was a hoax and nothing more, the moment sure caught more than a few people's attention and sent the speculation of a Nas and Nicki romance into an upswing.

Nicki Minaj Attends Nas' 44th Birthday Party

Sept. 13, 2017

After nearly two months with no new developments or instances of PDA between Nas and Nicki Minaj, the pair reemerged together at Nas' private 44th birthday dinner at New York City's The Pool Lounge. Various video clips—including one of Nas creeping up behind Minaj and another of him licking her face—made their way to social media before being taken down. However, one photo, of Nas and Nicki alongside Swizz Beatz and Alicia Keys was captured for all to see. The moment reignited the buzz about their budding romance.

Nas and Nicki Minaj Step Out in Matching Outfits

Sept. 17, 2017

In a continuation of his birthday celebration, Nas took to the streets on his retro wave in September, with Nicki Minaj in tow.

"Got my Bday 1988 190E Benz & picked up Shorty from Queens. We Out!" Nas wrote as the caption to an Instagram photo of the two decked out in matching Gucci outfits in front of his classic ride. Minaj followed suit, adding, "Nasty Nas hopped out the illmatic '88 benz tryna holla @ me earlier today in Queens."

The flicks were part of a shoot for a shoot, which Nas mentioned, writing, "Big thanks to @iamwillcastro and team unique for lacing out my 88 benz," he wrote. "we filmed the whole process it's coming soon on #UniqueRides @velocity." But the moment was more significant due to the presence of Nicki Minaj, and added more fuel to the fire surrounding their relationship.

https://www.instagram.com/p/BZKG1qBAQWI/?taken-by=nas

https://www.instagram.com/p/BZKG2WqAVqB/?taken-by=nas