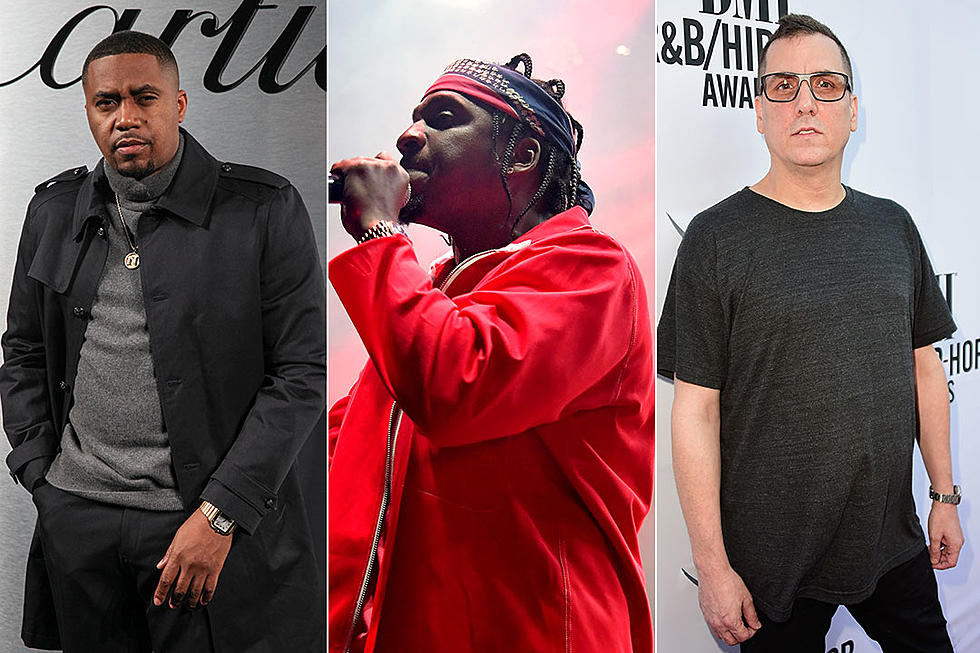 Nas Allegedly Thinks Pusha-T's New Album Is a Classic
Kelly Sullivan/Neilson Barnard/Frazer Harrison, Getty Images (3)
Pusha-T is putting the finishing touches on his album, which will now be titled Daytona, and apparently, Nas is a fan. Def Jam Head of A&R, Steven Victor, posted a group text message on Twitter Wednesday (May 23) between himself, Pusha and prolific producer Mike Dean.
Dean apparently played the album for Nas while mixing the project and shared Esco's thoughts about the LP in the group chat. "Classic album. Nas said so," he wrote. Expectations for Daytona are sky-high as we stand less than two days from the effort's public unveiling on Friday (May 25).
Pusha-T also hopped on Twitter to reveal his reasoning for naming Daytona instead of King Push. "I changed the album title from "King Push" to "DAYTONA" because I felt it didn't represent the overall message of this body of work," he began. "'DAYTONA' represents the fact that I have the luxury of time. That luxury only comes when u have a skill set that your confident in."
Daytona serves as the artist born Terrence Thorton's first project since King Push – Darkest Before Dawn: The Prelude back in 2015. "This album is for my family...high taste level, luxury, drug raps fans. Literally this is nothing more than the outcome of our musical therapy sessions," he penned. "Ye, we've really outdone ourselves...thank you."
Last week, Victor posted another screenshotted text message where Pusha described his album as "flawless." "My album is soooooooooooo good Rico. I'm scared to say it, but I think it's flawless," the Virginia-bred MC proclaimed.
Pusha season is officially upon us. Daytona drops Friday (May 25).
See New Music Releases for May 2018