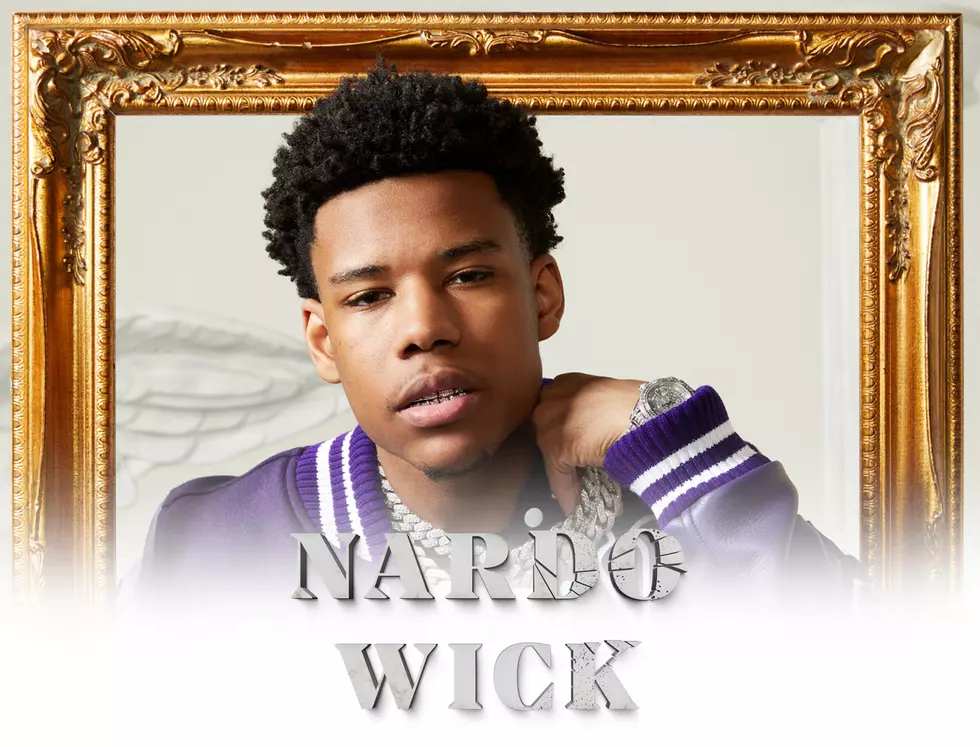 Nardo Wick – 2022 XXL Freshman
GOV'T NAME: Horace Walls III
AGE: 20
REPPIN': Jacksonville, Fla.
TWITTER: @NardoWick
INSTAGRAM: @nardowick
NOTABLE RELEASES: Songs: "Who Want Smoke?," "Who Want Smoke?? (Remix)" featuring Lil Durk, 21 Savage and G Herbo, "Me or Sum" featuring Future and Lil Baby, "Wicked Witch"; Album: Who Is Nardo Wick?; Guest Appearances: Latto's "Stepper," 42 Dugg's "Opp Pack," Doe Boy's "Opp Party" featuring G Herbo
LABEL: Flawless Entertainment/RCA
CURRENTLY WORKING ON: Who Is Nardo Wick? 2 album due this summer.
WHO ELSE SHOULD BE PART OF THIS YEAR'S CLASS: "Big Scarr, Big30, EST Gee, Yeat, Two2Threes, Lil Bars. Those are who have a bright future."
INFLUENCED BY: "Nobody. Myself, honestly."
AS A FRESHMAN IN HIGH SCHOOL: "As freshman in high school, I was quiet. I was chilling. Walking around chilling. I didn't talk. I used to skip a lot. I used to like one class because that's the only class I was trying. What that was? Language Arts. My teacher, Ms. Blair. I used to like that class. That's it, though."
TRUTH ON BEING AN XXL FRESHMAN:
"I been watching [Freshman] since 2016, since I was like 14. That's always been a dream come true. That's like watching movies in the movie theater and then you in the movie. 2016, that's the first [Freshman cover] I recall. The freestyle and who was on it. Kodak, 21 Savage, G Herbo. It stood out. That's one of the best ones in my opinion. [Back then], I'd say shit like, 'When I'm on there, I'ma do this.' I used to be thinking what I would say in the freestyle. How I'd freestyle. 'I would have liked that beat if I was on there.' Shit like that.
I'm a freshman in the industry. A true freshman. I'm 20. I dropped my debut album not even a year ago. Not even six months ago. I'm different. My creativity. Something that ain't been heard. The way I carry myself. The mystique-ness about me. [My fans] gone say, 'I knew it.' I know they waiting and hoping I'm on [the Freshman cover]. When they see my face on it, it's gonna be like a sign of relief. Like, Yes! It's all a storyline. I need to add more to the story. It's a journey. A highlight of a career. One of many accomplishments. I'm excited about being a Freshman 'cause it's part of history. They only do this shit once a year. It's a big thing. Everybody wait on it. So, it really means something."
NARDO WICK'S 2022 XXL FRESHMAN FREESTYLE
Nardo Wick is the new kid on the block. Short on words, the 20-year-old Jacksonville, Fla. native lets his monotone and matter-of-fact delivery of visceral street raps do most of the talking. The Wickman brings the same energy to his 2022 XXL Freshman freestyle.
This moment is one that Nardo Wick has thought about since seeing the now cult classic 2016 Freshman cyphers, which featured Kodak Black, 21 Savage, Lil Uzi Vert, G Herbo, Lil Yachty and others. Nardo was a literal freshman in high school at the time. "I used to be thinking what I would say in the freestyle, how I'd freestyle, shit like that," Nardo recalls in an exclusive interview with XXL. "'I would have liked that beat if I was on there.' Shit like that."
As the youngest member of the 2022 XXL Freshman Class, Nardo is still fighting for respect to be put on his name by those who believe his acclaim was gained without years of hard work and merit. He acknowledges his meteoric rise to fame during his a cappella 2022 XXL Freshman freestyle.
"I need a hat that say,' Rated'/I ain't rush this, I waited/I blew up they hated/Play with me, your life I take it," he frankly rhymes with stacks of money hanging out of his ripped, skinny jeans pockets. "I need a hat that say, 'Rated,' 'cause I'm underrated/I was in debt with attention, I had to pay it/I love my Amiri jeans, they keep me saturated/And I love my 7.62s, they keep me well-protected."
While many artists toil in the rap industry for years before being able to land an official hit song, Nardo Wick punched his ticket to success early. He was fresh out of high school with no real rap experience when he released his debut track, "Face Shot," in 2020. A few songs into his fledgling rap career later and he crafted the golden ticket, putting out his ubiquitous Emkay-produced single "Who Want Smoke?" in January of 2021. His growing popularity led to Nardo landing a deal with former LEP Bogus Boys member Frank "Moonie" Criddell's Flawless Entertainment then RCA Records. A remix of the song, which peaked at No. 17 on the Billboard Hot 100 chart, called "Who Want Smoke??" featuring 21 Savage, Lil Durk and G Herbo, followed last October and has since gone platinum.
Last December, the soft-spoken rapper attempted to answer all outstanding queries on the debut album Who Is Nardo Wick?, an impressive first outing that shows his skilled ear for beat selection and ability to pen catchy trap anthems while also holding his own alongside rap heavyweights Lil Baby and Future. Part two of the album is due out this summer. Yes, Nardo Wick blew up fast. But where there's smoke, there's fire.
Check out Nardo Wick's 2022 XXL Freshman Freestyle powered by Puma below.
NARDO WICK'S ABCs
NARDO WICK, BIG30, BIG SCARR AND KENTHEMAN'S 2022 XXL FRESHMAN CYPHER
The 2022 XXL Freshman Class is here. You've seen their ABCs, listened to them respond to trolls for the Mean Comments segment and heard them spit in their individual freestyles. Now, for the moment you've all been waiting for: the 2022 XXL Freshman cyphers. Jacksonville, Fla. native Nardo Wick, Memphis' Big Scarr and Big30, and KenTheMan, who hails from Houston, grab the mic to showcase the skills that got them inducted into the class in the first place.
This year, Mississippi native Wheezy Outta Here provides the soundtrack that all four Freshman slide on. Wheezy has been on the fast track to production superstardom lately as the man behind the boards on trap-style anthems like Lil Baby and Drake's "Yes Indeed," Young Thug and Gunna's "Hot," YSL's "Ski" and more. The Freshman quartet deliver Southern-fried bars over the "Pushin P" producer's bass-heavy, hi-hat-laced score.
This year's youngest Freshman Nardo Wick bombs first, igniting his freestyle with the explosive bars, "Bang, bang, bang, bang, bang/Big brother always tryna touch a nigga brain," the soft-spoken 20-year-old artist raps. "Leave him neckless, he try reachin' for my chain/Izzy always tryna hit a fuckin' stain/Brush my teeth with Scope, but promise I got Aim." From there, Nardo speeds things up a bit, showing impressive versatility.
Sliding in behind Nardo, Big30 brings big energy to the cypher. He doesn't let off the gas in his lengthy rap, which stays true to character in pushing the rapper's gangsta persona. "50 racks on me right now and this Dior is made of silk/Nigga spin my block incorrect than somebody gettin' killed," 30 spits. "My young nigga 15 with four bodies, can't even buy a fifth/He ain't even old enough to vote, that lil boy bangin' Crip," he adds, later shouting out incarcerated fellow Memphis rhymer and 2021 XXL Freshman Pooh Shiesty.
1017's Big Scarr delivers what might be the shortest cypher verse in Freshman history, with his mic drop moment in the cypher clocking in at less than 10 bars. "I'm in the eggshell coupe, this bitch here a hatchback/I don't do the basic bitches, Hemi here a Scat Pack/I don't do no talkin', roll a nigga in the outback/I'm with your main bitch, we eatin' steak, chillin' at Outback," Scarr rhymes. In and out.
KenTheMan is the show closer. Putting on for H-Town, TheMan is small in stature, but big on bars. She slips in and out of flows over the menacing track with ease. "ATL, hopped off a plane and hit the stage with Kali/I'ma P, I got some hoes that's ducked off in the valley/Ask about me, I been 100, my card super valid/I drop a ho, I get another one like DJ Khaled."
Man, oh, man. It's up.
Watch Nardo Wick, Big Scarr, Big30 and KenTheMan's 2022 XXL Freshman Cypher
See Every Artist in the 2022 XXL Freshman Class
Which rapper is your favorite?