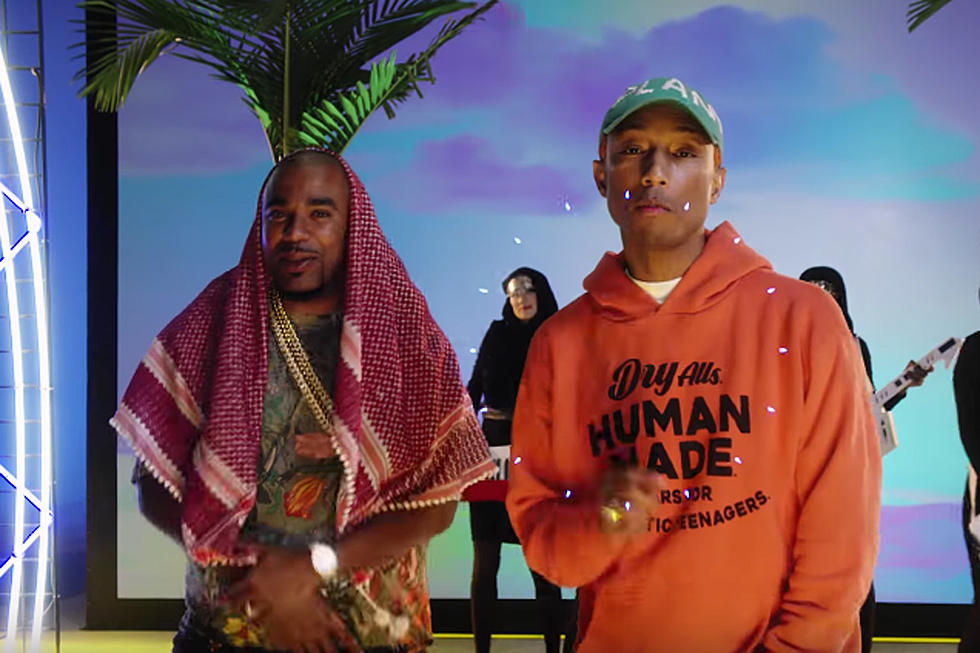 N.O.R.E. and Pharrell Head to the Beach in "Uno Mas" Video
Mass Appeal via YouTube
N.O.R.E. is one of the best personalities in rap, and has maintained his foothold as one of the more interesting rappers from New York City's mid-1990s era. Never one to shy from dabbling in other genres, his newest single is "Uno Más," a Caribbean-tinged romp with his old friend Pharrell.
The Jason Goldwatch-directed video is bright and expressive, packed with neon colors and fun in the sun. Shot on a set built to resemble an island getaway, N.O.R.E., P and company party and enjoy themselves. There's an all-woman band, dance moves and liquor; what else could you want?
Pharrell handles the hook, a skill he's become great at over the course of his career. "It's my duty to help you snap back/Leave your worries long gone, long gone/Let go what you cannot take back," he sings, in his unique tone.
N.O.R.E. is his typical self here, but is surprisingly reflective on such a fun song. "A 20-year career, I hope you understand/I used to pitch on the block, I did it underhand," he rhymes, going back to his past life. "They said I'd never make it, never be much/And I agreed wit' 'em, I ain't see such."
The Queens-bred rhymer also dropped a remix to this song, adding Miguel, J Alvarez and Wiz Khalifa to the fray. Pharrell joined Swae Lee and Slim Jxmmi (totally not Rae Sremmurd) for the song "Chanel," and it's quite a jam if you haven't checked it out yet.
Catch N.O.R.E. and Pharrell's "Uno Más" video below.
See 60 Hip-Hop Albums Turning 20 in 2018