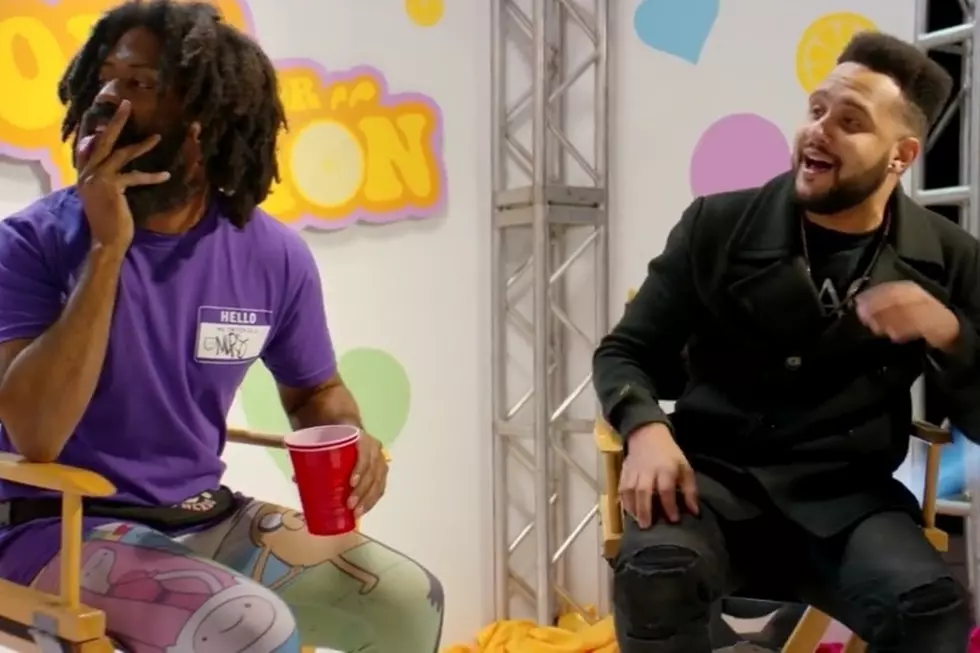 Murs and Curtiss King Play the Dating Game in "Lemon Juice" Video
Strange Music via YouTube
Murs and Curtiss King participate in a new version of the Dating Game in the "Lemon Juice" video. The rappers vie for a woman's affection on Love or Lemon while taking shots at each other.
"Now if Curtiss was a Jedi, his lightsaber would be clear/That means nonexistent like his fucking rap career/Look his breath got your face melted, please make your choice/Do you want a Blake Shelton or a reject from The Voice," Murs raps.
King responds by playing to the sensibilities of the young lady. He still manages to throw a few jabs at Murs too.
"Hold up, listen to his language, ain't he so damn offensive/When I look inside your eyes, I see the loyalist missus/Do you really need a man to give you fourth and some inches/Having your couch smelling like spoiled oil and incense," King retorts.
Ultimately, both men are unsuccessful as the bachelorette chooses the show's host. Murs and King aren't too bothered by it though as they reconcile at the end.
"Lemon Juice" appears on Murs' new album Captain California, which dropped a few weeks ago. XXL's Scott Glaysher gave the LP high marks in his review.
"At no point on this 45-minute rap fest does Murs ever come across as unsure, unauthentic or unaware of who is he is as a rapper or man," Glaysher wrote. "This may not be the 'West Coast dedication' album people assumed it would be based off the title but a close listen to his stories proves Murs is pretty much as California as it gets."
Stream Murs' new album here if you have not already and watch the "Lemon Juice" video below.
Here Are the 2017 Hip-Hop Music Festivals You Need to See