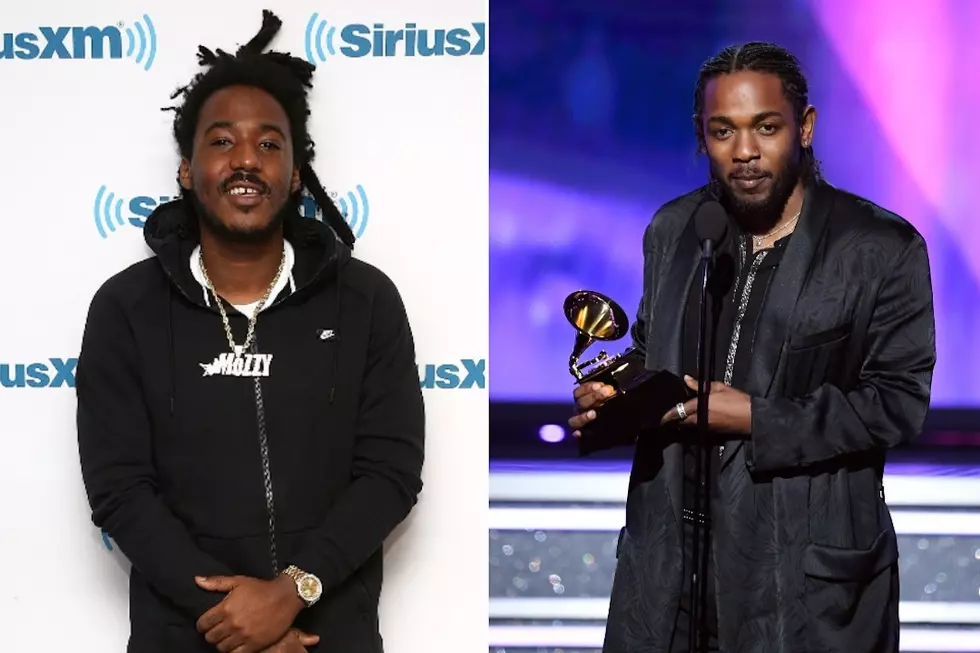 Mozzy Appreciates Kendrick Lamar Shouting Him Out at 2018 Grammy Awards
Robin Marchant/Kevin Winter, Getty Images (2)
It was a major evening in music last night (Jan. 28) at the 2018 Grammy Awards, and while Kendrick Lamar won a slew of trophies at the ceremony, Mozzy received an accomplished moment of his own thanks to the TDE rapper.
Mozzy wasn't nominated for any awards at the Grammys, but K. Dot did give him a special shoutout during an acceptance speech after winning Best Rap Album for Damn. Mozzy caught wind of the nod, and reposted the speech to his Instagram page while expressing his appreciation.
"At the Grammys tho? DAMN!!!" Mozzy writes in the caption of the video showcasing K. Dot shouting him out. "It felt like I personally won an award!!! Appreciate you bruda bruda!!! Beyond Bulletproof  #God @kendricklamar Congratulations Big Dawg!!!"
If you recall, Kendrick originally told the crowd, "As my guy Mozzy say, you know, God up top, all the time, real talk, you know?" while referencing Mozzy's 1 Up Top Ahk album. The project, which dropped last September, is a collection of intense street tales and songs detailing his life from behind bars to freedom.
Kendrick had a historical night at the Grammys, himself, as the Compton MC opened up the show with his incredible performance that featured U2 and Dave Chappelle. He managed to go home with five awards out of his seven nominations, which included wins for Best Rap Album for Damn., Best Rap Song, Best Rap Performance and Best Music Video for "Humble.," as well as Best Rap/Sung Collaboration for "Loyalty" with Rihanna.
Check out Mozzy's reaction to Kendrick shouting him out during his Grammys acceptance speech below.
See Photos of Kendrick Lamar's Different Looks Over the Years