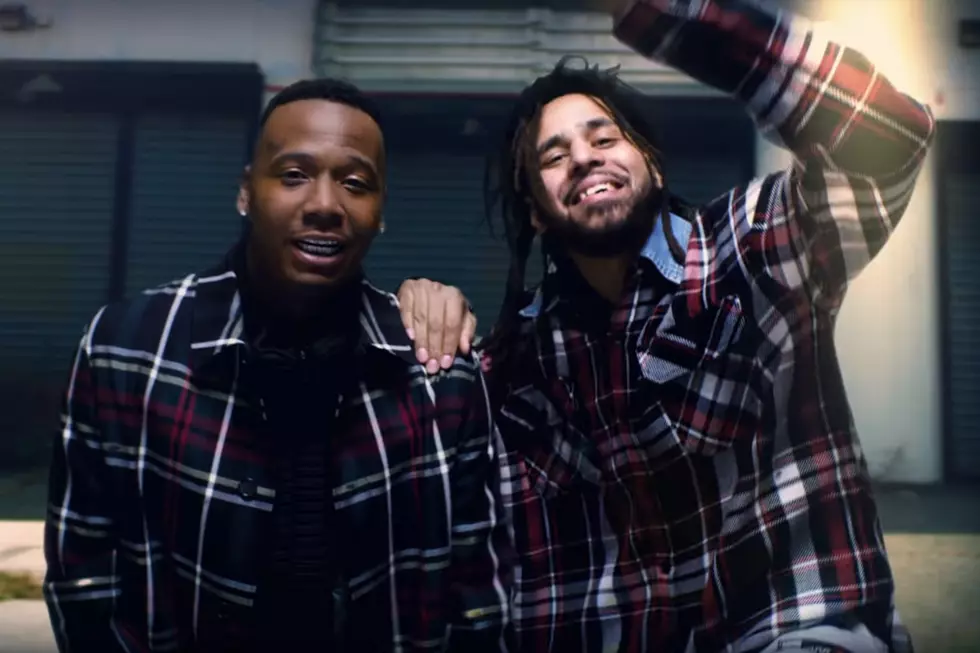 Moneybagg Yo "Say Na" Video Featuring J. Cole: Watch the Rappers Bond in Memphis
Moneybagg Yo via YouTube
The music video for "Say Na" opens up with drone shots of Moneybagg's native Memphis before the camera pans out to a shot of the rapper in an undisclosed laundromat. While handing out stacks of cash to children and throwing the remainder on the ground he lets off some serious bars.
"The rumors (no new ones), outdated (outdated, outdated)/Twin dracos (what that is), related (some kin)/I'm federal (I'm federal status), you probation (lil shit, lil shit)/I'm in the game (what's this, what this?), you free agent," raps Moneybagg.
A few moments later, Moneybagg Yo links up with J. Cole, who matches his fly in an identical plaid shirt. He also delivers some verbal acrobatics.
"Pick up a check, so many digits that shit just be looking like cellphone numbers, what the hell wrong with us/Well known hustlers, climbed up from the tailbone where the world don't want us/Plus y'all niggas be dumpin' and shootin' from close like some elbow jumpers," Cole raps.
The video ends with Moneybagg's second verse as he wastes wine on a table full of food, which, like the rest of the video, symbolizes how wealthy he's become in recent years.
As we've previously reported, Cole and the Moneybagg were connected through a chance encounter in a Los Angeles recording studio. After learning that they liked each other's music, Cole jumped into Moneybagg's studio session to see which track he could hop on for the album.
"[Cole] was like, 'This a good song, they gon' rock with it,' but that ain't what I'm looking for," Moneybagg tells XXL. "I want to come to your world.' So I got the trap J. Cole [laughs]."
Watch the two bond in the video for "Say Na" below.
See Photos of J. Cole's Different Looks Over the Years