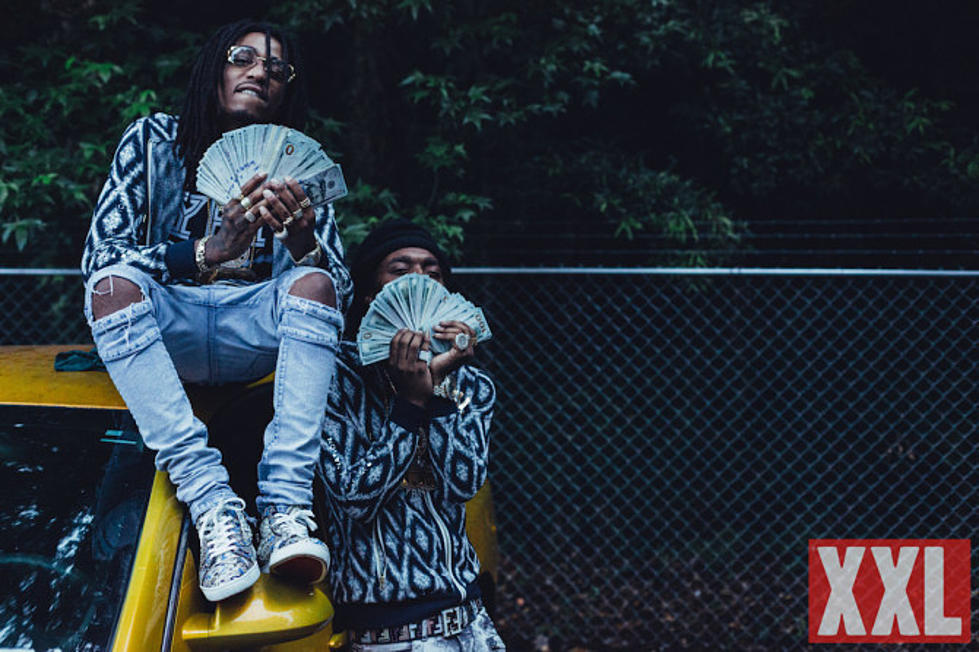 How Migos Is Helping Change the Face of Hip-Hop
Photo Credit: Elliot Liss
Make A Scene
How three wild dudes from A-Town are helping change the face of hip-hop.
Words Dan Rys
Images Elliot Liss
Editor's Note: This story originally appeared in the Summer 2015 issue of XXL Magazine featuring our 2015 XXL Freshman Class. Check out everything from our Freshman issue right here.
At the end of a dead end street near the center of Atlanta's Westside part of town sits a low, nondescript building that could house a suburban dentist's office or a local law firm. At first glance the place looks abandoned; the windows are dark, the small parking lot empty, the street deserted. But a deafening, metallic creak coming from a code-locked gate slowly opening to the left of the building says there's more to this place than meets the eye. A dark car exits from a parking lot behind the gate and a head pokes out after it. "You looking for the studio?" a person calls out. "Come back here."
This is the headquarters of Quality Control Music, the indie record label and management team that is home to A-Town's Migos, OG Maco and Rich the Kid, among others. It's just before 11 p.m. on a late May night and two-thirds of the Migos, Takeoff and Quavo, are locked in one of the building's four recording studios, working on music with a small handful of friends sitting on the couches and desk chairs in the place's control room. Third Migo, Offset, is currently locked up in Georgia's Bulloch County Jail on drug and felony gun charges after police arrested the Migos and 12 members of their entourage during a performance at Georgia Southern University this past April. Takeoff and Quavo were soon released on $10,000 bail but Offset, already a convicted felon, remained in custody.
Tonight Takeoff, a.k.a. Kirshnik Ball, the youngest Migo at 21, sits calmly in the corner, puffing on a blunt. Quavo, born Quavious Marshall and the oldest Migo at 24 and Takeoff's uncle, is in the booth, laying down vocals over a new beat they received hours before. The two wear matching navy and white tie-dyed Yung Rich Nation jackets—fresh from their brand-new YRN clothing line—with Balmain jeans and designer shoes. It's been a long day, but the studio might as well be home.
"Cocaina, cocaina," Quavo raps over the understated beat, making sure he lands his hook perfectly. "I do this shit for my familia." DJ Durel stares up at a massive television mounted on the wall in front of him showing the Pro Tools recording session—a second, slightly smaller TV above it displays nine security cameras mounted around the outside of the property—while Takeoff raps quietly to himself under his breath. "This might go on the album," Takeoff explains as Quavo lays down his bird call ad libs. "We working on something new every day."
Migos are two months away from the release of their debut LP, Yung Rich Nation, due out July 31 on Quality Control, and though they insist the project is already done, they haven't stopped recording. That's become a calling card; since the trio's breakout third mixtape Young Rich Niggas and its big single "Versace" came out in June 2013, the group has released six mixtapes (four with Rich the Kid) and two label compilations in less than two years, flooding the streets with their catchy hooks and even catchier ad libs in-between witty pop culture drug euphemisms. Their rise to the forefront of the exploding Atlanta hip-hop scene has been near-meteoric, with Yung Rich Nation expected to be their biggest statement yet.
But it hasn't all been a smooth ride to the top for the Migos; Offset—a.k.a. Quavo's 23-year-old cousin Kiari Cephus—was locked up on a weapons charge when "Versace" first blew up. Now, with the album so close, he finds himself behind bars again, denied bond after police arrested the group on gun and drug charges during an April performance at Georgia Southern University.
It was the latest in a series of incidents—a shooting aimed at their van in March 2014 in Florida left one person injured; six were stabbed at a Migos show in Albany, N.Y. earlier this year—that have dogged the group as they've made their way from the bando in their native Gwinnett County, Georgia into a force in the hip-hop world.
Migos have weathered plenty in their four years together in the rap game. And with the momentum gained from landing five singles on the Billboard charts in just two years, the trio's track record of delivering hits has dismissed any talk of them being another hip-hop fad. But the album is a different story; it's the crew's first commercial venture and the biggest test yet to their intended status as artists with staying power. But can they dodge their legal setbacks and bring their Southern trap bangers global? Or will their reputation snuff out their promising career before they can rise to the next level?
It's midnight and Takeoff is leading a tour of Quality Control's offices and pauses to admire a photo of Migos performing at Atlanta's Streetz Fest in April 2014. "It was so crazy; we all had furs on," he says, smiling at the memory. "I forgot that bitch was there. That was hard when we were on stage."
It's easy to understand why Takeoff might need a reminder; Migos' rise has been so lightning quick that it took almost everyone by surprise. In October 2012 the trio uploaded the music video to their song "Bando," which had earned them some local buzz in the clubs in Atlanta. But it also caught the eye of super producer and frequent Gucci Mane collaborator Zaytoven, who introduced them to former Gucci and Jeezy manager Kevin "Coach K" Lee. By March of 2013, Coach and his business partner, QC CEO Pierre "Pee" Thomas, had signed the group to their newly-minted Quality Control Music with the intention of helping them become stars. Three months later, a chance meeting with Drake led Drizzy to drop a verse over Migos' catchy "Versace" and launching the young MCs into the Internet stratosphere. (As of press time, Drake's remix had more than 25 million views on SoundCloud, with millions more on YouTube.) Before long, "Versace" and the Migos seemed to be everywhere.
A string of hits followed—Young Rich Niggas' "Hannah Montana" and No Label II's "Fight Night" and "Handsome And Wealthy" all landed on various Billboard charts—and soon the Migos' choppy, triplet flow had been used by everyone from J. Cole ("TKO Remix") and Jeezy ("Which1UWorkin") to Drake ("The Language") and Kanye West ("Sanctified"); even Katy Perry tested it out on her 2013 album Prism on her song "Legendary Lovers." It helped, too, that Quavo, Takeoff and Offset had proven their ability to turn any noun or phrase into an inescapably familiar, repetitive hook. It's the combination that made them an instant sensation in clubs and a fixture on the radio. But now, with the streets on lock, the Migos are looking bigger.
"You got to expand the sound to expand your horizon and your fanbase," Quavo says later from behind his curtain of dreads. He's exhausted, staring down at his Jackson Pollock-style snakeskin Christian Louboutins as he and Takeoff discuss Migos' new musical direction. They say their new sound will incorporate a lot more West Coast production than their usual Southern trap rap beats without sacrificing the flavor of their hometown. "You gotta go every aspect, you gotta hit every area so they can relate to it," Takeoff adds. "So they just can't say you make some Southern, Down South [music]."
Though they're more than humble about their success, Quavo and Takeoff also know there's a long way to go to reach beyond their hard core fans. The commoditization of the Migos Flow has proved their impact but has, to a point, diluted their brand; two weeks prior, Snoop Dogg said in an interview that with everyone rapping in the same style he couldn't tell Migos from Future. "When we came out with it too many people started doin' it," Takeoff explains. "And then they didn't know really who started it."
"This album is showing you the Migos origin of the flow," says Quavo. "Instead of just letting it go, we just wanna take that back. That's it."
It's not just musically that Migos have been influential; their exquisite style and penchant for expensive clothing and elaborate jewelry have turned them into fashion trendsetters. Takeoff is just as eager to explain the origins of his massive, diamond-encrusted pinky ring or his rocket emoji necklace as he is to talk about his multiple pairs of Maison Margiela shoes. Quavo is quick to tell the story of his three-headed Pharaoh chain—one head to represent each of the Migos—that he drew on a hotel napkin and had custom made by his jeweler. They talk over each other, blending sentences so that there's no real beginning or end. Their style and youth makes them walking billboards for a new generation of high-end fashion obsessives. "We the last of the young trap rappers with the jewels, diamonds, all that old school shit," Quavo says. "After that I don't think there's no more."
Life has changed in the past few years for the Migos, and they are changing with it. They can hardly go anywhere now without being asked for a picture or an autograph—not that they mind. "It's a blessing to have fans acknowledging your craft, period," Quavo says, insisting they don't shy away from still doing "regular shit." "It makes you feel good, lets you know what type of grind you want to keep doing, what type of goal you want to keep pursuing."
All that attention has lined their pockets, but it's put them in some dangerous spots, too. Migos' reputation, perpetuated by the media, as rambunctious trappers who attract a wild crowd has made booking shows and planning tours more of a headache than necessary. "Our music attracts the people that we rap about and make music about and they come out and actually do it," Quavo says about the recent incidents. "We can't stop anybody from doing what they want to do."
"I don't know what they want us to do," Takeoff says, shaking his head. "Maybe they don't like to see me walk around with $20,000 in my pocket. I take care of my family and everything good. I don't know why. Everything's crazy."
Violence, even if it has nothing to do with the group itself, has inevitably brought with it the scrutiny of the law. April's incident at Georgia Southern, which has kept Offset in jail for almost three months now, stemmed from a police raid of Migos' vans and ended with the cops pulling them from the stage mid-show. They won't talk specifics, but it's the type of incident that can lead to a media portrayal that doesn't make a judge inclined to be lenient, nor make advertisers and promoters run for their checkbooks. Offset's incarceration pushed YRN back from its original June release date and delayed their Yung Rich Nation tour with OG Maco indefinitely.
"I feel like it's just another obstacle we gotta jump over and show people we can be successful," says Offset, on a call from jail in early June. "Everything happens for a reason; we just try to dodge all trouble that comes our way. We're always trying to avoid all the negativity, but sometimes it just comes with it. I think it's all just a test from God to see how you react."
It's still unclear as to when Offset will be free, but the issue is becoming a big enough problem that the guys are brainstorming what they should do to change their situation.
"We do shows every night and every weekend," Quavo says. "Maybe if we do something during the daytime for the kids or whatever, just something positive...then maybe if a problem happen it might be outweighed by the good. We good people. We not doin' nothin' wrong. It's just problems come with problems."
It's after 1 a.m. by this point and the studio is empty except for a handful of friends and employees winding down the night's session. Takeoff rolls another Backwoods blunt, but Quavo starts itching to go home and get some rest before another studio session and video shoot in L.A. With Yung Rich Nation's release date looming, there's still plenty to do to prepare, something that they accept as part of the life that they've chosen. The Migos may exist in a different tax bracket now, but they know that everything is just beginning. "We already proved that we're not one-hit wonders, but we just gotta prove it again and again and again," Quavo says. "So right now we hittin' them with this album because it's necessary. Then back to the streets and mixtapes, then another album. You gotta keep proving yourself to upgrade your standards."
Migos is ready to carve out a fresh identity and take their clever punchlines and irresistible appeal to a wider audience. And despite what anyone thinks about their ability to make that leap—or their reputation, or their sound, or their flow, or any of the criticism they've taken—they seem relaxed and ready for what lies ahead. Explains Takeoff: "Whatever you say about the Migos, we gonna change your mind."