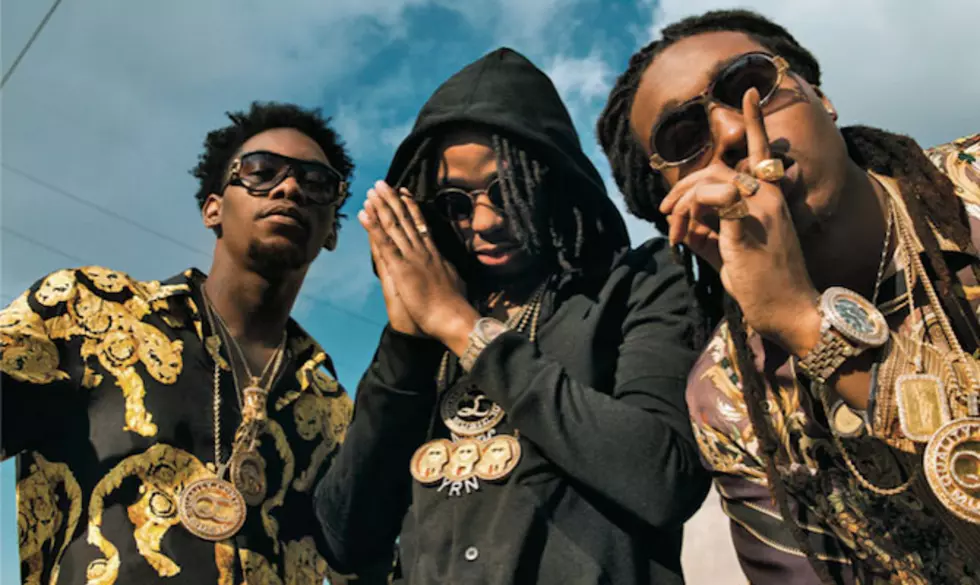 Migos Rises From The Bando To The Mainstream
Photo Credit: Diwang Valdez
Lift Off
It's been a minute since hip-hop had a relevant group, but Atlanta's trio Migos are changing all that.
Words Max Bell
The "Bando": a residence, possibly abandoned, where drugs are sold and/or manufactured. Proprietor, customer or passerby—you do not want to be there. The threat of potentially fatal violence, of arrest and years of incarceration is always there. For Quavo, TakeOff and Offset, the members of ascendant Atlanta rap group Migos, the bando was once home.
To get a vague sense of said home, see the earliest videos on Migos' YouTube channel. Each shows the trio rapping in the corner of a white room, a seemingly empty fish tank the only identifying characteristic. For obvious reasons, relative anonymity was essential for self-preservation.
Today, mid-afternoon in late March, the vibrantly animated Migos are on speakerphone from the group's new Georgia home, which they call The Migos Mansion. The recent move is a result of their swift rise from local and Internet sensation to landing a single ("Versace") and mixtape (Young Rich Niggas) on Billboard. The group is staunchly independent, and an undeniable electricity surges through each of Migos' songs. Along with Future, Rich Homie Quan and Young Thug, they are an integral part of the new Atlanta rap guard. And, with the most distinctive (read: imitated) delivery in contemporary rap, they're also arguably the most influential.
"If I tell you [where I live now], then I'm going to have to move," Quavo says, moments removed from recording. His words border on deadpan hilarity, but his voice is grave. There's no trace of comedy. He and Migos have literally rapped themselves out of the corner, out of the bando. They're not going back.
Born and raised in Lawrenceville, Ga., Quavo (Quavious Marshall, age 23), TakeOff (Kirshnik Ball, age 19) and Offset (Kiari Cephus, age 22) were extremely close before rap. Quavo is TakeOff's uncle (Quavo's sister is TakeOff's mother), and Offset is their cousin. With no father figures present—Quavo's father passed when he was 4; TakeOff and Offset's respective fathers abandoned them when they were young—Quavo's mother would often look after all three boys, supporting them with her work as a hairstylist.
Rap became a fixture for Migos early. Offset still remembers Quavo and TakeOff rapping before they'd reached double digits. In fact, Quavo began recording under the sobriquet Crunk Boy by 8th grade, pressing up CDs of his music and handing them out to classmates. "Everybody laughed at me," Quavo recalls. "They were saying the words and kind of laughing and joking about it. My boy Offset had to freeze them and say, 'This shit hard.'"
In hindsight, perhaps Offset's encouragement was the catalytic event, the initial Migos spark. Quavo pushed Offset to rap shortly after. "I didn't know how to rap," Offset explains. "Quavo wrote my first rap, and we went from there." The following year, Quavo and Offset's first year of high school, the trio formed their first official group, Polo Club. Though they don't shirk questions about their former incarnation, Quavo writes it off as an innocent diversion. "It was just some shit to occupy our time," he says. "We knew we were going to get better over time."
Forthcoming about their rap background, Migos are excusably non-verbal about when the bando came into the picture. Given their age and mixtape release dates, it's fair to assume high school and bando life went hand-in-hand, the latter eventually supplanting the former. As for what went on inside, you need only listen to Migos' music, much of which discusses selling and/or cooking cocaine or crack. With no foreseeable future in any other field, rap appeared the only fiscally viable alternative. "We were tired of being in the streets," TakeOff says. "We had to turn the street money into legit money."
Around the release of their first mixtapes, Juug Season (2011) and No Label (2012), Migos began frequenting Atlanta clubs like Mansion Elan and Obsessions every weekend, buying DJs drinks and cajoling them into playing their latest material. Once No Label's "Bando" became a local hit, it caught the attention of well-known Atlanta producer and longtime Gucci Mane collaborator Zaytoven.
Quickly becoming one of Migos' most frequent collaborators, Zaytoven introduced the group to their manager, Kevin "Coach K" Lee. Lee, who previously managed Jeezy and Gucci Mane, brims with enthusiasm when discussing the first time he saw Migos. "As soon as I saw the video of 'Bando' I knew they were stars," Lee explains. "I was like, 'This is going to be a game changer.'"
By the time Lee made his first trip to the bando, Migos had already finished 2013's Billboard-charting Y.R.N. "They were like, 'We're ready to put this out now.' I was just like, 'Naw, we have to set it up.'" Lee and his business partner Pierre Thomas (CEO of Quality Control Music) promptly put together a localized guerilla-marketing plan surrounding the mixtape's release. It worked.
Just two days after the June 13 release of Y.R.N., Migos performed at Atlanta's Hot 107.9 Birthday Bash. Drake, who served as surprise guest at the show, approached Migos and began rattling off his favorite songs from Y.R.N. After expressing interest in working together, Drake added a verse to the Zaytoven-produced "Versace." Released online June 22, the new version blew up immediately, garnering radio play not long after and spawning hoards of new Migos fans. The song's appeal was so ubiquitous that Versace chose to play it at the closing of their fashion show in Milan last September.
Unfortunately, as Migos' buzz increased, the recently freed Offset was incarcerated, pleading guilty to a probation violation. The words "Free Offset" punctuated all performances and interviews. Offset prefers not to discuss his time in prison. However, it's clear keeping up with the latest of the group's developments, both musically and publicly, was paramount. "They were playing songs for me on the phone. [They] kept me informed to how shit was going and how they were killing shit," Offset explains. "When we got on the phone, we might not even talk. Quavo and TakeOff might just play music the whole time."
More than Drake's feature or Zaytoven's banging, ominous productions, Migos' staying power and influence are largely due to the group's now-trademark triplet flow, their stamp on the game that many first heard on "Versace." A quick, choppy cadence that feels both fluid and rigid, simple yet complex, it's now commonly referred to as "the Migos flow," copied by seemingly every rapper with an eye on the Internet, including Kanye West ("Sanctified") and Drake ("The Language").
Though Migos generally claim they only listen to their own music, they've undoubtedly kept abreast of the liberal use of their unique delivery. "When you turn on the radio, what are you going to hear? The Migos flow," Quavo says. "From the biggest to the smallest artist—they all use it."
While their hit single brought listeners to their music, Migos' high output since Y.R.N.—three mixtapes in the last year, two of which have at least 20 songs—has kept their insatiable Internet audience well fed. The group's prolificacy comes from incessant recording at their in-house studio. "I bet you a thousand dollars we have a thousand songs," Quavo says. Again, he's not joking. The studio might be bigger than it was at the bando, but the equipment and young men inside remain the same.
Aside from the quantity of Migos material available, and the fact that they never write any of it down, the most fascinating part of their recording process is its brevity. The group only grants one another 15 to 20 minutes to record a verse or a hook. If you can't do it, you're out. This technique may explain the verve, the urgency embedded in every verse—they are rapping against the clock.
For those who've listened to full Migos mixtapes, it's clear that their success can also be attributed to their inexhaustible well of pop culture references, which they claim stems from countless hours spent working inside the bando with the TV on. References to Malcolm In The Middle follow those to Stuart Little; drug connects are likened to internationally known boxers ("China Town"). By cloaking their formerly felonious activities in slang that's fairly easy to translate, their own idiosyncratic referential matrix, Migos have made their music accessible for those who have little, if any, experience with the events that music recounts. Fans of video games (e.g. Mortal Kombat or Fight Night), sports (pick one) and the Disney Channel (Hannah Montana) are all invited to decipher the lingo. (They also recently turned cocaine- slanging anthem "Hannah Montana" into a song about twerking.)
In the months to come, Migos plan to release two more projects, Streets On Lock 3 and Y.R.N. 2 [Ed. Note: Streets On Lock 3 dropped after this issue went to print, on April 20, and can be found here]. They also have tentative plans to move to Los Angeles and shoot a movie titled Bando, though the two aren't necessarily related.
All of this information is hard to come by. Whether a force of habit or part of some unspoken strategy for success, Migos prefer to keep most moves a secret. When asked about release dates, or really anything pertaining to the future, they initially respond by shouting, "Just wait on it," the tagline from the song of the same name on their most recent mixtape, No Label 2. Each time it's as though the music is playing in their minds. Given their ceaseless work schedule, it just might be. —Max Bell