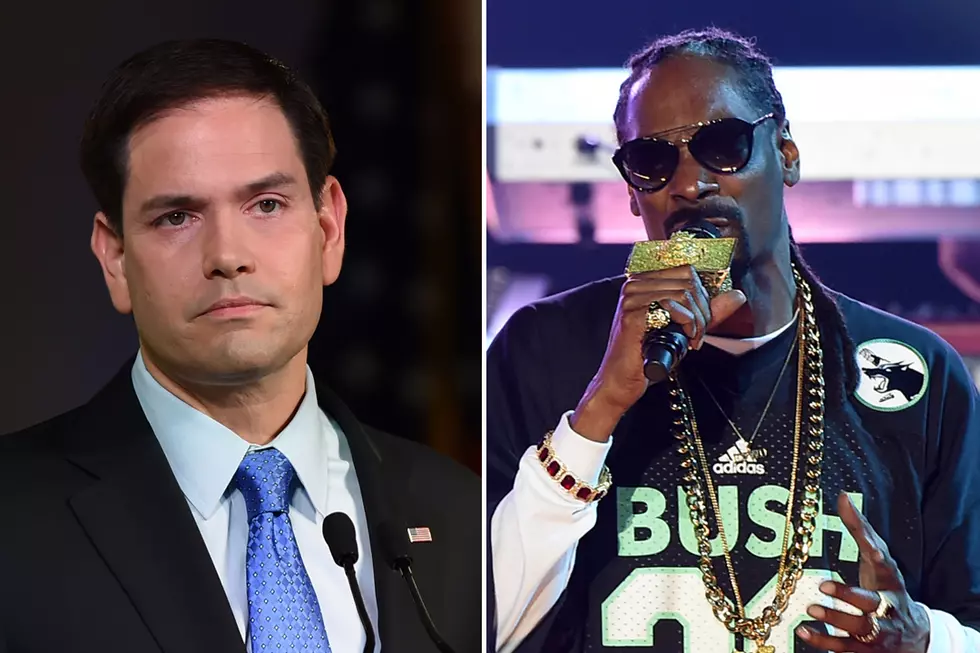 Senator Marco Rubio Isn't Happy With Snoop Dogg's Video Featuring a President Trump Clown
Larry Marano/Kevin Winter, Getty Images (2)
Snoop Dogg put his political disdain for President Donald Trump on full display in the most recent BADBADNOTGOOD video for "Lavender" recently. In the music video to the remixed track featuring Snoop and Kaytranada, Snoop pretends to shoot a clown version of President Trump with a toy pistol. While it gained a lot of attention, the new video isn't sitting well with some of Trump's fellow politicians.
TMZ caught up with Florida Senator Marco Rubio outside Reagan National Airport yesterday (March 13) and asked the senator about the new video. Rubio sent a warning to the Doggfather.
"Snoop shouldn't have done that," Rubio told TMZ. "We've had presidents assassinated before in this country, so anything like that is something people should really careful about." He adds that if the "wrong person sees that and gets the wrong idea, you could have a real problem. So, I'm not sure what Snoop was thinking. He should think about that a little more."
It's no secret that hip-hop has been vehemently opposed to President Trump's policies. Since he started his first term in office this past January, rappers like Drake, Chance The Rapper, Mac Miller, Twista and more have called Trump's presidency, especially his recent ban on Muslims, "shameful." Even Kanye West, who surprisingly met with Trump post-election, erased his tweets advocating for Trump.
16 Rappers Who Have Dissed Donald Trump