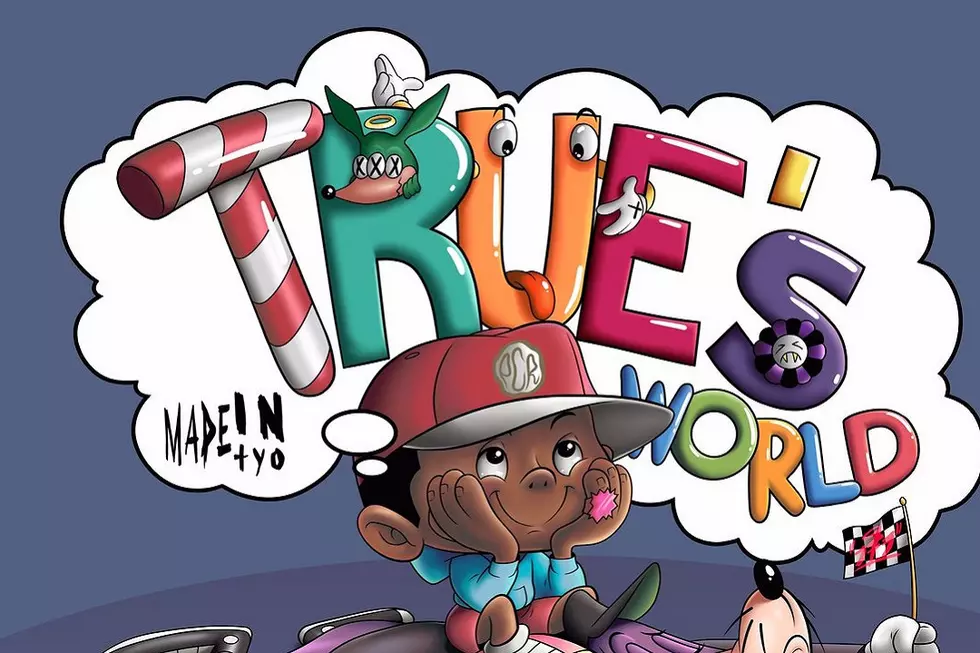 Madeintyo Takes a Step in the Right Direction With 'True's World' EP
Private Club / Commission Music
Making XXL's annual Freshman Class cover is both an honor and a call to action for those selected whether they anticipate it or not. Just ask Madeintyo, who kicks off his new six song EP, True's World by saying, "XXL chose a real nigga/Can't let my fans down." It's a statement that not only proves he knew his worth and talent before the 2017 XXL Freshman selection but also realizes that with the extra set of eyes now fixated on him, it's really time to show and prove.
"Uber Everywhere" was of course a mega-smash and garnered the Tokyo-bred, Atlanta-raised rapper not only a platinum plaque but enough notoriety to join a cross-country tour with Big Sean, which is priceless exposure no matter which way you slice it. Of course, hit singles and opening sets on major tours are where careers can start to grow but everybody knows it's timeless bodies of work that can really bring emerging rappers sustainable traction.
True's World is TYO's fourth official project—You Are Forgiven and Thank You, Mr. Tokyo as solo efforts; 24hrs in Tokyo as a collaborative EP with his brother 24hrs. The new EP has a run time of just over 15 minutes, which really isn't all that long. Regardless, TYO fills it with mostly deep cuts that showcase who he is as an artist. The intro and title track not only touch on his XXL Freshman pick but also a look into his family life: "Even though I'm the man now/Still got problems at home even though I've got grands now/True tryna crawl, can't wait 'til he stand now." With a fiancée and newborn son by his side, TYO has done a lot of growing up at the ripe age of 25 and is starting to tell that unique story to the masses. The name of this EP is even a direct reference to his 7-month-old son named True.
However, he puts the family talk on hold until the end of the project as the middle three songs serve as formidable flexes. "Depends" features the rapper whipping Lamborghinis, rocking designer clothes and throwing racks on dancers like it's nothing. It's the type of rap writing that leans towards generic plus Dwn2Earth's monotone beat doesn't bring those bars much life. Making turn-up rap records isn't the wrong move for TYO but when there are more "oohs" and "skrt skrts" than actual bars, then the replay value wears a little thin. The same tendencies appear on "Cashing Out." The framework of a hit are there but the marginal lack of energy hinders it from blowing up past the confines of this EP.
On the other side, "Too Quick" is a well-executed potential hit. Nard & B bring wavy keys and heavy 808s to TYO's popping vocals, which demand a chant along. The same simple yet effective lyrics appear on the chorus but bang much harder with the right mixing and delivery. "Had to get a brand new bitch/'Cause I get bored too quick/Had to get a brand new ice/'Cause I get bored too quick/Cut her off, upgrade/Got bored too quick" will undoubtedly become scripture within the internet space and beyond.
All these songs are obviously new material but nothing we haven't seen Madeintyo accomplish before. "Eating" is something completely different from what we've come to expect. Glazed with a thick coating of muffled Auto-Tune, he poetically sings about giving his girl cunalingus. From a songwriting perspective, it's TYO at his strongest with abstract lines weaving in and out of a dreamy, slower instrumental. "They say you are what you eat, girl, I'm eating you" is just one example of the type of lines he delivers in a conversational flow for the entire three minutes.
The more you listen to "Eating," and the entire EP for that matter, the more you can tell that Madeintyo is young by definition but mature beyond his years. An explicit ode to his fiancée, references to his son and an increased sense of "let's get this money" makes his story more relatable than most. True's World might not be his project yet but it's definitely a step in the right direction for an artist who has paved his own way and is honing in on the musical impact he can make.
Go Behind the Scenes With Madeintyo at 2017 XXL Freshman Shoot