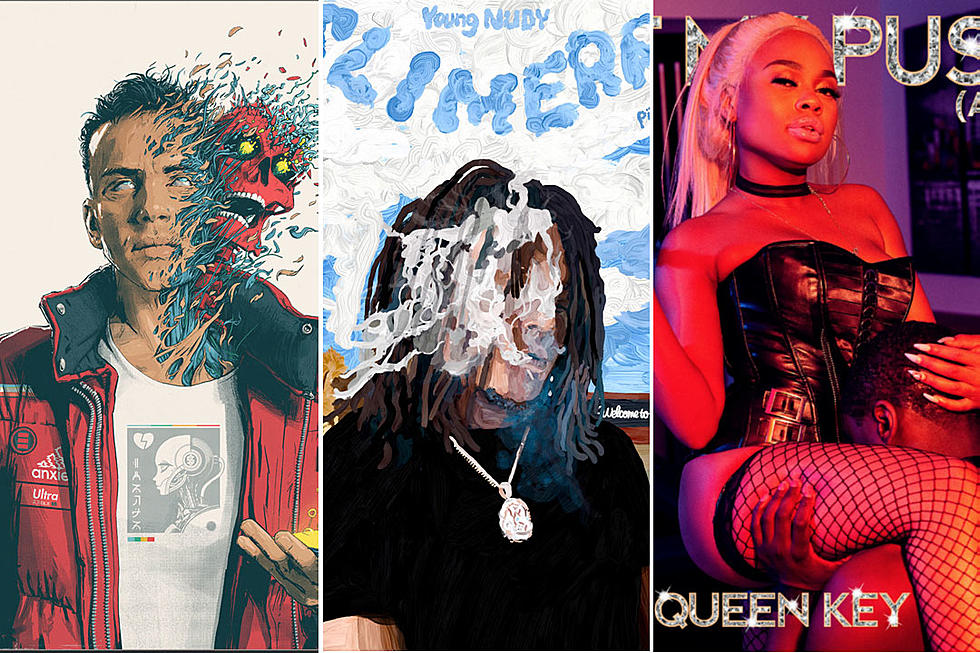 Logic, Young Nudy & Pi'erre Bourne, Queen Key and More: New Projects This Week
Def Jam Recordings/Young Nudy/Machine Entertainment
It's going down in Miami this weekend for Rolling Loud. The annual festival is set to feature performances from some of the biggest names in hip-hop. A few of the artists hitting the Rolling Loud stage over the next few days have also dropped new projects this week.
The truth shall set you free. Logic, who recently became an accomplished author, confessed earlier this year that Confessions of a Dangerous Mind — his latest album — was indeed on the way. He further teased the project he's been hard at work on with the release of the single "Homicide," which features Lo rapping with an idol of his, Eminem.
It's been a long ride for Young Nudy, who teamed up with producer Pi'erre Bourne for Sli'merre. Released days before Mother's Day 2019, it's the Slimeball rapper's second project of the year and follows last month's exclusive to SoundCloud, Faded in the Booth. Songs with Lil Uzi Vert, 21 Savage and DaBaby appear on the 12-song collaborative offering, along with "Shotta," which features Megan Thee Stallion.
Queen Key likes to have things her way. The "Ratchett" rapper delivered her empowering yet disruptive Eat My Pussy EP last year, and now she's back with the sequel, Eat My Pussy Again. Your Highness mostly holds it down on her own throughout the majority of the project that was originally expected to hit retailers on Valentine's Day. The only outside contributions come from Tokyo Jetz and Kidd Kenn.
Confessions of a Dangerous Mind

Logic

Sli'merre

Young Nudy & Pi'erre Bourne

Eat My Pussy Again

Queen Key

Lost Planet 2.0

Smokepurpp

Power, Pleasure & Painful Things

DJ Paul

Who's Watching the Kids 2

Mir Fontane

From the Neighborhood to the Stage

Quando Rondo

1017 Eskimo/Alamo Records

1017 Eskimo/Alamo Records

From Nothing, Pt. 1

Jay Gwuapo

Umbrella Symphony

Curren$y