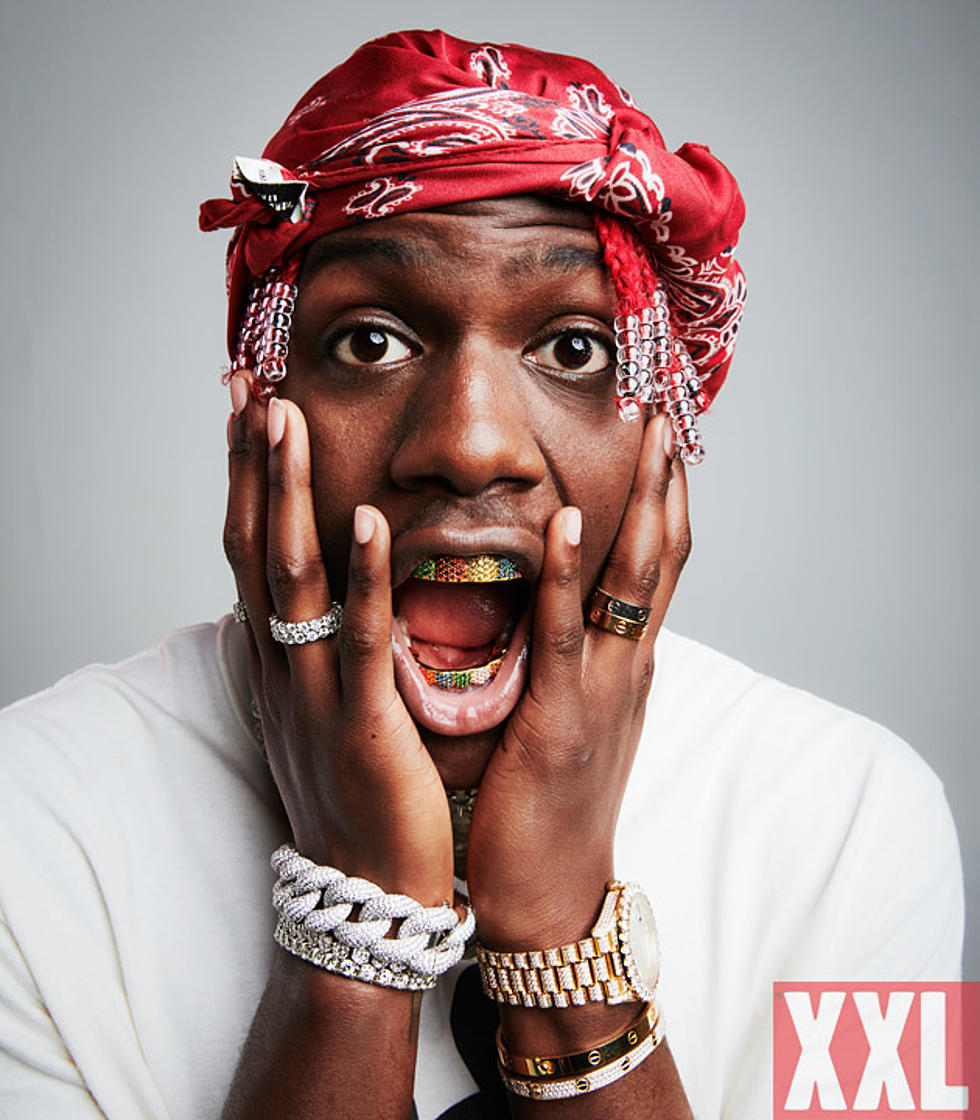 Lil Yachty's Secret to Success Starts With His Positivity
Brett Falcon for XXL
The Powers That Be
Oh, what a year Lil Yachty has had.
Words: Roger Krastz
Editor's Note: This story originally appeared in the Spring 2017 issue of of XXL Magazine, on stands now.
Lil Yachty is dedicated to eating pizza every day. On this cloudy March evening in his hometown of Atlanta, the 19-year-old rapper is munching on some while waiting to take photos at Encyclomedia Studios. Rocking a white Mickey Mouse T-shirt, paint-splattered jeans, red Chuck Taylors and a matching red bandana, Yachty almost devours a whole pie by himself in one sitting.
A year ago, Lil Yachty, born Miles McCollum, was voted to be the winner of the 2016 XXL Freshman Class 10th Spot contest, giving him the final slot on the cover. In the past 12 months, Yachty has catapulted into fame and fortune. His 2016 released mixtapes, Lil Boat—which spawned the hit "Minnesota (Remix)"—and Summer Songs 2, plus the appearance on D.R.A.M.'s big record, "Broccoli," has helped Yachty skyrocket to stardom but so did his marketing moves. A Sprite partnership and commercial with LeBron James, and a collabo with Carly Rae Jepsen—that led to a Target commercial/music video, which premiered during the 59th Annual Grammy Awards—also did a lot to shine a light on Yachty. Then there was his appointment as the 2017 creative designer of Nautica, which led to an Urban Outfitters campaign. Plus, an appearance in an Alexander Wang spring/summer 2017 fashion ad campaign, a Grammy nod for his performance on "Broccoli" and non-stop touring in the United States and Europe.
While Yachty's journey to success has been a rapid one, along the way he's had to deal with hip-hop purists and rap OGs knocking him down for his "bubblegum trap." Yachty's played into the drama with controversial tweets, but for him, it's all been in good fun as he insists he does respect hip-hop culture and those who paved the way before him.
Now, with the whole world on notice, the Quality Control Music/Motown Records/ Capital Records star gears up for the release of his debut album, Teenage Emotions, this spring. Eager to give his younger fans the music they've been patiently waiting for, Yachty looks to continue sailing his boat of success all the way to groundbreaking shores.
Recently you tweeted something about not really connecting with other artists...
Yeah, I really don't mess with people like that. Like, we're cool and it'll be, "Hi" and "Bye," but I don't really be like, "Yo, what's up!" Let's hang out." I'm just kind of here alone. Producers either, really, you know what I'm saying? I'm just now starting to get major produced beats. Just now. I usually work with my friends. I like to work with the teenagers, the youth. I check my email and that's how I get beats. I don't really link with these...just 'cause it's funny style. The game is incredibly funny, bro. You have no idea.
To be so young and with all this fame around you, how do you stay level-headed and deal with the hate that comes in your direction?
Well, like I said, in this game, I haven't been here that long and I was extremely poor, you know what I'm saying? Real broke. No money ever, so it's a blessing and I'm just thankful to be in this position in life. I never take this moment for granted.
You just had a huge look in a Sprite commercial with LeBron James. How was that for you?
That just skyrocketed my career. That's when I got in the lane of people that weren't even fans of mine at the time. I mean before that, I was getting stopped in public, but that's when I really started to get stopped in public. That's when I was no longer, "Hey, you that singer or rapper?" I was now the, "Hey, you that guy in the Sprite commercial. I saw you in the movies," because it started airing in the movies and then it was on TV. It was dope. That's when I feel like, in my opinion, I shot ahead of other rappers. I like to say that because I was the only one doing it and I still am. When we did that, that's when we was no longer just him and a group of them. I became I, you know what I'm saying?
So, how did you end up in that Sprite commercial in the first place?
LeBron requested me for that commercial. That's how it happened. At least to my knowledge that's what I was told.
Maybe his kids are fans of your music?
I have no clue in the world. I still don't know how things like this happen. It's God.
How was it meeting LeBron? And do you guys still stay in touch?
I actually never met LeBron. That was all done digitally. LeBron shot the commercial on the second day and I shot my part on the first day and they just put it together. So, I haven't gotten the chance to meet The King.
Was it around this time that people started to change around you?
It really started changing when people started to see me really make money and I started stunting. When I started stunting, getting money, doing shows, getting the looks, the hate started to happen.
Now that you notice the people changing around you, did you have to push people away from your circle?
I didn't necessarily start pushing away people. I just had to steer things my way. You can't take everybody with you when it comes to this success and I learned that the hard way. You gotta do what you can but you can't look out for everybody in this because some people don't want to be looked out for.
Check Out Exclusive Photos of Lil Yachty From His XXL Magazine Interview
You get a lot of hate online from the older generation of rap and the OG rappers. What do you think is the biggest misconception people have of Lil Yachty?
That I'm disrespectful, you know, towards hip-hop. A lot of people feel like I don't respect it. I have 100 percent respect for hip-hop and the history of it. I will say that I probably could've been more educated on it, but I don't feel as if I've disrespected hip-hop. I just once told my opinion about what I think about certain things. But, people think I don't respect hip-hop and that's not true.
Your connection with the youth is incredible. Why has the youth culture been so important for you in your career and why is spreading positivity important to you?
You know at first I really didn't know. At the very beginning I was a No. 1 supporter of Lil B and Lil B supported positivity, you know what I'm saying? It was like looking into a TV at your favorite TV show, and whatever he said to do I was just down for so I just supported positivity.
I knew there wasn't no wrong in that but I really didn't know why. And as I progressed, I started calling myself King of the Teens and seeing how when you get to this point you really affect people, especially teenagers, like, who I am. I started calling myself King of the Teens, joking around but then it became a real-life thing where, like, teenagers and the youth all over the world are looking after me like, the tweets I say. They're remembering them and the things I do become a part of their life, you know what I'm saying?
It's just a big responsibility and you don't want to put out none of the negativity and a bad image, and you just don't want to feed the growing youth stupidity. There's much more to life than that. I just try to make sure that they see that it's not lame, it's not corny to love and to be happy and positive and stay up. Rap, for the longest, was about gangstas and whatever but I'm here all about fun. I'm living life and chilling.
A month after the Sprite commercial with LeBron, you appeared in your first Nautica campaign for Urban Outfitters. Was that when you signed a deal with them as creative designer?
We had pitched the offer to Nautica. We were having meetings but it wasn't sealed yet at that time. The paperwork was being done around this time, but I knew that's what I wanted to do. I wanted to work with Nautica and design.
Have you started to design for the brand already?
I've already started designing for Nautica. So, expect some of the collections to drop in the near future.
As the creative designer, what's the inspiration behind your designs?
I get inspired by colors. I really love colors. It's gonna be real dope, at least the first part of the collection, but it's coming out dope!
You were also in an Alexander Wang fashion campaign. What was that like?
That was just another blessing for me. Alexander Wang was a really nice guy. They hit up [my] manager for the campaign and of course I wanted to do it. I mean, it's Alexander Wang, who wouldn't want to do it?
Fashion sure plays a big role in your career. How important of a role is fashion, next to your music?
It's equal. It's the same for me. It goes hand in hand, together with my entire look, you know what I'm saying? If you're shooting a music video, you have to have the look. You're doing a show, you gotta have a certain look. You're doing the album cover to your album, you gotta have the look. The look has to be equally as important. You have to dress appropriately to the sounds of music.
You were nominated for a Grammy. What was it like to hear that news? Were you surprised to receive the honor?
I was in bed just waking up when I saw the news. I didn't understand any of that until later that day. When I first saw it, I didn't know if I was nominated because it was D.R.A.M.'s song. So, I really didn't know if I was part of that until later that day or the next day, when someone said to me, "You're nominated." It didn't really phase me that much. I don't know. It was cool but I wasn't jumping up and down. A lot of things don't excite me as much, like, I would've been more excited if someone was like, "They want to put you in a video game!" You know, that would've excited me more or like seeing my face in this candy is way more exciting. It was cool though. I was thankful for the nomination, 100 percent.
During the red carpet at the Grammys you said you wanted to get into acting. Have you received any calls to act anywhere?
Not yet, bro. I'm working on it but it's coming. That's definitely one of my goals in 2017. Wait a minute. I'm lying. Yeah, I am lying. I'm gonna be on the new [season of ] George Lopez's show. He has a show called Lopez and I'm on there. I forgot about that. I do so much stuff, bro, that I forget what I do at times.
Oh, so, George Lopez is a true Lil Yachty fan then? He was on Instagram a few months back wearing a Lil Yachty shirt so that makes sense.
My dad is actually his photographer, so yeah, my dad pulled those strings. So shout out to my dad.
Although you didn't win a Grammy, your name trended that night because of the Target commercial you did with Carley Rae Jepsen for your collabo "It Takes Two." How did that happen? And were you hesitant to work with a brand like Target? Because it's not really known for working with hip-hop artists...
Of course I wanted to do it. I mean, it was Target and just another blessing for me. That was a phone call that I never in my life expected. I didn't think Target was into rap music, so it was crazy for them to reach out to me about the commercial. I never even expected Sprite to reach out to me. It's been amazing to get all of these opportunities. But, that Target commercial was another great look for me and it even played during the Grammys, which was really dope for me.
After the Grammys you went on a European tour. What was it like to tour overseas? How different are Lil Yachty fans in Europe compared to your fans here in the States?
They were way more hype. They was turnt the fuck up. Like every song they knew word by word. I mean it was crazy because they didn't know English so to watch my fans in Europe know all my music was dope.
You also posted a photo with Drake during your European tour. Did you guys end up recording out there?
Nah, it was an after-party that he had that I was going to go to but I was tired, bro. I had to tell Drake I'll see him when I see him because I was really tired. I didn't even try to stick around. To be honest with you, I don't even like clubs. I'll see Drake soon.
So after your shows you don't go out and turn up at at all?
To be honest with you, I like to go to sleep. Let's just leave it at that.
How different is fame for you now compared to the very beginning?
Fame is so different for me now. Compared to last year it's a completely different life I have. I can't walk out in public. I gotta be careful now about the things I say. I gotta watch every move I do. You know, it's a lot of things that are different now but it's the life I asked for, so I just had to quickly adjust to it. It is what it is now.
Now that you're famous, if you could go somewhere without being bothered where would that be?
I wouldn't go anywhere. I did that for 18 years. I love where I'm at now and I wouldn't trade it for anything.
Let's talk about the future and what you have in store for 2017. You're dropping your debut album, Teenage Emotions, this spring. What's the anticipation for this album compared to your previous projects?
For some fact, I ain't put shit out in a long-ass time and I keep pushing back the date. I feel like my fans are anticipating the album. I'm not doing this for nobody else but my fans, you feel me? So, they've been waiting and I can't wait for them to hear the new project. It's dope!
You mentioned in previous interviews that the album is inspired by the 1980s and 1990s. What albums have inspired you?
For inspiration, I don't really know. I listen to [Frank Ocean's] Blonde a lot and I listen to Sampha's new album a lot. He's real dope.
You've always been vocal about how much of a fan you are of Frank Ocean? Have you worked with him yet? Have you met him?
No, I haven't worked with him, but I met him one time in London. He just popped up at my show and it was so fucking weird because I was like a groupie fan. When he showed up to my show, I was taking a shit and my friend was like, "Yo, Frank Ocean is here" and I was like, "Nigga, shut up." So, I finish taking my shit and I was like, "Oh shit!" That nigga was just chillin' there. I was like, "Nigga, what the fuck you doing here? Go home!" It was weird be- cause it's not like we were in L.A. We were in London so I was like, "What the fuck?" I guess nigga be hiding. Frank Ocean is super dope! He's like a ghost. He's like not really real. I didn't think he was real until I met him.
How different is it recording for the album as opposed to recording for the mixtapes?
Not that much different. There's pressure a little bit just when it comes to labels and singles and stuff . But as far as the album process, I'm just taking it serious and enjoying the process of making good music.
How does your crew, the Sailing Team, motivate you or inspire you?
Them lazy ass niggas don't motivate me, man [laughs]. I motivate them. Or at least I try to, you know what I'm saying? But, those are my boys and I love having them around me. I really like having my friends around, bro. I just hate being alone, truthfully. I hate being alone.
Do you need someone always with you?
I like messing with someone, but I don't usually because girls are crazy and I don't really have time for that.
Are you a perfectionist when it comes to your music?
Not really a perfectionist, but everybody around me is.
What else should we expect from Yachty in 2017?
I don't even know what to expect for the rest of the year. With the 2016 I had, which I didn't expect neither, I don't even know what's going to happen. I might be a mayor by the end of the year, you never know.
You have a loyal fan base that rides for you. How did you build that strong connection with your fans? What do they mean to you?
I love my fans. They gang. My No. 1 key with fans is honestly to stay connected with them. I think it's important to talk to the fans online and respond to their questions. You know, live streaming, playing video games. Before I got this big, I used to FaceTime my fans. I would put up my email and I would just talk to them, now it's like my phone will freeze from everyone hitting me up.
You're making all this money at a young age. What do you want to invest your money in?
I want to open a restaurant and I want to start selling properties. I want to own some stock. I just want to do all types of shit.