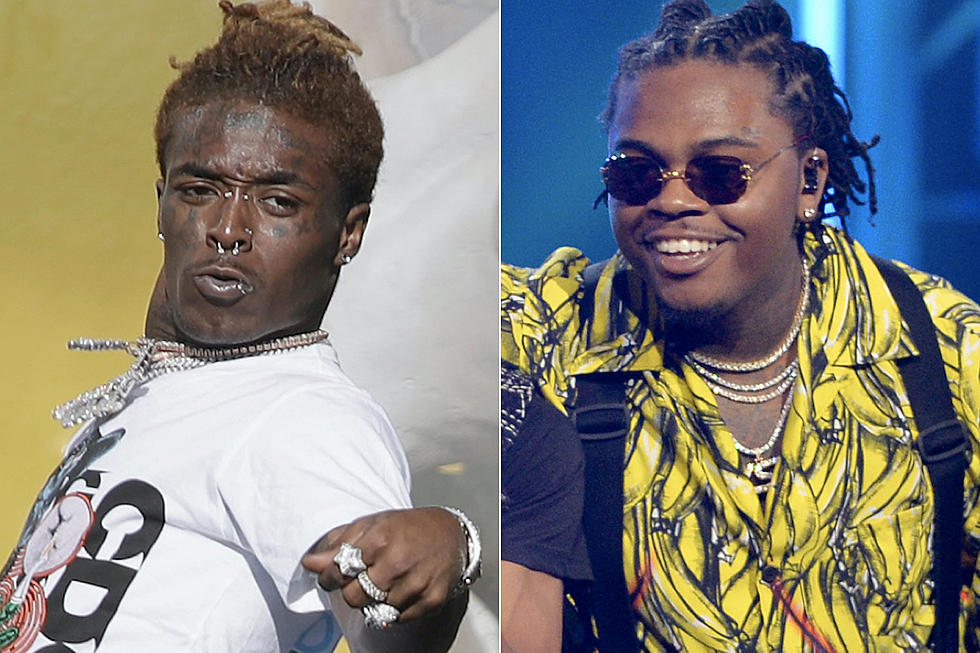 Hear Lil Uzi Vert and Gunna's New Song "Valentino"
Isaac Brekken/Jason Koerner, Getty Images (2)
Lil Uzi Vert and Gunna teamed up on the Metro Boomin-produced banger, "Valentino." The song premiered on The Weeknd's Beats 1 radio show Memento Mori on Saturday (April 27).
Over a booming beat, haunting keys and an Egyptian flute, Uzi and Gunna spit luxury rhymes consisting of girls, money and cars. Gunna leads things off with his typically mellow trap stylings.
"She thicker than Hannah Montana/I fuck on that bitch with a Gucci bandana, 2018 the Porsche Panamara/I got some racks on me, bitch ain't no scammer (Racks)/Then I stick my dick in that girl like an animal (Damn)," Gunna spits on the track.
For his part, Uzi hits the track with a more animated verse. "Gucci is my sweater, Gucci is my socks/The guap won't stop makes me flip flop," raps Uzi. "Got boys on the block/That whippin' that pot/I don't want to talk money I get that a lot."
The song comes a week after Uzi announced that his long-delayed album Eternal Awake is coming soon. Last Thursday (April 25), the Philadelphia rapper told a reporter with The Hollywood Fix that the LP will arrive "Soon... I guess. Yeah soon." He didn't elaborate any further than that.
In addition to the Uzi and Gunna collaborative track, Cash, Weeknd's co-manager, dropped new songs featuring Travis Scott and Gucci Mane ("Murda"), Offset and 21 Savage ("Heathen"), a remix of French Montana's "No Stylist" (featuring Quavo) and more.
You can stream the songs from episode five of the Weeknd's Memento Mori show below.
See 55 Hip-Hop Albums Turning 10 in 2019