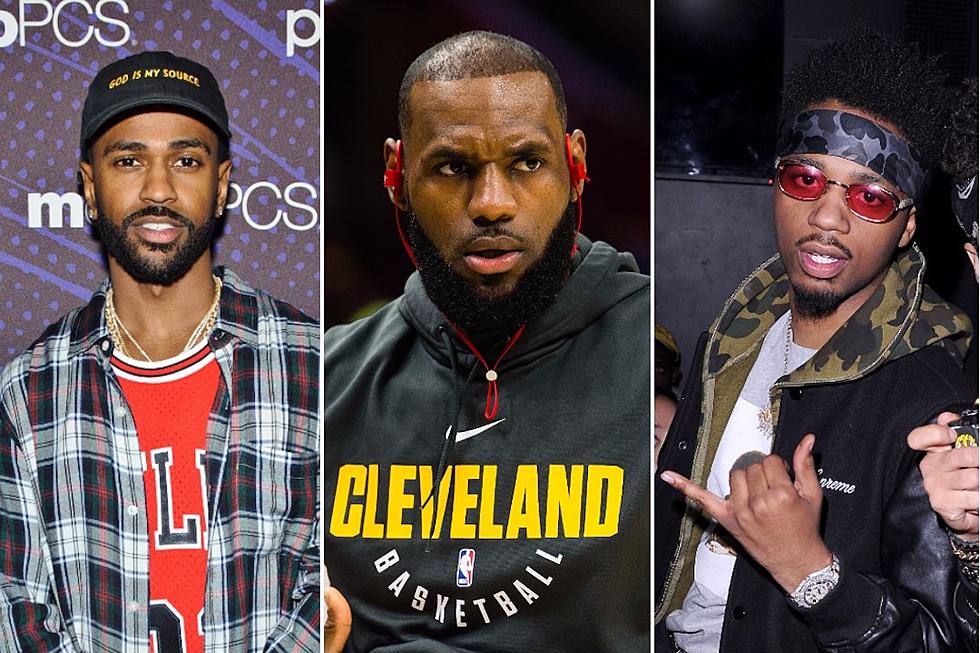 LeBron James Previews Big Sean and Metro Boomin Tracks From 'Double or Nothing' Album
Jason Miller/Timothy Hiatt /Ernesto Distefano, Getty Images (3)
The Cleveland Cavaliers star posts videos to his Instagram story of the song snippets, playing some new tracks from both the Detroit rapper and St. Louis-born producer off their Double or Nothing collaboration project. While James doesn't confirm the titles of the tracks, he seems to imply that two of them could be "Pull Up and Wreck" and "Savage Time" based on the hashtags used. On one of the tracks, it sounds like Sean is back in his element, spitting over a trap-infused beat from Metro.
"I know some East side niggas and they love to bang/I know some West side niggas and they do the same," Sean is heard rapping.
LeBron appears to play a snippet of four songs in his Instagram story, which is far from the first time he's given fans a preview of an anticipated project to come. If you recall, he previously played snippets of songs from Meek Mill and Nipsey Hussle, as well as Kendrick Lamar's DAMN. album earlier this year.
According to Sean and Metro, Double or Nothing is slated to drop at midnight tonight (Dec. 7), but there's no word on the details of the project other than the artwork so far. We're not sure how many tracks the album will have, or if there will be any guests, but based on LeBron's previews, fans can look forward to some intense bars from Sean.
Take a listen to LeBron's preview of Big Sean and Metro Boomin's upcoming album below.
See New Music Releases for December 2017