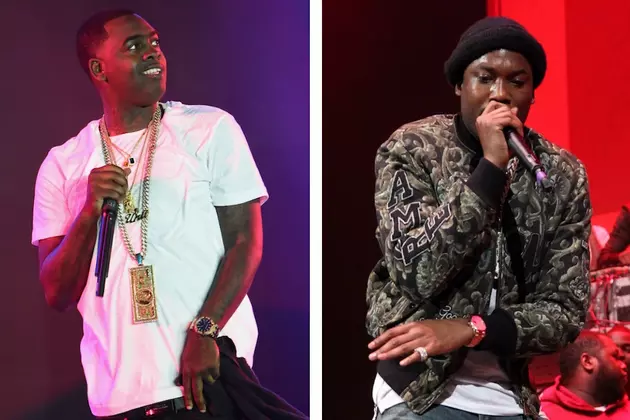 Kidd Kidd Disses Meek Mill at 50 Cent's Show in New York
Jamie McCarthy / Bennett Raglin, Getty Images
The ongoing Meek Mill and 50 Cent beef got some added fuel last night when Kidd Kidd jumped to the G-Unit bosses frontline, offering a few bars directed at Meek during a New York show. The G-Unit signee started things off with a "Fuck Meek Milli" chant before rapping, "Drake coulda fucked your bitch if it wasn't for Wayne / Let's play a game of truth or dare, dare you speak my name / And tell Gunplay he gonna need gun play if he want to get his chain." The last line references a 2012 altercation between Gunplay and 50's entourage that resulted in the MMG rapper losing his chain.
With Meek Mill and Drake sharing a pair of diss tracks over the weekend, it might be difficult to keep track of the many cross sectioning beefs presently taking place. 50 has a long history of hatred with MMG boss Rick Ross, and Meek dissed 50 on January's "Gave Em Hope," presumably on Ross's behalf. While 50 deployed a potent meme campaign directed towards Meek, G-Unit's Tony Yayo took to Twitter to say "Your boss Police fuck MMG." Kidd Kidd then, is the latest 50 Cent affiliate to jump into the fray and side with Fif.
Between Drake and Meek, 50 and Meek and Kanye and Wiz, 2016 is rife with beef, with new developments coming in by the day. Watch a clip of Kidd Kidd's acapella diss above stay tuned for any added news.
See 40 Hip-Hop Albums Turning 20 in 2016