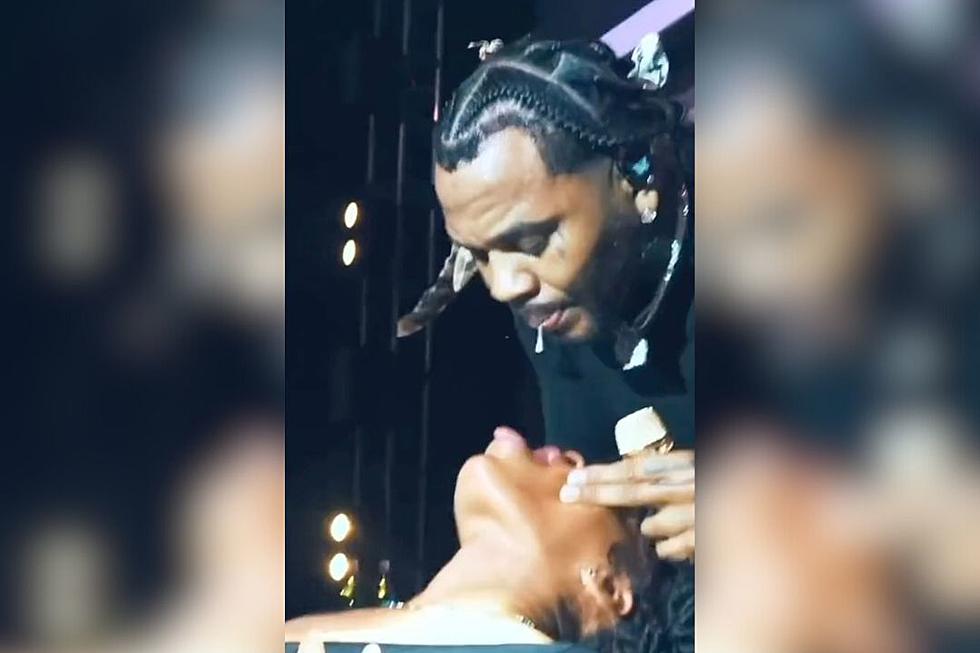 Kevin Gates Spits in Fan's Mouth During Performance, Leaves Crowd in Shock
XXL/Twitter
Kevin Gates is not afraid to show his freaky side during his concert performances. In his latest viral moment, the Louisiana rapper spits in a fan's mouth, which leaves the crowd in shock.
Kevin Gates Spits In a Fan's Mouth
A video of Kevin Gates clearing his throat and spitting in a fan's mouth went viral on social media over the weekend. In the clip, which can be viewed below, a woman is sitting in a chair with her head back facing Gates who is standing behind her. She opens her mouth and the rapper delivers loogies down her throat.
The woman doesn't seem bothered or disgusted that she allowed Gates to spit in her mouth or realize how unsanitary that is in our post-COVID world. When the camera pans to the crowd, almost everyone in the audience is completely shocked. One man is visibly stunned by what he just witnessed on stage.
Interestingly and maybe jokingly, the caption reads: "Just told bae, if I can't spit in her mouth ion think the love real .."
Kevin Gates Always Goes Viral for His Onstage Antics
This isn't the first time Kevin Gates has left fans stunned while performing onstage. In September of 2022, while on his Big Lyfe Tour, he stopped his set for a moment to show the audience his cunnilingus skills. In a fan-captured video, Gates is holding the microphone to his lips as he explicitly details how he would kiss a woman's clitoris.
Afterward, the 37-year-old rapper stands up, puts his hand down the front of his pants and pretends to pull out his penis. "I just want to put the head of the d**k in your itty-bitty p***y and stretch the b***h all the way out," he says while his fans cheered on.
See Kevin Gates give his saliva to a fan below.
Watch Kevin Gates Spit in a Fan's Mouth Below
See 37 of the Raunchiest Hip-Hop Lyrics of All Time