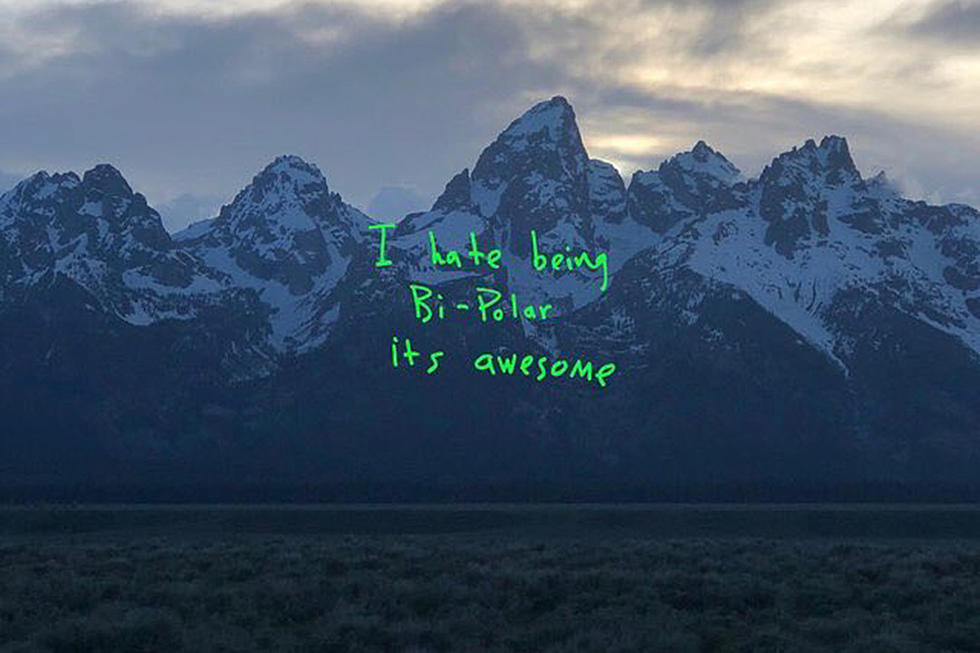 Kanye West's 'Ye' Album Fails to Deliver on Its Promise
Getting Out Our Dreams II
Kanye West has previously thrived in chaos: A near-fatal car crash resulted in his breakthrough song, "Through The Wire" and the criticism behind his VMAs debacle with Taylor Swift spawned his classic LP, My Beautiful Dark Twisted Fantasy. But pressure doesn't always make diamonds; sometimes, pain can break you down without ever building you back up. Whether the culprit is his mother's death in 2007, mental health struggles, or a combination of those and other unnamed factors is not a critic's diagnosis to determine. But what Kanye's art suggests is that the man is hurting, and his eighth studio album, Ye, proves that inner anguish isn't always a fast track to outward genius.
Production-wise, Ye shows glimmers of Kanye's greatness. Fans have long clamored for "the old Kanye"—wonderfully diced soul samples sped to the brink of incoherence—and there are moments where listeners get shades of that sound, where Kanye opts for beautiful simplicity instead of post-2010 extravagance. Triumphant samples fuel the album's two best songs: "No Mistakes" channels the unbridled joy, relief and cockiness of Graduation, while "Ghost Town" finds joy from a dark place of drug addiction. The minimal production behind "Wouldn't Leave" is reminiscent of early Kanye as well. And Yeezy still knows how to find talent and draw the best out of his collaborators: Cudi's powerful wails, Ty Dolla $ign's melodic crooning, newcomer 070 Shake's scene-stealing performances, and the expert use of PartyNextDoor and Francis and the Lights show that Kanye is still a master of orchestration. All of these songs and appearances have appeared in stronger renditions on his preceding albums, but they still provide some of the warm fuzziness that his nascent work once elicited.
Unfortunately, such attention to detail is seldom exhibited in the album's other aspects. Ye feels lyrically scatterbrained, as if its creator was unable to focus on anything for long enough to deliver a cohesive message. Album opener "Thought About Killing You" begins with about two minutes of Kanye repeating a series of spoken word phrases before launching into a completely unrelated rap that offers no real payoff.
That sums up the Ye listening experience: constantly waiting for moments of enlightenment or engagement that ultimately never arrive. Kanye doesn't have the wit and charm of "Good Life," the visceral vulnerability of "Jesus Walks" or the rebellious subversiveness of "Black Skinhead." Instead, Kanye's lyrics here come across similar to some of his recent tweets: aimless and repetitive, without the development necessary to fully bloom. On "Yikes," he comes across as insincere when he claims foes are "test(ing) my Ghandi just because I'm wearing Abercrombie"—it'd be appropriate fodder for his everyman College Dropout days, but not when he's already established himself as a fashion icon. "Violent Crimes" suffers from tired respectability politics toward women—Kanye falls victim to the predictable trope of recognizing female humanity only after having a daughter of his own. And there's little to no social commentary here either. His two cents about the #MeToo movement is expressing relief that he isn't caught up like Russell Simmons. Kanye is keeping himself as insular as ever in times that would seem to prompt real thought.
There's also the missed opportunity to explain his tumultuous life in the public eye these last few months. Kanye has been under fire for his support of racist President Donald Trump and for making claims like "[slavery] sounds like a choice," and Ye was an opportunity for Kanye to explain himself on his own terms: through his music. But while the seven-song brevity of Pusha-T's Daytona enhanced its potency, the similar play length hinders Ye: an album this short would have to economize time to cover a lot of ground, and Kanye lacks the precision to deliver. "Wouldn't Leave" mentions his aforementioned TMZ fiasco, but only through the lens of showing gratitude for his wife staying with him despite his bad decisions jeopardizing the Kardashian empire. His thankfulness for Kim is sincere, but there's no attempt to grapple with why his comments landed him in hot water in the first place, or even to give principle behind the intention of what he said. Expecting an apology from Kanye is usually a fruitless endeavor, but having a complete lack of an explanation—especially after it was suggested that this album would give insight into his thinking—fuels the ideas that he said such things out of impulsive contrarianism or trolling rather than sincere way of thinking.
There are some genuine glimpses into the dark place in which Kanye West dwells, though. Most notably, Kanye admits to being bipolar—and shows the ups and downs that come with mental health issues. "Thought About Killing You" parses his usual self-aggrandizement with suicidal thoughts, while "Yikes" sees him diving into drug addiction while he defiantly proclaims his medical condition as a superpower. The album helps add context to the self-victimization, or to his belief that he's helpless from making the types of mistakes outlined in "Wouldn't Leave" ("Imagine if they caught me on a bad day," he laments). Hip-hop has always been at the forefront of the conversation around mental health, even if not by name. But Kanye labels bipolarism in clinical terms, and attempts to grapple with it, with varied results. It's one of the few facets of Ye in which he's ahead of the curve like we expect him to be, and working from genuine emotion instead of simply trying to evoke emotion. That's free thought that everyone can get behind. —William Ketchum III
See New Music Releases for June 2018