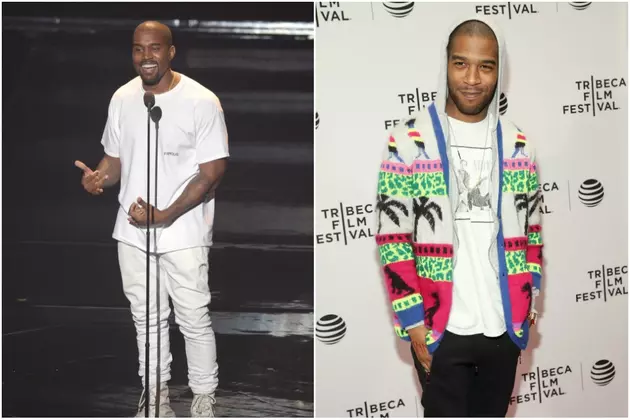 Kanye West and Kid Cudi Working on Secret Project in Japan
Jason Kempin/Cindy Ord, Getty Images (2)
We might not be getting a Watch The Throne II anytime soon, but it looks like Kanye West is working on a hell of consolation prize—if you even want to call it that. On Thursday (Aug. 17), Page Six reported Yeezy is currently in Japan working on a new project with Kid Cudi.
According to a Page Six source, 'Ye and Cudi's work is top secret. "They're going to drop some crazy collaboration out of the blue," the source explained. "They're going to drop some surprise project on everybody. They're recording it now."
The source went on to explain that Yeezy and Cudi's wish to keep their project under wraps has led to a studio almost completely devoid of any music professionals. "It's just Cudi, Kanye and an engineer," the source said.
A couple weeks ago, Kanye and Cudi were spotted in Japan with Coodie Rock and Takashi Murakami, the visual artist behind Kanye's Graduation cover. "Coming Dec 31st! #EVERYBODYWINS #GODisGREAT," Coodie captioned the pic. When XXL asked him what was in the works, he only revealed, "We're talking about bringing in the new year with a bang!"
For rap fans, this rumor is huge, because a Kanye/Cudi collab didn't seem all that likely after the Man on the Moon dissed Kanye during a Twitter rant last summer. While Kanye served up a scathing clapback, he soon backed down, calling Cudi his brother and "the most influential artist of the last 10 years."
Both Cudi and Kanye have struggled with their mental health in the last year. Cudi checked into rehab for "suicidal urges" last fall, while Kanye was hospitalized for "temporary psychosis due to sleep deprivation and dehydration." Both have kept a fairly low profile in 2017, but last month they linked up with Plain Pat in the studio.
See Photos of Kanye West's Different Looks Over the Years