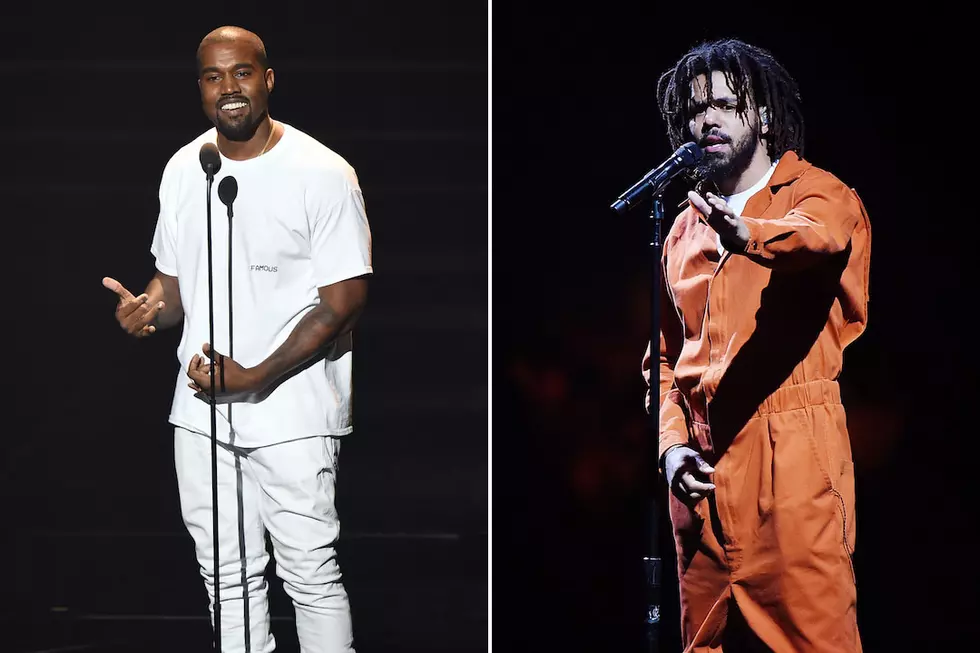 Kanye West Believes J. Cole Regularly Disses Him
Michael Loccisano/Nicholas Hunt, Getty Images (2)
J. Cole is not usually one to mention names in his rhymes, which means that any disses or subliminal shots taken could be for just about anyone, including Kanye West. During a segment of The Breakfast Club's Rumor Report, host Charlamagne Tha God, who recently hung out with Yeezy, reveals that the super producer feels that Cole has been consistently dissing him over the years.
Charlamagne first hesitated to share the tidbit from their conversation, but eventually revealed that Kanye's thoughts stem from Cole's "False Prophets" record, which many fans speculated was about the Life of Pablo superstar at the time of its release in 2016.
"Yesterday when I was talking to `Ye, we had a conversation about J. Cole," Charlamagne explains. "He said, 'Remember when J. Cole put out the 'False Prophets' record?' He said that he feels like J. Cole is always dissing him in records."
He then continues to share Kanye's narrative, stating that the rapper brought up Cole's previous line about dating and falling for reality stars from his 2014 Forest Hills Drive album.
"He named another line...'something something from reality shows.' He was like, 'Who else is out here in love with people from reality shows like me?'"
The line the personality is referring to comes off of Cole's "No Role Modelz" which reads, "Now all I'm left with is hoes from reality shows / Hand her a script, the bitch probably couldn't read along."
While fans of Mr. West might be ready to defend their favorite artist's honor, they can rest easy, as Charlamagne assures that Yeezy was laughing the whole concept off.
"He didn't say it in a malice way at all," he clarifies. "He was, you know, laughing about it."
Cole has a tendency to speak his mind about any and everything in the music industry in his music, even if it takes shots or applies to his peers. If you recall, he previously had words for his close friend, Wale, on "False Prophets" as well.
Check out Charlamagne's story about Kanye West and his thoughts on J. Cole below.
See Photos of Kanye West's Different Looks Over the Years