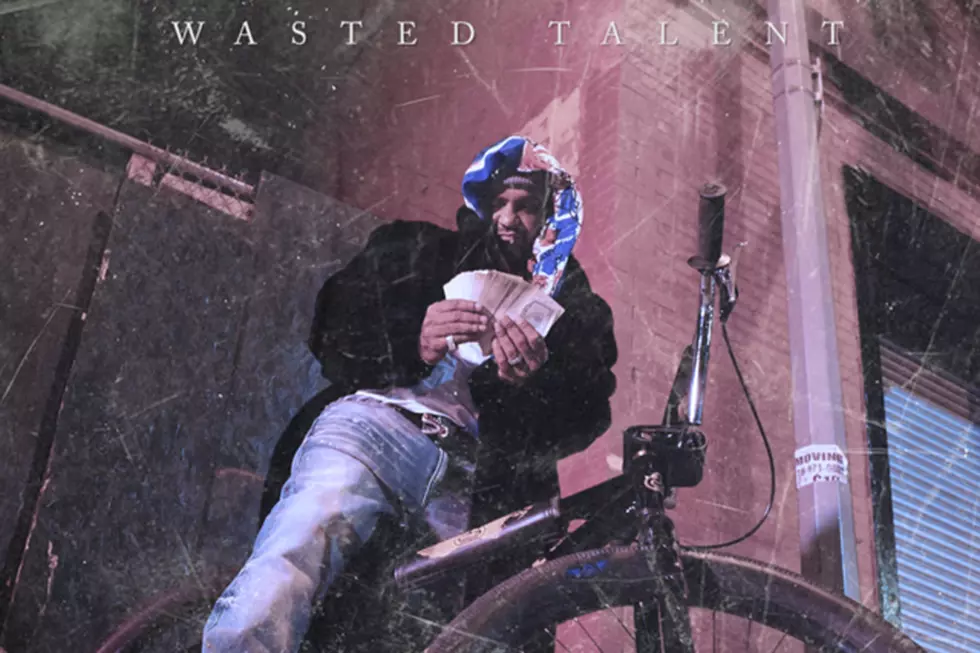 Stream Jim Jones' 'Wasted Talent' Album Featuring Cam'ron, Juelz Santana and More
Vamplife / Empire
Checking in at a hearty 18 tracks—two of the songs are listed as being bonuses—Jimmy's latest effort is filled with all the personality that originally made him a rap star. It begins with a clip from A Bronx Tale, which helps to define the theme of his new project.
"Sonny and my father always said that when I get older I would understand," begins the film's central protagonist, Calogero 'C' Anello, in the album's opening clip. "Well, I finally did. I learned something from these two men. I learned to give love and get love unconditionally. You just have to accept people for what they are, and I learned the greatest gift of all. The saddest thing in life is wasted talent."
From there, Jimmy launches into The Heatmakerz-produced "Never Did 3Quarters," a track that finds the rapper spitting about his roots in the streets of Harlem, and the lessons he learned from them. The project's got plenty of those vibes throughout, along with a lot of Jimmy and Dipset's customary boasting.
You can listen to Wasted Talent for yourself below.
Jim Jones' Wasted Talent Album Tracklist
1. "Intro Bronx Tales"
2. "Never Did 3Quarters" (Produced by The Heatmakerz)
3. "Epitome" (Produced by 808-Ray and SmittyBeatz)
4. "Catch on Yet" featuring Trav (Produced Rain910)
5. "Banging" featuring Mozzy (Produced by Non Stop 808 Mafia)
6. "Gotta Play the Game" featuring YFN Lucci (Produced by Dougie on the Beat)
7. "Got to B Real" featuring Alexza (Produced by DJ Rellyrell)
8. "Dust & Powder" featuring Jadakiss (Produced by The Heatmakerz)
9. "Living My Best Life" featuring Eric Bellinger (Produced by The Heatmakerz)
10. "Adidas" featuring Ball Greezy (produced by Killa Watts)
11. "Chicken Fried Rice" featuring 5AM, Yo Gotti and Trav (Produced Ron Oilers)
12. "The Old Way" featuring Axel Leon
13. "Diplomatic Immunity" featuring Cam'ron (Produced by The Heatmakerz
14. "Head Off" featuring Lil Durk (Produced by Dougie on the Beat)
15. "Pray" featuring Trav (Produced by Kyle Smith)
16. "Bag Talk"* featuring Ball Greezy (Produced Foreign Teck)
17. "Still Dipset"* featuring Juelz Santana (Produced Jahlil Beats)
18. "Once Upon a Time"* featuring Cam'ron (Produced by The Heatmakerz)
*Bonus Tracks
Check Out the 2018 Hip-Hop Music Festivals You Need to See