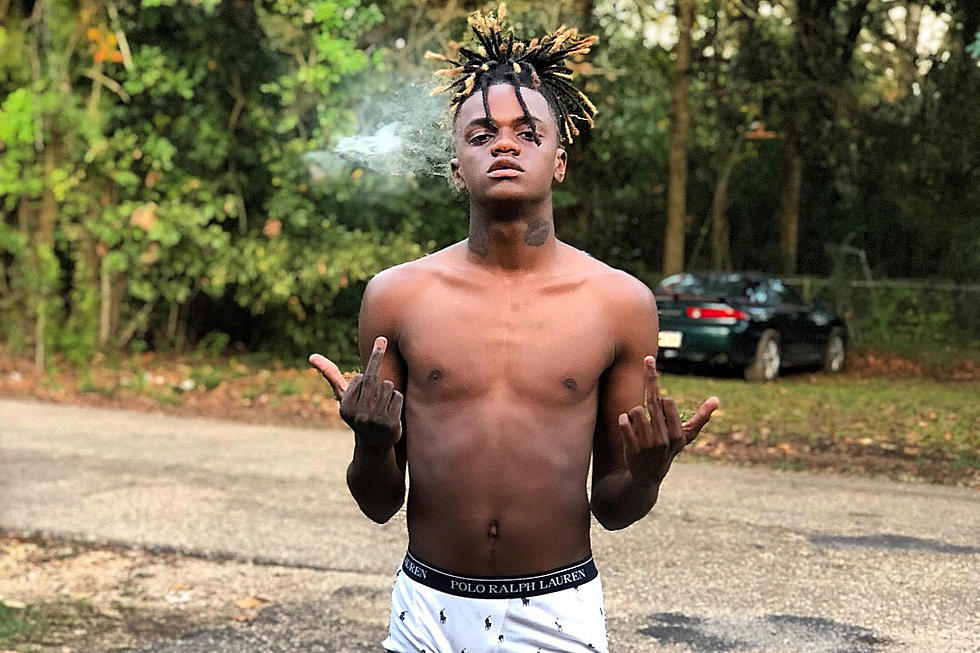 The Break Presents: JayDaYoungan
Krystal Scott
Finding success as a rapper often comes down to intangibles—you've either got "it" or you don't. Perhaps no one understands that quite like Louisiana rapper JayDaYoungan. For someone from a small town who's been rapping for only two years, location and experience have taken a backseat to skill. His music videos have racked up nearly 30 million views on YouTube, with his most recent visual, "Interstate," breaking 4 million plays in under a month. His reflections on the darker side of life are resonating in a major way, and it's looking like it's his time to shine.
JayDaYoungan dropped his first tape, Ruffwayy, in February 2017. This project included "Slidin Freestyle," a one-verse showcase full of threats and glimpses into the underworld. Still his most popular video to date, the nearly 6 million views gave Jay a whole new brand of online traction. He followed that tape with The Real Jumpman 23 in November and Wake Up the following month, on Christmas. Each new mixtape meant more videos, most of which depict Jay in his natural element, moving through the streets of Louisiana.
While he isn't shy about his appreciation of hometown hero Kevin Gates, individuality is very important to JayDaYoungan. "The best music—well, what they say is the best music—is basically mumbling A-B-C rap," he tells XXL, distancing himself from his contemporaries. "It really ain't too much to learn when you rapping, you just gotta know how to do it." He also has plans to expand his talents into a new direction. "I wanna learn how to sing—I'ma take singing lessons. I might be an R&B singer by next year, for real!"
The sung-rapped "Interstate" offers a glimpse of the possibilities for JayDaYoungan's melodic future, but for now he's a promising talent still firmly entrenched in hip-hop. "I just wanna be the best," he says. "I wanna be number one in whatever I do, whenever I do it."
Learn more about JayDaYoungan in XXL's the Break.
My style's been compared to: "Mainly Boosie and NBA YoungBoy. I can see why they say Boosie but other than that [I] don't see me sounding similar to nobody else. I feel like they say that due to us being in the same area, and our lingo—it's all the same."
Most people don't know: "They don't know what type of person I am. I'm a good person, people might feel like I'm a bad person—like I'm evil. I got a good heart. I'm kind."
My standout records to date have been: "'Muddy Situation.' I feel like if that one gets the promotion it needs, and go on everywhere it need to go, it'll be my first hit single."
My standout moments to date have been: "So far, the recognition I got nationally. I'm starting to get that national buzz, if anything that's the biggest accomplishment so far."
My goal in hip-hop is: "To sell records—I wanna be number one on the charts. When I drop my album, I wanna be everybody's favorite artist."
I'm going to be the next: "I ain't tryna be nobody else."
See New Music Releases for March 2018